Merten Switch Product Range
This text is machine translated.
About Merten Switch Product Range
What is special about Merten switch programs?

For individual switch design with M-Creative

Merten switch range at Conrad

FAQ – frequently asked questions about the Merten switch range
What is special about Merten switch programs?
Switching programs are a generic term for all components of electrical installations with which switching or dimming can be carried out and with which electrical connections from walls or furniture in the form of sockets can be realized for a variety of tasks. Furthermore, in the design of a switch range, additional elements of the intelligent domestic installation are "packed", such as timers, ISDN, network and other media outlets or motion detectors.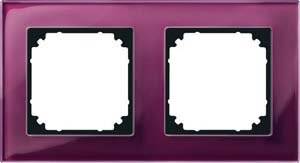 Such a switch program offers architects and planners the advantage that a living or office unit can be equipped completely with a uniform design that fits in the design of the environment.
The company Merten from Wiehl has been developing pioneering and design-oriented solutions for intelligent buildings for more than 100 years. Quality and design are the focus. The Company's products are available in more than 130 countries and are used in residential, office, public, hotel, school, hospital and commercial premises.
The Merten portfolio includes switching programs, motion and smoke detectors as well as solutions for the intelligent KNX building system technology. The company's quality standards are reflected in its ISO 9001:2000 certification.
For individual switch design with M-Creative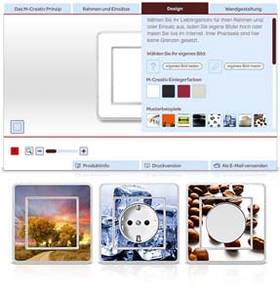 The switch range of the company Merten includes wall switches and switches, dimmers, sockets for various media, such as antenna or telephone sockets, motion detectors and much more. All components are combined and interchangeable with the corresponding accessories. This enables future-proof solutions: You can change the design in one place without having to replace all the electrical and electronic components.
A special advantage is the M-Creative section. The company thus offers the service of individually designing frames and covers for various elements of the programs. Basic frames, standard or functional inserts are available with a transparent cover from the entire program, which the end user can design with predefined designs or according to his own ideas by upload.
There are hardly any wishes left unfulfilled, each room can be styled with the "My switch design" icing on the cake. The use of the web tool is simple and intuitive.
Merten switch range at Conrad
The elements in the switch program of Merten can be selected according to various criteria. This includes the price range, new products and offers, customer evaluation and availability in the branches of the Conrad retail store.
From a design and technical point of view, it is possible to select according to:
Color: 15 colors or color combinations are available. The possibilities of "M-Creative" are not taken into account here.
Component: Differentiation according to cover, insert, frame, accessories and intermediate frame
Series: Different design lines from Merten, for example "1-M", "AQUADESIGN" or "M-Star", including the parts of the switch range, which can be individually adjusted with "M-Creative"
Material: Glass, plastic or metal
Function: Selection according to installation-technical aspects. By clicking on the series, you can immediately see which technical component is available in which design. These include:

Off switch as control or change-over switch
Motion detectors detect moving heat sources (persons) in an adjustable detection area and start a switching time. The sensor module has a light sensor with adjustable brightness threshold
Dimmer in different performance classes
Electronic/relay switching insert for controlling other components
Glow lamp insert, designed as LED
Changeover switch, cross switch and button
A memo box for recording and playing back up to eight voice messages
SAT/coax connecting cable 5m
Time switches and central point inserts
FAQ – frequently asked questions about the Merten switch range
What must be observed when dealing with Merten switch programs?
When working on the low-voltage power supply, there is a risk of fatal electric shock. For this reason, such activities may only be carried out by qualified electricians, taking into account the valid DIN/VDE regulations. An appropriate warning symbol "Installation requires electrical specialist" was developed by the ZVEH, DKE and ZVEI associations as an international standard symbol according to IEC 60417-6182. Also for Merten products the mentioned warning symbol can be found on the packaging of the corresponding products.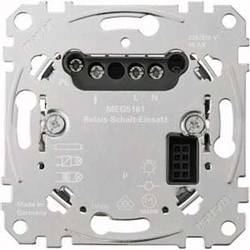 All work must only be carried out when the mains voltage is switched off. Some components pose a hazard, for example capacitors, despite the mains voltage being switched off.
Failure to observe the installation instructions can result in damage to the components, fire or other hazards. Opening electronic components or other unauthorized device interventions will void the warranty.
Protection against accidental contact must be ensured for use.
For some elements of the Merten switch range – especially for dimmers – note the information for switchable loads in temperature ranges. See the installation instructions for details.
In the event of malfunctions or damage, an electrical installation must be disconnected from the power supply immediately. Defective elements must be replaced and secured for further use.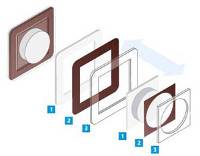 What do I have to take into account when a switch program has expired?
Depending on demand, switch ranges are often unchanged on the market for years or even decades. The switch range from Merten is based on a uniform system, so that in case of a change only the frames and covers need to be replaced. The inserts of the M system fit all design and surface designs of the manufacturer.
When replacing the electrical components, the technical conditions and specifications must be observed.
 This text is machine translated.     About Merten Switch Product Range What is special about Merten switch programs? For individual switch design with M-Creative Merten switch range at Conrad FAQ – frequ...