Metal detectors: For locating metallic objects
Metal detectors are measuring devices used to locate metallic objects in the ground, in water or in walls. They are based on different measurement methods and are used in numerous areas. You can find out more about the structure, function and history of metal detectors in our guide.
What are metal detectors?

History of metal detectors

Functional methods of metal detectors

Our practical tip: Efficiently probe with the discrimination function

Buying Criteria for Metal Detectors – What's it all about?

FAQ – Frequently asked questions about metal detectors
What are metal detectors?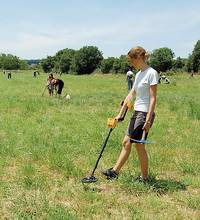 Metal detectors, also called metal detectors, are used to locate metallic objects. They consist of an electronic unit and a detection probe , which is usually a metallic coil. Both elements are connected by a cable. The coil is fed through a low-frequency alternating current and thus generates an electromagnetic field . If the probe is now passed over the ground and hits a metallic object, the magnetic field changes, which is then registered by the electronics unit. This triggers an optical or acoustic signal and thus indicates the detection of a metallic object. In order to cover a large detection range, the magnetic field of the coil should be as wide as possible. Different coil shapes are used for this purpose. for example, plate and ring-shaped, but also long-stretched and so-called double D-coils (DD-coils) without core are used.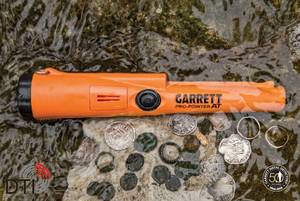 Metal detectors are used in many areas. They are used, for example, for personal checks at airports or in other public institutions to detect metal parts carried along without authorization. In addition, they are used in the industrial sector to examine products such as food or medicines for metal splinters that may enter the production process due to wear of the machines. Electricians, installers and DIY enthusiasts may also use metal detectors to determine the location and routing of pipes and pipes in the wall. Metal detectors are also among the tools of amateur treasure hunters who want to bring antique coins, jewelry, gold nuggets, meteorites and other more or less valuable objects to the daylight. In specialist jargon, people who search with a metal detector are called probe-goers. The search itself is called a sondelas.
History of metal detectors

The history of the metal detectors reaches to the 19th century. Century back. At the beginning of industrialization , metals , especially iron and iron ore , became increasingly important as raw materials , as they were the basis for the production of numerous new machines and products. In order to meet the increasing demand for metal, we were looking for other solutions for extraction. The idea was to invent a device with which metals could be detected in the soil or in the rock and thus made available quickly.
The German physicist Heinrich Wilhelm Dove took a first step in this respect. He developed a metal detector based on the induction-balance system . Such a system consists of two coils with electrically balanced charge which is disturbed as soon as a metal is added. Since each metal has a different phase shift, different types of metal can be identified. However, the disadvantage of Doves' invention was that it consumed a lot of electricity, was susceptible to interference and was cumbersome and had a low search depth. However, the underlying technique seemed to be groundbreaking. On the basis of the same principle, Alexander Graham Bell , who is known to most as the inventor of the telephone, developed an induction scale which was used to locate metallic objects in the human body. The occasion was an assassination attempt in 1881 on then US President James A. Garfield, whom Bell tried to rescue by using his detector to locate the bullets in his body. The undertaking failed.
It was only in the 1930er that the entrepreneur and technician Gerhard Fischer, born in Germany, managed to develop a functional metal detector that even went into mass production. During his work on a radio navigation system, Fischer found that metals and ferrious rocks could interfere with the reception of radio waves. He came up with the idea that it must be possible to localize metal parts using radio waves . . Fischer's metal detectors and the somewhat more efficient further developments of Polish inventor Józef Stanisław Kosacki were intended at that time, in particular, for military purposes. With their help, soldiers were able to locate mines and other dangerous war ammunition. However, the equipment was still quite heavy and large. It was only in the 1960er that the invention of the transistor made it possible to build more compact and lighter metal detectors, as the US technician Charles Garrett did. The metal detectors he developed are still known today under the name Garrett detectors.
Functional methods of metal detectors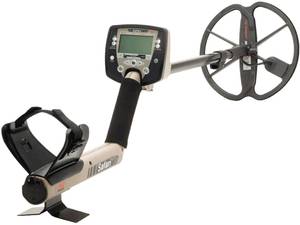 Metal detectors usually use one of two different measurement methods: Pulse induction or AC excitation.
Metal detectors based on pulse induction technology (PI technology) work with strong DC current and are equipped with only one detection coil, which acts as a transmitter and receiver. It emits short, strong magnetic pulses that generate electric eddy currents in the metallic target objects. After the magnetic pulses have been emitted, the detector switches to receive mode so that the probe can perceive eddy currents as measurable voltage. Metal detectors of this type usually have a good signal strength and a high detection depth; however, metal types and metal sizes can be determined less precisely.
Two other methods are distinguished for alternating current excitation (also known as CW mode for continuous wave): Attenuation analysis and the measurement method via BF oscillator. During attenuation analysis, the probe continuously emits a low frequency AC signal of approximately 10 kHz. Unlike pulse induction technology, the metal detector does not permanently switch between transmit and receive modes. Instead, the received signals are continuously examined for the amplitude and phase position of the alternating voltage. The conductivity varies greatly depending on the nature of the metallic object. On the basis of the received signals, the probe of the metal detector can detect the approximate size of the object found and the metal it consists of.
In addition to the attenuation analysis, there is the BFO (Beat Frequency Oscillator) system. Two oscillators are used here. Oscillators continuously generate electrical signals . The oscillator processed in the metal detector emits a fixed frequency of several 100 kHz. The second oscillator is part of the search coil and generates a different frequency. Both frequencies overlap and trigger an acoustic signal whose height changes as soon as the second oscillator is moved close to a metallic object.
Our practical tip: Efficiently probe with the discrimination function
Many modern metal detectors have a so-called discriminator. This is a type of controller that can be used to filter out certain signals. In this way, it is possible to search for a specific metal type and to hide other metals that are irrelevant to the search. Please note that the discrimination function is not always reliable when sonning on soils containing heavy minerals. Because of the high mineral content, finds can be displayed that do not exist at all.
Buying Criteria for Metal Detectors – What's it all about?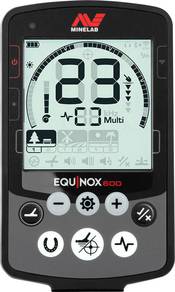 The measurement method used is an important criterion when purchasing a suitable metal detector. Depending on whether you want to search at great depths or whether the determination of the metal type is of greater importance for you, select a detector with pulse induction technology or alternating current procedure.
Whether the choice is made on a digital or an analogueue metal detector depends on the individual purpose of use. Digital metal detectors enable very precise measurements and are usually equipped with an LC display as well as various setting options. However, a wide range of equipment also weighs heavily, which is why digital metal detectors are often heavier and less handy than analogueue detectors and also consume more power.
If you want to probe not only on the ground but also in water bodies, make sure that the probe of the metal detector is waterproof. In this case, special underwater detectors are recommended, which are available for different diving depths. Some models are up to 10 m waterproof, others up to 80 m waterproof. Others even make it possible to work on the seabed.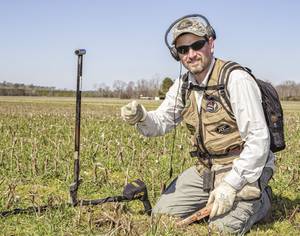 Good workmanship, ease of use and comfort (keyword: Comfortable armrest) also play a major role. In addition, metal detectors that generate acoustic signals should be equipped with a headphone jack. Sonding with headphones has several advantages: On the one hand, the acoustic signal is better perceived by shielding the surrounding noises, on the other hand, one prevents passers-by from feeling disturbed by the signal tones.
In principle, the equipment of a metal detector should be adapted to the intended use. Most models are battery operated and can be used flexibly outdoors. In case of poor visibility, an LED lamp is useful.
FAQ – Frequently asked questions about metal detectors
What is the maximum detection depth of a metal detector?
Simple metal detectors are designed for a search depth of 10 to 20 cm, while higher quality specimens can measure in depths of 150 to 300 cm. In addition, there are metal detectors for the professional sector, which are designed for a search depth of up to 1200 cm. However, they are correspondingly expensive.
What great random findings have been made with a metal detector?
One of the most important finds, which so far apparently were made randomly with a metal detector, is certainly the celestial disk of Nebra. This is a round bronze plate depicting sky motifs and religious symbols. Their age is estimated to be around 4000 years. The artifact was found by two probe walkers in Nebra, a city in Saxony-Anhalt.
Metal detectors: For locating metallic objects Metal detectors are measuring devices used to locate metallic objects in the ground, in water or in walls. They are based on different measurement methods and are used in numerous areas. You ca...