This text is machine translated.
Construction of a classical transmitted-light microscope

Examples of other types of microscopes

Purchase criteria for microscopes - what's important?

Our practical tip: Mounting slides

FAQ - Frequently asked questions about microscopes
Microscopes can be used to visualize objects that the human eye cannot perceive due to its limited resolution. These include, for example, plant and animal cells, micro-organisms such as bacteria, but also crystals and minerals. Microscopes are mainly used in biology and medicine to analyze tissue samples for the diagnosis of diseases, but can also be used for quality control purposes to examine components for contamination, errors or irregularities in the structure.
In the geo and material sciences, microscopes can be used to identify different phases in sediment samples or to analyze compositions of solids such as rocks or materials. Microscopes have become indispensable in these areas and have been in use since their invention at the end of the 16th/beginning of the 17th century. Many further developments.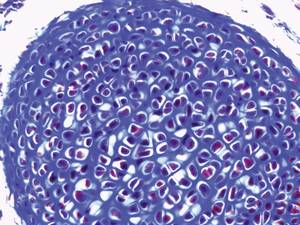 Detailed recording of the slide under a transmitted-light microscope
Construction of a classical transmitted-light microscope
According to tradition, the first light microscope was developed in the Netherlands between 1590 and 1595. Zacharias Janssen and his father Hans Martens Janssen, both professional eyeglasses and lens makers, designed a telescope-like device with the help of which an object could be viewed through two lenses made of glass.
In contrast to earlier, today's light microscopes appear much more complex in terms of technology and construction. A classical transmitted-light microscope consists, roughly speaking, of an upper, middle and lower part. The tube is located at the top. This is a narrow tube, which is equipped with an eyepiece, which shows the specimen in enlarged view. The tube ends in an object revolver with one or more lenses , which usually have 4, 10 and 40 times magnification. Devices designed for professional microscopy have lenses with even greater magnification.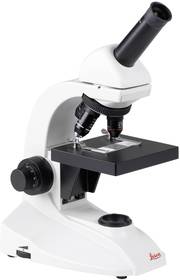 Transmitted light microscope with LED lighting and 4x lens revolver
Below the lenses is the object table , which is usually equipped with two object holders. They are used to fix the slide with the specimen to be examined. This unit forms the middle part of the microscope. A light source is located under the object table at the base of the device. It is either a lamp or a mirror that reflects the daylight. In order to regulate the incidence of light, a condenser with an aperture is fixed at the bottom of the object table. The light is focused using the aperture, hits the slide from below through the hole in the object table, and then on the lens. The latter acts like a collective lens and creates an enlarged intermediate image in the tube, which is enlarged again by the eyepiece.
Transmitted light microscopes must be distinguished from reflected light microscopes. In the case of microscopes with transmitted light, the light source is located at the base of the device and radiates through the specimen from the bottom to the top . In the case of reflected-light microscopes, the slide is illuminated from the direction of the lens, i.e. from the top or the side . For this purpose, the lens itself is equipped with lighting. Microscopes with reflected light are particularly suitable for the examination of preparations that are not translucent . These include, for example, solids such as metal, wood, stone, ceramic and plastic. Metallurgical microscopes are therefore usually based on the reflected light design. Transmitted light microscopes, on the other hand, are the right choice for viewing semi-transparent preparations such as liquids, animal or plant cells.
Examples of other types of microscopes
Microscopes are available in different versions. These are partly models that function according to the principle of light microscopy, i.e. use reflected light or transmitted light, or are based on completely different modes of operation. In our online shop you will find, for example: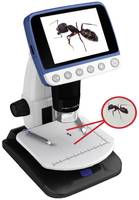 LCD digital microscope with 200x optical magnification

A digital microscope is equipped with a camera that photographs or films the enlarged image and then transmits it to a PC monitor or displays it on a display . The latter is attached to the instrument instead of a classical eyepiece. A digital microscope is particularly useful when the recordings are to be printed out, saved or forwarded quickly. Drawing microscopic images with your hand saves you money.
Microscope with the possibility of up, diagonal and transmitted light

A stereo microscope is equipped with two lenses, which are aligned at different angles to the sample to be examined and each generate a separate image in the tube . In this way, it is possible to obtain a three-dimensional view of the object. In order to be able to perceive the 3D effect, one has to look at the preparation with both eyes. For this purpose, stereo microscopes are equipped with two eyepieces. This means that they are always binocular microscopes .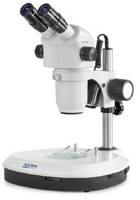 Stereo microscope with trinocular and two-sided zoom function

A stereo zoom microscope is a kind of stereo microscope, which is equipped with a zoom function in addition to the available magnifications, in order to be able to view the object to be examined even more closely. Such devices are used, for example, for laboratory examinations.
Purchase criteria for microscopes - what's important?
An essential criterion for the purchase of microscopes is the intended use . If the instrument is intended for beginners and intended for the use of children or adolescents, classical light or children's microscopes with an ocular magnification of 10 times and three lenses with magnification of 4, 10 and 40 times are usually sufficient.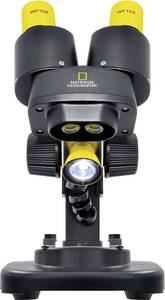 Stereo microscope with binocular and 20x optical magnification
Monocular microscopes are completely sufficient for the beginning. However, longer microcopying is more comfortable with binocular microscopes . In principle, it is advisable to check in advance whether there are spare parts for the installed eyepieces and lenses. This allows you to restore the microscope to function if individual components fail the service.
The quality and type of lighting are also crucial when purchasing microscopes. Models with mirrors that take advantage of daylight cannot be used in the dark. Artificial light sources such as electric lamps or LEDs are therefore recommended. It should be noted that battery-powered lamps are sometimes less bright than those supplied by the mains. However, they have the advantage of being able to be used mobile and, for example, at research stations outdoors, where there is no connection to the power grid.
In order to achieve the maximum resolution and to illuminate the object optimally, the quality of the condenser or the aperture plays a major role. The aperture should be infinitely adjustable for comfortable handling. The microscope cup and stand should also be heavy and stable to prevent the device from moving or changing settings in the event of minor shocks.
Practical tip for microscopes: Object holder or cross table?
The object tables of simple microscopes are usually equipped with two object holders into which the slide is inserted. To be able to push it back and her as smoothly as possible, a little tact is required . If these are preparations such as liquids that are to be moved as precisely and at very fine distances as possible, a cross table is practical. Here the slide is clamped and moved in the x or y direction using adjusting screws without the need for a quiet hand.
FAQ - Frequently asked questions about microscopes
My microscope produces a blurred or low-contrast image at higher magnifications. What can be the problem?
This can have several reasons. Often, the condenser or condenser orifice is not adjusted correctly. An aperture that is too wide often results in too little depth of field or too little contrast. The use of eyepieces with too high magnification can also have a negative effect on the quality of the image.
Can ich upgrade my microscope with a camera?
not always Many microscopes are equipped with a removable eyepiece which can be replaced by a microscope camera. The latter is then simply inserted into the tube. However, the option is not available with every model. Observe the manufacturer's instructions.
This text is machine translated. About microscopes What was microscope? Construction of a classical transmitted-light microscope Examples of other types of microscopes Purchase criteria for microscopes - what's important? Ou...