This text is machine translated.
Useful information about milling machines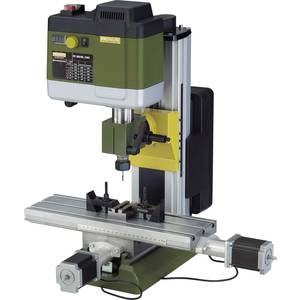 Milling machines process the contour and surface of workpieces with their interchangeable milling tool, the precise feed and the exact control. Plane surfaces, grooves and guides up to complex 2D and 3D shapes, tools and machine parts can be produced.
What is a milling machine used for?

How does a milling machine work?

What types of milling machines are there?

Hand-controlled milling machine or CNC milling machine?

These are the advantages of a CNC milling machine

The correct milling tool for surface processing
What is a milling machine used for?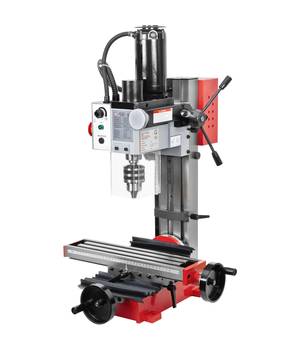 A milling machine is an electrical tool for the manufacture of workpieces with a certain geometric contour and surface . The application spectrum of milling, which is closely related to turning machines and turning machines, is large. The possibility of fitting a milling cutter with different cutting tools results in an application area from the processing of steel, stainless steel, cast iron, non-ferrous metal, light metal, brass, aluminum and copper, plastic, acrylic, Plexiglas up to wood, hardwood, soft wood, MDF and stone.
Simple milling machines smooth or structure surfaces or create grooves, slots and guides with high accuracy, cut precision and low tolerance. There is a large selection of milling machines in different sizes, equipment variants and automation levels.
CNC milling is common in the professional sector and also used by home workers and in the hobby workshop. These machines also make unusual shapes possible with their CNC control, for example for model constructions, decorative objects, 3D letters, furniture, jewelry, kitchen utensils, frame frames, lamps, key rings and musical instruments. Modern milling machines are synchronous milling machines in which the chips removed from the cutting edge are moved away from the workpiece. This results in better surface quality and less wear compared to older counter-milling machines.
Among the most famous manufacturers of milling machines for metal processing, plastic processing and wood processing are Holzmann Maschinen, Proxxon and Scheppach.
How does a milling machine work?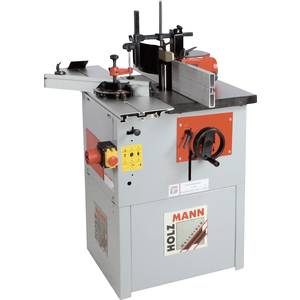 Like drilling or planing, machine milling is a machining process in which chips are removed from the workpiece by means of a milling tool. In this machining process, the material is removed by a cutting tool rotating at high speed. To do this, the workpiece is clamped into the milling machine.
The cutting tool in the spindle moves along the surface of the workpiece or the workpiece itself is moved and passed past the trimming tool. The trimming process is completed when the desired contour or surface has been created.
In contrast to a hand-guided surface milling machine, which you pass over the object with your hands like an electric plane or an oscillating sander, the cutting tool in a milling machine is guided over one or more axes with millimeter precision. The tool in the head of the trimmer can be changed.
The feed control is used to control how much material is removed. The feed movement of the machine results in a high precision in the milling movement. The feed on the surface and thus the cutting movement is performed vertically or diagonally to the turning movement (rotation) of the cutting tool in the machine during the face milling normally used.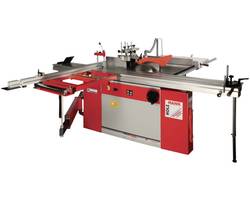 The angle of the trimming tool and thus the orientation of the cutting edge to the workpiece is maintained throughout the feed motion. In circumferential milling, the tool axis is guided through the machine parallel to the workpiece surface.
Simple milling machines with a straight feed motion are limited to face milling or profile milling of workpieces. Better equipped machines also control circular milling thanks to circular feed. Professional milling machines (CNC milling machines) are also able to produce three-dimensional shapes (profile milling) with their flexible feed via the X-axis, Y-axis and Z-axis.
What types of milling machines are there?
1. According to the design, milling is divided into horizontal milling machines, vertical milling machines and bed milling machines. Universal milling machines are all-rounder and can be used in the field of workshop and production due to their adjustment possibilities and the low travel path. They are available in different versions, performance classes and sizes.
2. Manual compact models with small space requirements are mainly intended for beginners, hobby users and small craft enterprises for occasional milling. Larger universal milling machines and machine tools are a good choice for frequent use in workshops, craft, production and training companies.
3. Drilling milling machines as well as turning, drilling and milling machines are compact combination devices for do-it-yourselfers and hobbyists. They combine several functions in one machine. The machine can be converted from drilling mode to turning mode or to milling by converting (changing the tool and the enclosed accessories).
Hand-controlled milling machine or CNC milling machine?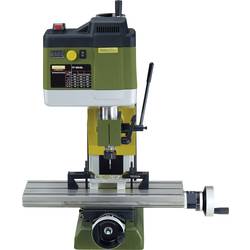 An electric milling machine for beginners and hobby use is usually controlled by hand. These machines have a mechanical feed and are used for the production of single pieces and small series. Milling machines for experienced hobby users as well as professional users are characterized by extensive control and automation possibilities. CNC-controlled milling machines are the most powerful. They are operated by a computer instead of by a user.
For a long time, the automated CNC milling machines were reserved for industry, production and tool production. Increasingly, low-cost CNC milling is also available, which is recommended for the demanding hobby, model making and PCB production. The abbreviation CNC stands for "Computerized Numerical Control" and refers to milling machines with computer control that work software-supported and thus fully automated. Above all, the precision, the high degree of milling precision and the low travel distance are the main characteristics of CNC milling. CNC can also be used to create complex shapes and surface structures that could not be realized with other milling or at least not so quickly.
These are the advantages of a CNC milling machine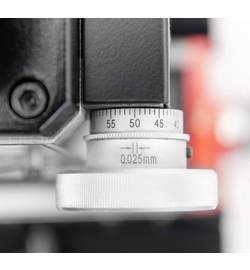 A CNC milling machine is characterized by the automatic feed via built-in stepper motors on several axes. All processing steps are programd in a software program on the computer for a CNC milling machine and then applied without manual intervention by the machine operator using a CNC code. In the CNC program, you convert your CAD drawing to commands so that the machine knows which axes are to be moved.
Once created, CNC programs can be easily modified and adapted to new requirements or materials. CNC milling is a great relief for the production of identical workpieces. Another advantage of CNC is the significantly faster tool management compared to the manual control and the resulting speed advantage at completion. Compared to a conventional milling machine, the many advantages of CNC stand against higher entry costs, a larger space requirement for the device and the higher learning effort at the beginning. However, the flexibility and considerable working speed of a CNC milling machine usually outweigh these points. CNC milling machines and machine tools are also suitable for series production due to the precise reproduction possibilities of CNC.
The correct milling tool for surface processing
Milling cutters with different geometry are used for metal processing as well as for processing plastic and wood with a milling machine. The quality of the cutting edge results in a specific plain roughing profile and thus different milling properties.
Finishing cutters achieve small to medium material removal with low chip volume and high surface quality. Roughing finishing cutters work faster with mostly adequate surface finish due to their medium groove division and the resulting larger chip volume. For a high material removal, a correspondingly large machining volume is required. For this purpose, roughing cutters with coarse grooves are their own. The resulting workpiece surface must normally still be finished after roughing, i.e. it requires further surface processing, for example with a finishing cutter.
Milling cutters are available in many different designs - as single-tooth and multi-tooth cutters, radius cutters, disk cutters, profile cutters, profile cutters, torus cutters, micro-cutters and end-face milling cutters.
Clamp the trimming tools correctly
When clamping and clamping the cutting tool into the trimming head, work as carefully as possible. Clean and inspect the cutter before use. For safe working, a clean cut from the material and a high surface quality, the cutter must be correctly fixed by means of the tightening nut or tightening screw so that it runs round and flat. Tighten the cutting tool as short as possible to prevent bending. Ensure that the carrier is engaged in the recesses. Replace damaged or blunt trimming tools.
This text is machine translated. Useful information about milling machines Milling machines process the contour and surface of workpieces with their interchangeable milling tool, the precise feed and the exact control. Plane surfaces, groov...