Useful information about micro, miniature lamps
What are micro or miniature lamps used for?

What types of micro and miniature lamps are there?

Design of micro and miniature lamps

Which criteria are important when selecting a micro or miniature lamp?
What are micro or miniature lamps used for?

In the category Micro-bulbs and miniature-lamps you will find a few millimeters large bulbs. Due to their properties and small dimensions, these lamps can be used in a wide variety of applications. They are found in many industrial areas, in vehicle construction as well as in medical technology. They differ in terms of the materials used, the technology and their electrical and optical data.

Micro and miniature lamps are generally used as universal lamps in electronics; they are used for soldering into PCBs, for example. They have special plastic bodies, which are designed for a perfect adjustment during the soldering process. They are also used in model construction. The optimal dimensions make these small lamps interesting for the construction of signals, warning signals, traffic lights, street lights, house lighting and model-making position lamps. Due to their low power consumption, they are ideal for electronic displays.
What types of micro and miniature lamps are there?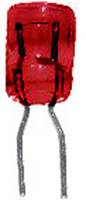 The first distinction is that according to the size of the bulbs:
Micro bulbs are up to 2 x 12 mm in size
Miniature bulbs are 5 x 18 mm in size
Depending on the intended use, the micro-bulbs and miniature lamps differ in their construction and design. There are sub-miniature lamps with sockets, incandescent lamps with wire ends, micro lamps with threaded sockets, lamps with connection cables or plug-in lamps.

Depending on the requirements of the user for the intended lighting, different application parameters result. These purchase criteria should therefore be observed :
Power consumption
Voltage
Light intensity
Dimensions
Piston shapes
Shock and shock behavior
Service life
Connecting wires and base
Quality characteristics of the lamp bulb
colouring;
Design of micro and miniature lamps
Spiral
The filament is the filament and determines the light technical and mechanical specifications of the lamp. The diameter plays a decisive role in this. It is usually made of tungsten wire.
Holder wires
If the filament is too long, the retaining wires are melted into the bead as a reinforcement measure.
Pearl
The glass bead is melted around the current guides and provides an even electrode gap.
Power supply
There are two power feeds per lamp, these are copper-plated wires. The standard electrodes of the lamps have a diameter of 0.20 to 0.25 mm.
Skirting
Most lamps have a base. The sockets are internationally standardized and allow the bulbs to be replaced without soldering or auxiliary tools. Other lamp versions use galvanically tin-plated connecting wires. They are easy to solder and manufactured according to DINA 40046 and MIL-T-10727.

Which criteria are important when selecting a micro or miniature lamp?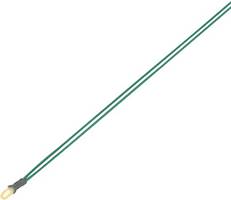 Service life and thermal influences:
As the service life increases, the inside wall of the glass piston is discolored. The coil and glass piston temperatures influence the wire cross-section. Some manufacturers use glass fillings that reduce the evaporation of tungsten wire and thus increase the service life.
As a rule of thumb, the life of a lamp with a lower voltage at the same power loss and light intensity is higher than that of a lamp with a higher voltage.
Sensitivity to mechanical load:
In some environments, vibrations and other mechanical loads affect the light bulbs. If this is to be expected in use, low voltage and high current lamps should be selected.
Installation:
Tin-plated connecting wires enable installation through the soldering process. After soldering, it is recommended to fix the lamps in order to prevent stress. Plastic sleeves, spacers, but also adhesives are used for an optimum fixing point.
Nominal voltage:
The rated voltage indicates the voltage required by the lamp for normal operation and is maintained during operation. Depending on the type, micro and miniature lamps are designed for nominal voltages from 1.5 V to 60 V. Micro-lamps for motor vehicles, for example, have a nominal voltage of 12 V or 24 V adapted to the on-board power supply
Power:
The power of lamps is given in watts. The wattage reflects the exact value of the current consumption and determines the light intensity only partially. The efficiency of the lamps is decisive. For clarity, a 100 watt lamp converts only 5 watts into light. The rest is released to the environment as heat. Because miniature and micro lamps are mostly only suitable as signal-giving elements, they have lower performance than the "large" incandescent lamps. Miniature lamps with 0.09 W are used, for example, for car keys with signal lamps.
The mini-bulbs are generally no less durable than the "large" versions and usually reach thousands of operating hours if they are operated correctly. Use under load (such as vibration), in hot or cold environments or under direct current instead of alternating current can significantly reduce the service life. Manufacturer lifetime specifications always refer to laboratory conditions and can therefore only be used as comparison values. Make sure that you do not damage the device during installation.
Micro and miniature bulbs are special bulbs whose use is determined by their dimensions. Thanks to their small footprint, they offer a wide range of applications in modern electronics, both in industry and in the household. Voltage, current and power are basic parameters for selecting a bulb. However, additional data such as the condition of the base, connections, temperatures and vibrations, and color play a role in the installation of these special lamps. International standards facilitate replacement and serve as guidelines.
Useful information about micro, miniature lamps What are micro or miniature lamps used for? What types of micro and miniature lamps are there? Design of micro and miniature lamps Which criteria are important when selecting a m...