Model Making Battery Packs
This text is machine translated.
Useful information about model building battery packs
What types of battery packs are there?

What are the differences between battery packs?

Where do ich insert which battery pack?

What was to be taken into account when purchasing battery packs?

Frequently asked questions about battery packs
The technical development of electric model drives has carried out gigantic jumps in recent years. This becomes very clear when you visit a model airfield on a sunny weekend.
Flying models of various sizes are now almost only electrically carried into the air. The models are not only really fast on the way, they also ascend vertically into the sky in some places. The reason for this is on the one hand extremely powerful electric motors and on the other hand high-energy and light battery packs, which can deliver seemingly endless current.

Powerful brushless electric motors and high-energy battery packs allow electric glider models to climb vertically into the sky.
Everyone has certainly already held an AA or AAA rechargeable battery in their hands, e.g. from a cordless telephone, a digital camera, a flash unit or a portable CD player. These rechargeable batteries, which are also used as a replacement for batteries, are designated by the specialist as round cells or as individual cells.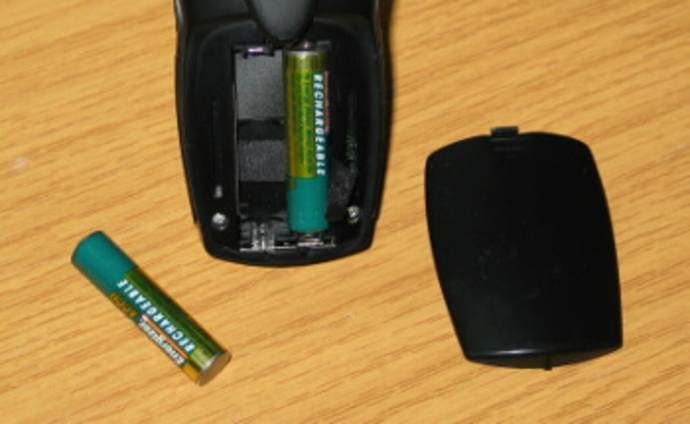 As a rule, these commercially available rechargeable batteries are nickel metal hydride cells (NiMH) with a nominal voltage of 1.2 V per cell. Since this voltage is not particularly high, several rechargeable batteries are usually required for the respective consumers.
The individual batteries are then inserted into a battery compartment, where they can be placed side by side due to the space involved, but are electrically connected in series. If two batteries are inserted, the total voltage is increased to 2 x 1.2 V = 2.4 V. With four rechargeable batteries, the voltage increases to 4.8 V.
In the model construction area, several individual cells are also used, for example, to operate a remote control transmitter. This works without any problem, since a remote control transmitter does not have a high power requirement. However, if powerful electric motors need to be supplied with a lot of current, the small spring contacts in battery compartments can reach their power limit very quickly due to the low contact surfaces.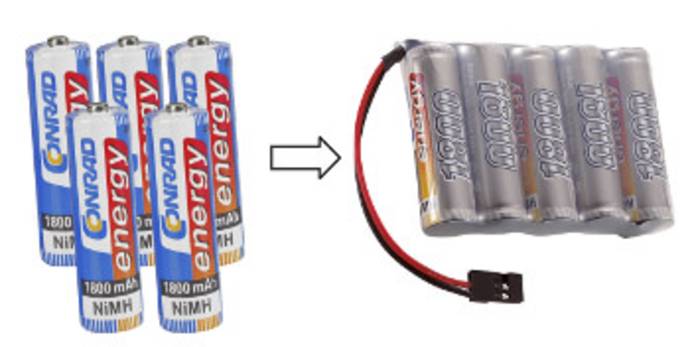 For this reason, the manufacturers have developed ready-made battery packs. For this purpose, several individual cells in the most varied constellations are mechanically joined together and industrially connected.
Connecting cables are attached to the first and last cell and the entire unit is packed in a shrink hose or plastic housing – the battery pack is ready, which can also deliver high currents without any problem if required.
Practical advice
If possible, industrial battery packs should also be used in the remote control, as the spring contacts in the battery compartment can become fatigued over time and thus cause contact errors under unfavorable conditions. This danger can be elegantly avoided with a battery pack of the required size.

What types of battery packs are there?
In the meantime, model builders use a wide variety of battery packs. The packs are not only different in shape and size. The main difference lies in the battery technology, i.e. in the internal chemistry, with which the batteries generate current. The following battery technologies are used in model construction: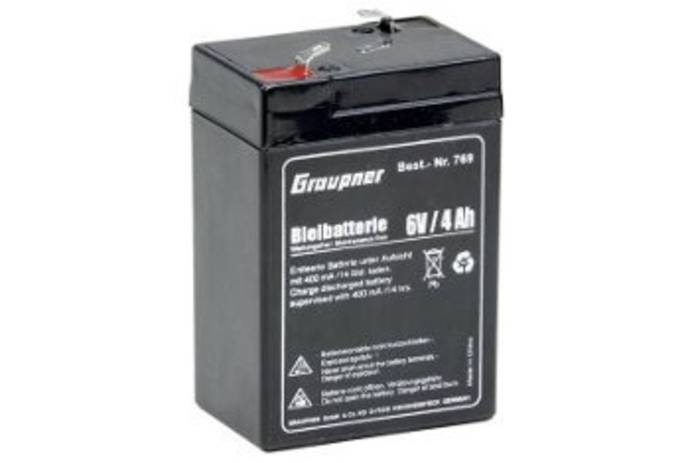 The oldest battery pack used to date is the lead battery. Similar to a car battery, which ultimately also represents a lead-acid battery pack, the individual cells are housed in a common housing and only the connection contacts are led outwards.
In contrast to the car battery, which is filled with diluted sulfuric acid in liquid form, model-built lead-acid batteries are firmly closed and the electrolyte is gel-shaped.
This means that the rechargeable batteries are battery-free and easy to use, because they do not have to be filled after the purchase.
NiMh rechargeable battery packs.

Nickel-metal hydride batteries (NiMH) have almost completely replaced the previously widespread nickel-cadmium batteries (NiCd), which are toxic to heavy metals. NiCd batteries are still permitted only in special applications such as medical technology and emergency lighting.
The NiMH rechargeable batteries are similar to batteries in various round cell types, such as AAA, AA, C or D, whereby these round cells are also processed into battery packs.
As a drive battery, the cell size Sub-C (Ø x H = 23 x 43 mm) has crystallized out, which has been assembled as a battery pack in various combinations.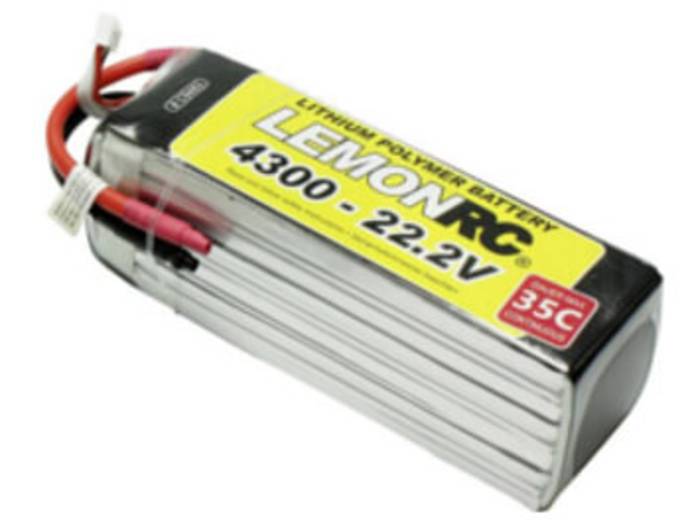 Another quantum leap in battery technology is the development of lithium batteries. Thanks to its high capacity and compact design, lithium batteries in smartphones and tablets have proven their performance for years.
However, the manufacturers have always developed the cells further, so that they have become high-current-capable over time and have now become extremely interesting for the model drive.
In conjunction with high-torque brushless motors, drive concepts can be realized with lithium batteries, which model makers could only dream of years ago and which easily outperform the powerful combustion engines themselves.
What are the differences between battery packs?
Chemistry must be right
Model-making battery packs differ not only in shape and size. Due to the different technologies used in the respective rechargeable batteries/rechargeable battery packs, the rechargeable batteries also have different voltages, as shown in the table below.
| | Nominal voltage V/cell | Final discharge voltage V/cell | End-of-charge voltage V/cell |
| --- | --- | --- | --- |
| Lead-acid battery | 2.0 | 1.75 | 2.35 |
| NiMH rechargeable | 1/2 | 0.9 | 1.45 |
| Lithium polymer rechargeable battery (LiPo) | 3.7 | 3.0; | 4.2 |
| Lithium polymer HV battery (LiHV) | 3.8 | 3.3 | 4.35 |
| Li-ion rechargeable battery (Li-ion) | 3/6 | 2.5" | 4.1 |
| Lithium iron phosphate battery (Life) | 3.3 | 2.0 | 3/6 |
Each battery requires its own charging procedure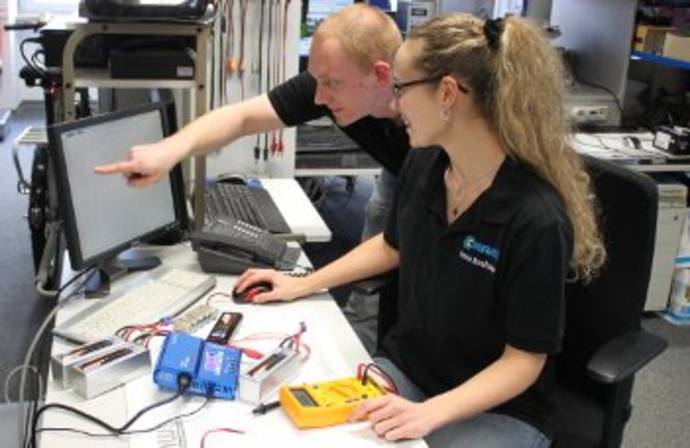 Due to the battery chemistry used, the respective rechargeable batteries also require different parameters such as charging voltage, charging current and switch-off criteria, which are exactly matched to the rechargeable battery type.
Model builders have it relatively easy, because there are now intelligent multi-function chargers, in which you only have to set the battery type (battery technology) and the number of cells of the battery pack. When entering the capacitance value, the clever chargers often also suggest the ideal charging current.
All other parameters such as current or voltage control during the charging process or the correct battery full recognition are then taken over by the chargers fully automatically.
To our multi-function chargers
Where do ich insert which battery pack?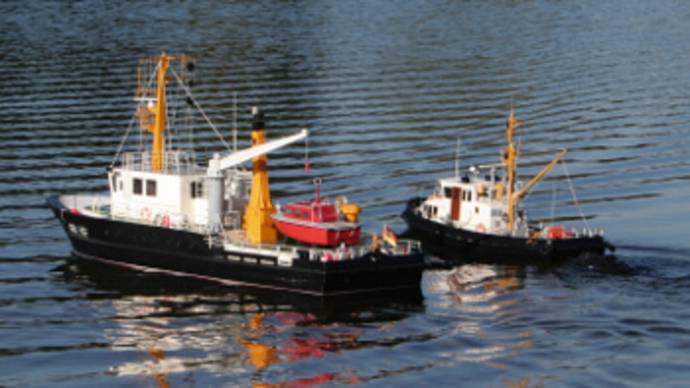 Even if the energy density of lead-acid batteries with 30 – 40 Wh/kg does not reach the energy density of lithium batteries with 120 – 180 Wh/kg, lead-acid batteries can still hold their ground in the field of model construction. Lead-acid batteries are used as glow-plug batteries for methanol motors, for supplying power to start boxes or electric starters and as drive batteries in ship models.
Especially in ship model construction, model builders use the disadvantage of lead-acid batteries, namely the relatively high weight, to their advantage. If a model true to prototype requires plenty of trim weights for a perfect water situation, then you can distribute the trim weights in the shape of current donors in the fuselage.
Thus, particularly long driving times are possible without having to constantly change or recharge the battery.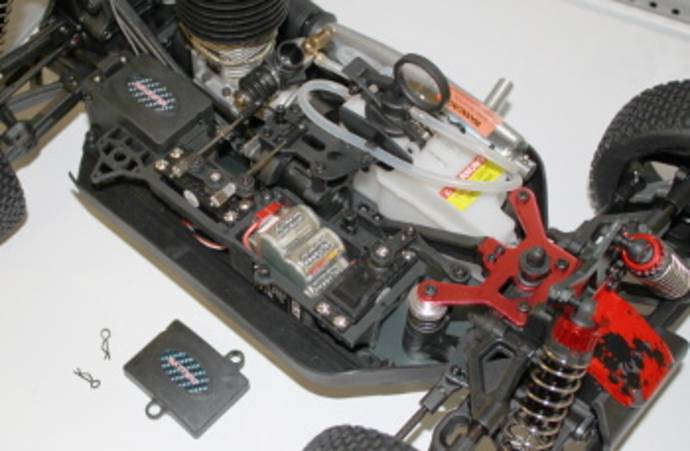 NiMH rechargeable batteries have largely been used as drive batteries. Occasionally, NiMH racing packs can be found in cost-effective car models that are available ready to drive. NiMH racing packs are also used in older car models, where the speed controllers do not have deep discharge protection for LiPo batteries.
NiMH rechargeable battery packs are used even more frequently as power supply for remote control transmitter or remote control receiver. And that has its reason! Because due to the vibrations and vibrations, a battery box with mignon round cells has not lost anything in a combustion car model.
Similar to ship model builders, the owners of glider models still like to resort to NiMH batteries, which are not particularly light. Which was also meaningful. Because they prefer to mount large battery packs in the tip of the fuselage instead of flying snowing lead.
Lithium rechargeable batteries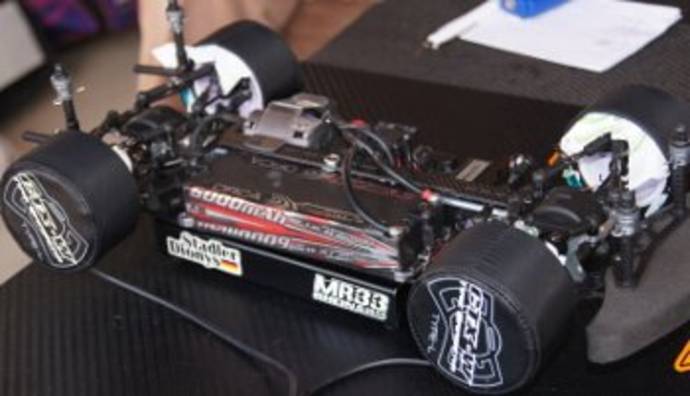 An extremely high energy density with minimum weight and plenty of current make lithium batteries the ideal energy source for very small and very large electric models.
Especially the lithium polymer battery (LiPo battery), in which the electrolyte is not liquid but gel-shaped, has proven itself as a drive battery for racing boats, car models, helicopters, copters or even flight models.
Depending on the model type, these rechargeable batteries are available in a plastic housing (hard case), e.g. for car models or weight-optimized for flight models in heat-shrink sleeve.
Especially for the car model racing, even more powerful LiPo batteries (HV batteries) with a higher voltage level and a lower internal resistance were developed, which offer the ambitious model sportsman a significant increase in speed.
In order to give a battery a long life and to use many discharge cycles, it should be handled correctly and stored in accordance with regulations.
Observe safety regulations
For the safe use of rechargeable batteries, there are important safety regulations that must be observed at all times. The most important points are listed here again:
Keep rechargeable batteries out of the reach of children.
Rechargeable batteries must not be short-circuited, dismantled and thrown into fire.
Damaged or leaking rechargeable batteries must only be handled with protective gloves.
When connecting a battery pack, observe the correct polarity.
If a battery pack is not required, it must be disconnected from the consumer.
After use, rechargeable battery packs must cool down before recharging them.
Only undamaged battery packs may be charged.
Battery packs must never be charged unattended.
When the charging process is complete, the battery pack must be disconnected from the charger.
As already mentioned, each battery pack requires an optimized charging process for its technology. For multi-function chargers that also work with high charging currents, the correct entry of the battery type, number of cells and charging current is of absolute importance. Especially when entering the charging current, you have to adhere to the technical data of the rechargeable battery or the manufacturer's specifications.
Depending on the battery type, the charger will then select the correct charging procedure and also reliably detect when the battery is full and the charging process can be completed.
Since lithium batteries are very sensitive to overcharging, these battery packs have a balancer connection. This connection can be used to measure the voltage of each cell in the battery pack. If required, each cell with a higher voltage value can be adjusted to the remaining cells in the battery pack by discharging it via the balancer connection.
Attention important!
The worst thing you can do was to charge the battery incorrectly. This will not only damage the battery inside. In the worst case, a battery can explode, smoke away or even burn with an open flame. Therefore, rechargeable batteries must never be charged unattended.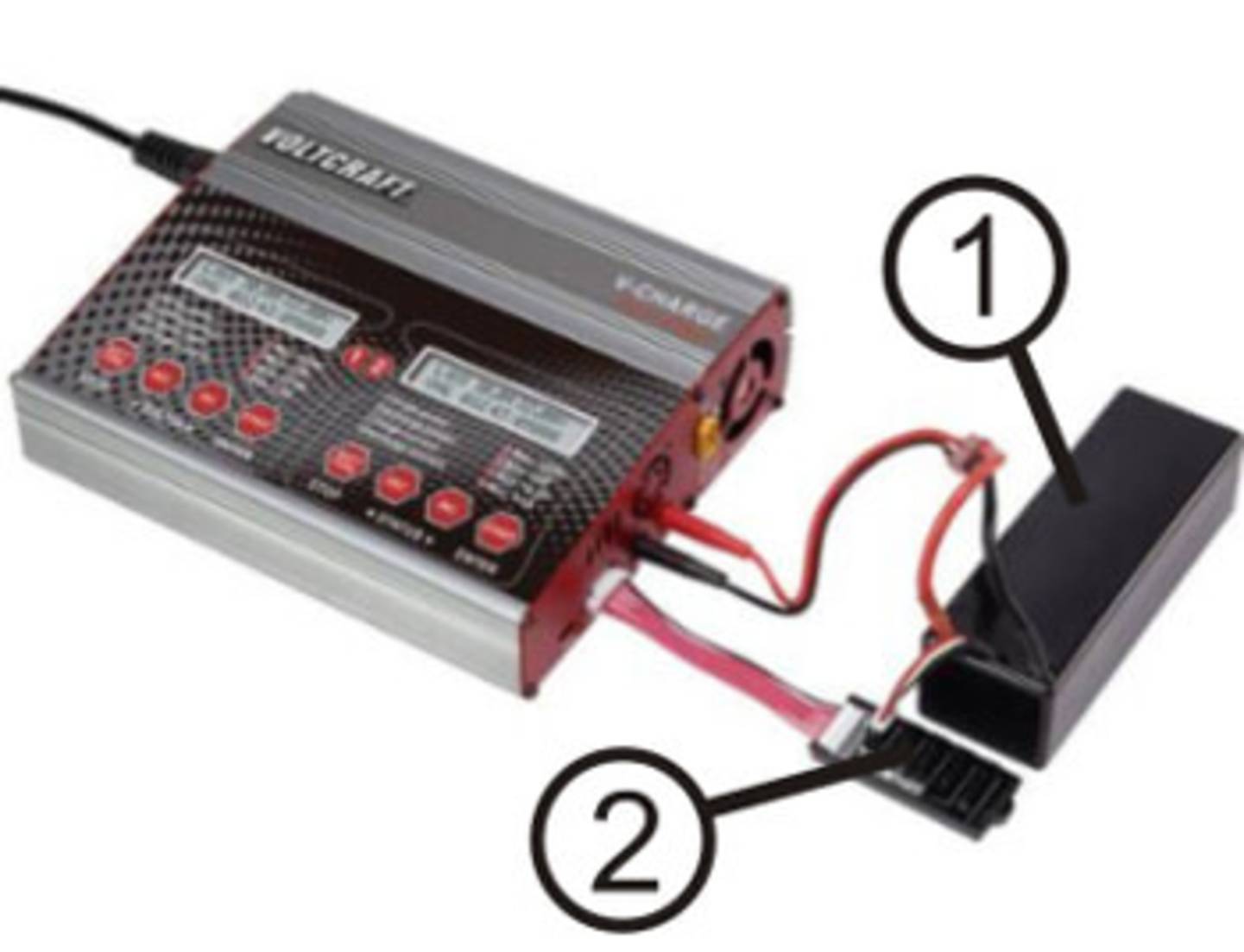 Model-making charger with LiPo battery (1) and balancer connection (2).
Ensure good connections
Many model makers use high-quality rechargeable batteries and use state-of-the-art chargers with sophisticated technology. However, the charging cables are often badly neglected. A good charging cable has extremely flexible cables with a high cross-section and high-quality connectors. Only in this way can they cope with her daily mechanical stresses and permanently establish a low-resistance connection between the charger and the battery.
Use within the framework of technical specifications
No matter which model or purpose a rechargeable battery pack is used for, it must always be ensured that the current required for the rechargeable battery does not exceed the maximum permissible rechargeable battery current specified in the technical documentation for the rechargeable battery.
In addition, lithium batteries must be effectively protected against deep discharge. In this case, the motor controllers used in the model must reduce the motor power or switch off the motor completely.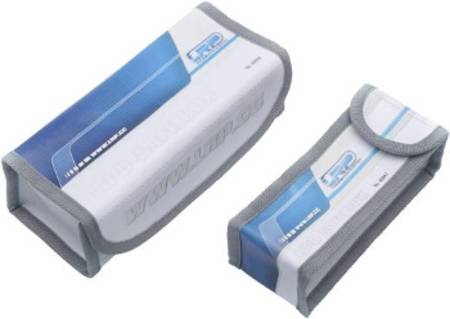 Safety bags are suitable for storage and charging
Whereas lead-acid batteries can be stored in a fully charged state without any problem, NiMH batteries and lithium batteries should only be charged up to 70% if they are stored for several months, e.g. during winter break.
The storage location should be dry and at room temperature. The stored batteries must be protected against frost.
Lithium batteries in particular have an increased safety risk, as lithium is easily flammable in combination with oxygen from the air. For this reason, lithium batteries should always be stored and charged in fire-resistant bags (safety bags).
What was to be taken into account when purchasing battery packs?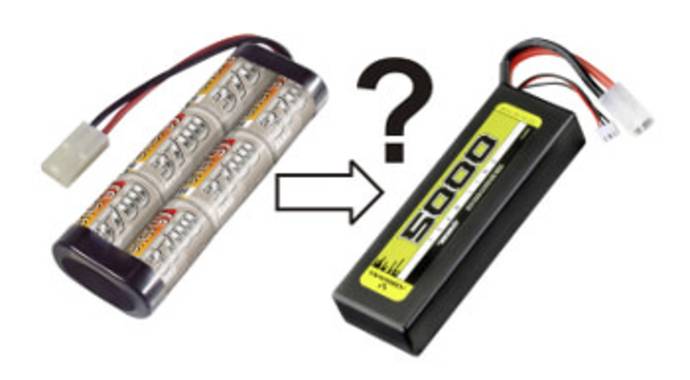 In general, when selecting a suitable battery, it must be decided whether the battery fits my application. Especially when existing batteries are to be replaced by other types.
It is certainly tempting to exchange the 7.2 V NiMH racing pack for a 7.4 V LiPo racing pack in a model car. A higher voltage and higher capacity would be worth the investment. However, if a LiPo charger and a new speed controller are also required, because the existing charger can only charge NiMH batteries and the speed controller does not have a LiPo cut-off, a high-quality NiMH racing pack might be the better solution.
But there are other things to consider when selecting battery packs.
Batteries are not all created equal.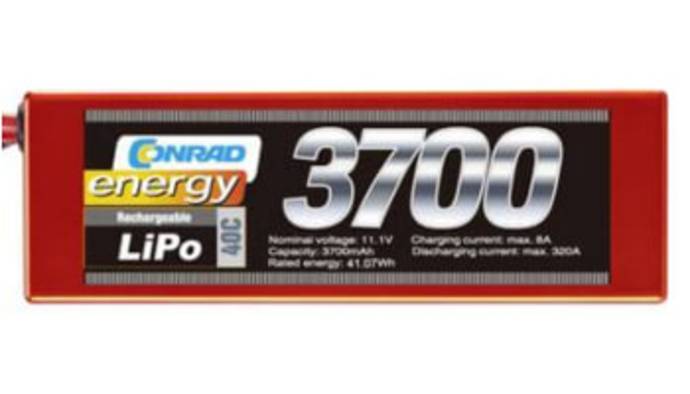 Even if two batteries have exactly the same charge, the same is not yet exactly the same in them. In addition to the battery type, the capacity, the number of cells, the internal resistance is also a decisive factor in the quality of a battery pack. While NiMH batteries have always been a "hidden" value, LiPo batteries have a very different value. For these batteries, the maximum discharge current is indicated on the battery label. The current always refers to the capacity value (C) of the rechargeable battery.
A battery with 3700 mAh and 20C has a maximum discharge current of (20 x 3700 mA = 74 A). The same battery with 3700 mAh and 40 C has a significantly lower internal resistance and is able to deliver up to 148 A.
Capacity is not equal to capacity
The capacity value of a rechargeable battery corresponds to a discharge that lasts for several hours. If, for example, a 2400 mAh battery is charged with 240 mA, the discharge would take 10 hours. If it were to be charged with 2400 mA, the discharge would take an estimated 1 hour. What was mathematically logical, unfortunately, does not work in practice.
As the charging/discharging current increases, the usable capacity decreases. In addition, lithium batteries must not be deeply discharged and manufacturers always like to give the capacity values that are achieved in the laboratory under optimum conditions.
This should be observed if the current consumption of an electric drive and the desired motor runtime are extrapolated to the capacity value of a rechargeable battery or if a discharged battery with 2400 mAh can be "only" 1900 mAh recharged.
Frequently asked questions about battery packs
My charger only has a connection cable with a Tamiya plug, can ich charge a LiPo racing pack with it?
No, please not! A Lipo racing pack has switched two cells in series and therefore requires a LiPo charger with a balancer connection.
What was the 3S1P label on my battery?
The first part of the labeling means that 3 cells are connected in series (in series = 3S) with this battery. The second part of the label says that no other cells are connected in parallel to the battery cells (1P). The battery pack therefore consists of three cells. A battery with 3S2P would therefore consist of 6 physical cells, two of which are connected in parallel and the three two packs in series.
How should ich my LiPo-transmitter battery with 3.7 V und 6000 mAh correctly charged and why does it not have a balancer connection?
Since this battery does not have any cells in series, it does not need a balancer connection. However, the rechargeable battery must be charged using a suitable charger on which the LiPo battery type and the number of cells can be set to 1. The maximum permissible charging current can be found on the battery label or in the technical data sheets.

My LiPo battery has become bloated, was it
In contrast to a car battery with small ventilation holes in the cell screw connections, a LiPo battery is airtight welded. Due to operating errors such as too deep discharging, incorrect charging or storage in a fully charged state, gases are released in the battery, which inflate the foil casing. In this case, dispose of the battery in accordance with the regulations. Important! Do not prick the battery to let the pressure escape. In this case, there is an acute fire hazard.
This text is machine translated.    Useful information about model building battery packs What was a battery pack? What types of battery packs are there? What are the differences between battery packs? Where do ich...