Motion detector: Safety guaranteed
Motion detectors are sensors for detecting movements in defined areas . . They are used for a wide range of purposes, such as light control and other smart home applications, as presence detectors, intrusion protection and signal system control. Motion detectors use various techniques for detecting movements .
How do motion detectors work?

What are motion detectors used for?

What must be taken into account when selecting motion detectors?

How do motion detectors work?
A motion detector is an electronic sensor that detects movements in its vicinity and then operates as an electrical switch. They transmit an electrical signal to connected consumers, causing a reaction to certain events.
Time functions are often integrated which, for example, cause the light in the entrance area to be switched off after five minutes without any further movement, so that it does not go on and off several times if someone just wants to get something out of an annex or a car quickly. This also saves energy with the help of motion detectors .
It works actively with electromagnetic waves , ultrasound or passive with infrared radiation or camera technology . It is also possible to combine the different functions.
Infrared radiation/ PIR sensors: The PIR sensor is the most commonly used type of motion detector. PIR is derived from the English passive infrared (passive infrared). The sensor of a passive infrared detector responds to changes in heat radiation in defined detection sectors. With PIR detectors, they detect the body heat of humans and animals or the heat of motors. If the temperature difference between an object and its surroundings exceeds the specified tolerance values, the PIR motion detector switches on an electrical signal, which causes a reaction such as light or even alarm sirens at the connected electrical consumer. This system does not work through walls and is therefore not suitable for concealed installation. The function of PIR motion detectors is also disturbed by an existing underfloor heating system.
Electromagnetic waves: This active detector emits electromagnetic waves in the high frequency range, which are reflected back by objects and living beings. A Doppler radar responds optimally when the distance to the sensor changes. Radar detectors have the temperature independence and the possibility of concealed installation ahead of the PIR detector.
Ultrasound: This high-frequency sensor technology also penetrates glass, wood and lightweight walls and reacts to every movement , regardless of heat. The possibility of concealed installation is advantageous.
Camera: The camera motion detection captures movements in the truest sense of the word: It records them. The system comes from safety engineering and responds to all changes in the surveillance area of a camera with an automated start of the recording. The product contacts any connected alarm devices via switching outputs. In many cases, a different type of motion detector is upstream of the camera surveillance to limit video recording to relevant events.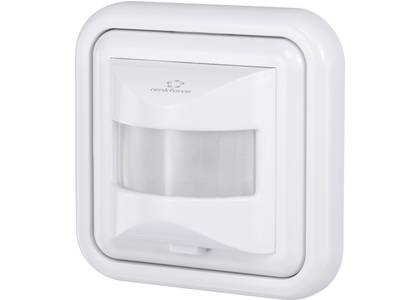 The PIR motion detector switches on the light by changing the temperature
What are motion detectors used for?
Motion detectors can be used in various areas. In particular, they are important for light control, presence detectors and intrusion protection:

Light control and other smart home motion detectors
Motion detectors are often used for light control. They send an electrical signal which automatically switches on the light as soon as the motion sensor detects a person in its detection range. A timer function determines how long the light should burn . In the staircase of a multi-story elevator, it makes sense, for example, to leave the light switched on for several minutes, while for a short passage period, periods of less than one minute may be sufficient.
The combination of a motion detector for light control with a twilight sensor is practical, which only switches on the light in dark environments. After all, a lot of energy can be saved if the light remains switched off throughout the day in bright areas and the motion detector only provides illumination when darkness falls or on cloudy days. In indoor rooms without a natural light source, however, the use of a twilight switch is no longer necessary.
Other common uses of motion detectors in smart homes and commercial buildings include controlling ventilation systems in underground garages and sanitary areas, opening of through-road barriers or activating devices that are otherwise only in standby mode.
Our practical tip: Reduce power consumption
Wherever an electrical consumer is only switched on when a person or a vehicle approaches, motion detectors can significantly reduce power consumption compared to the continuous operation of the connected devices.
Presence detectors are more sensitive than other motion detectors, because they are intended to detect when a person is in the detection range , but not moving much . Often, presence detectors register temperature differences between the person's body temperature and the surrounding environment and are therefore designed as PIR sensors.
Presence detectors are often used for lighting control in offices and other places where people are permanently present, such as on terraces or in cellar rooms.
Burglar alarm systems/video surveillance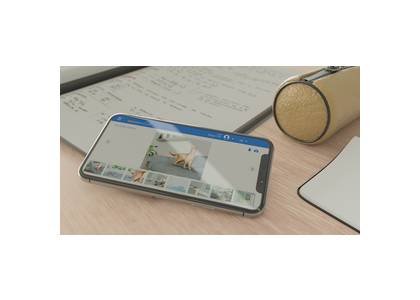 Motion detector switches off without heat source after a specified time

Intrusion detection systems either switch an audible alarm signal or electrically transmit a silent alarm when they detect a motion as a triggering event. In intrusion protection, several motion detection procedures are often used simultaneously to reduce the risk of false alarms.
A possible combination is, for example, ultrasound waves for motion detection and additional temperature detection to ensure that they are human intruders.
For the later reconstruction of events, complex systems made up of several detection sensors sometimes have an alarm memory that stores which sensor first triggered and in which order other devices in the zone were activated. This allows the path of the burglar to be understood.

Our practical tip: Protection of the motion detector
Important when selecting motion detectors to be used for intrusion protection is the tamper protection . This can be ensured, for example, by a casing that is not easy to open and can be destroyed. In addition, motion detectors for intrusion protection in areas with high safety requirements have a cover detection which, for example, triggers a special alarm when the camera is attached, sprayed with paint, etc. . VdS Schloss Prevention GmbH, created from the S achversurer V erband, sets guidelines for intrusion detection systems similar to the TUV as a private institute. The common requirements and test methods are freely available on the Internet.
What must be taken into account when selecting motion detectors?
To select a suitable motion detector, you should ask yourself a few questions in advance:

What should the motion detector detect?
Motion detectors use different functions (see above). The most frequently used motion detectors work with PIR sensors that detect temperature differences. The type of motion detector depends on whether animals and warm car engines, for example, or moving objects (without body temperature) are also detected. Electromagnetic wave, ultrasonic sensors and camera technology can detect more events. However, a high sensitivity is also a risk of false alarms .
Where should the motion detector be installed?
There are general differences between motion detectors, which are suitable for indoor use and those for outdoor use. Outdoor motion detectors are weather-resistant. In addition, twilight sensors for outdoor areas are usually more sensitive in order to be able to set up for cloudy weather conditions. For safety reasons, you should also install a waterproof outdoor motion detector in damp interiors.
The detection angle and the range of the motion detector are also decisive. These two criteria determine which areas the motion detector can cover when scanning its environment. Caution: Each obstacle reduces the range of the detection area. Motion detectors with a small detection angle are often sufficient in narrow aisles. There are 360° motion detectors for ceiling mounting to monitor large rooms, but the range should be as high as the floor. Motion detectors for wall mounting are recommended in high rooms. Ultrasonic motion detectors are well suited for angled zones, because ultrasonic waves can also spread around the corner, i.e. past the obstacle.
As mounting types, there are surface and flush-mounted versions as well as motion detectors for ceiling mounting and for wall mounting. In addition, a structure can be used to lift the motion detector off the wall in order to increase the detection angle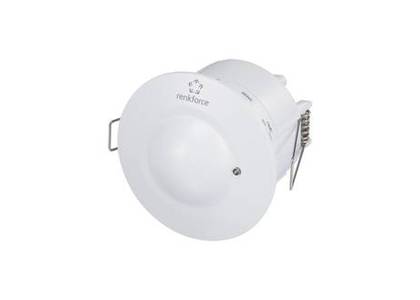 High frequency motion detector for the ceiling with 360 ° angle
Which cables must be laid for the power supply and the connection of devices to the motion detector?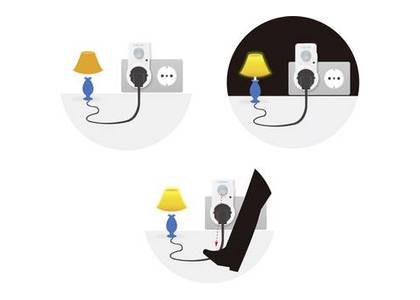 Adapter plug with motion sensor for switching on other devices
On the one hand, of course, the motion detector must be supplied with energy. There are different variants here. Some motion detectors work with batteries , so there is no need for a socket near the motion detector or laying cables for the power supply.
Further electrical connections are necessary for the transmission of signals to the connected devices. These are usually fixed cables . Wireless motion detectors with wireless transmission between the motion detector and the connected device are modern alternatives. Sometimes installed motion detectors can be (de-)activated with a remote control.
Motion detectors, which are designed as intermediate adapters, are a practical solution to the challenges mentioned. Here, the motion detector is inserted as an intermediate element in an existing socket, on top of which you connect the devices to be controlled.
Should the person in the detection area notice that it has been detected by a motion detector?
For most motion detector applications, it does not matter if the person approaching the sensor notices that it has been detected by a sensor. In the automatic light control it is even obvious, since the lamps can not have been switched on by ghost hand.
In safety-relevant application scenarios, motion detectors that are installed under cover are often used, which only cause silent alarm functions. Such devices should not be detected by intruders. Conspicuous LED lights and open cables alert the perpetrators to the presence of a motion detector. If you do not want the motion detector to be visible even when you look at it closely, use a model with invisible electromagnetic or ultrasonic waves that penetrate through a cover such as an image or a curtain.
As an alternative, you could consider the hidden motion detection with radar sensors for more security.
 Motion detector: Safety guaranteed Motion detectors are sensors for detecting movements in defined areas . . They are used for a wide range of purposes, such as light control and other smart home applications, as presence detectors, ...