Motion Detectors, PIR Sensors
This text is machine translated.
About motion sensors, PIR sensors
What was the motion sensor and PIR sensor?

Typical areas of application:

Selection criteria for the purchase

FAQ – Frequently Asked Questions about Motion Sensors and PIR Sensors
What was the motion sensor and PIR sensor?
Commercially available motion detectors contain so-called PIR sensors. P stands for pyroelectric or passive, IR for infrared, i.e. heat radiation. The pyroelectric effect of certain crystals is used in these sensors: If the temperature suddenly changes by more than 4˚C in the environment, its electrical potential also changes. This change can be measured, further processed and used as a "trigger" for triggering electronic switches.
Typical areas of application:
Most PIR sensors are installed in motion detectors, usually together with a photo resistor for measuring brightness and an electronic switch. The latter can be set for different activation periods and switches the current flow to incandescent, halogen, LED or fluorescent lamps, for example. The photo resistor can also be set for sensitivity control, so that the detector only triggers in dark environments, for example.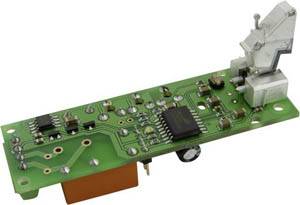 PIR sensors are also available separately. They can be used to design individual control modules that react to temperature changes. These include, for example, automatically starting hand dryers, fans, fans, extensive lighting systems, door openers and alarm systems equipped with infrared cameras .
As PIR sensors react to short-term temperature fluctuations, they can also be used as flame detectors. Flames have a typical flicker frequency between 1 Hz and 5 Hz, which was used in flame detectors to signal the absence of flickering. Older gas or oil-operated heating burners can be extended by a "flame-off alarm system".
PIR sensors are also found in so-called pyrometers , handy devices with which contactless temperatures – for example, on heating or air conditioning systems – can be measured
Selection criteria for the purchase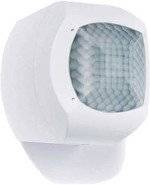 In order to function correctly, motion detectors and PIR sensors must reliably detect temperature differences in the environment. For this purpose, the incoming heat radiation is bundled in such a way that it covers a wide horizontal range on the one hand and meets the sensor in a targeted manner on the other. This is done by special lenses that are permeable to infrared . With motion detectors, the lens elements occupy almost the entire front area, with PIR sensors the lens consists of a kind of semi-circular cap.
The following criteria play a major role in the selection of motion detectors and PIR sensors: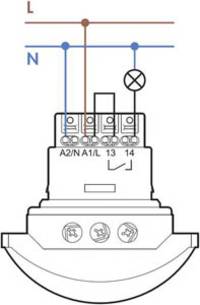 Viewing angle
The horizontal and vertical detection ranges, for example 40˚ and 105˚, are always specified. In case of doubt, an ever larger angle should be chosen, as the area can be restricted by sticking infrared-impermeable adhesive tapes.
Range
"A lot helps a lot" does not always apply in this case, especially when the motion sensor or the PIR sensor detects areas that should not be monitored at all, sidewalks or roads, for example. In addition, only the range is usually specified "in the free field", i.e. under optimum conditions and with free view. In rooms, on the other hand, the reflection of heat radiation must be taken into account when installing the detectors or sensors as well as changing heat sources . These include, for example, the rays of sunlight falling through a window, which may vary in strength.
Operating voltage
While the power supply for motion detectors is usually provided by the mains current, the power consumption of the PIR sensors operated with a battery or rechargeable battery must be observed without fail. Fortunately, PIR sensors only need currents inµ the A range, some even lie below 10µ A, others require 150µ A and more.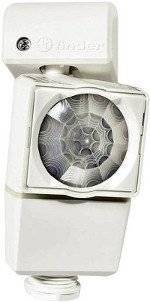 Switching capacity
This information must be taken into account urgently for motion detectors! This refers to the load that a detector can switch on, that is, usually the switching on of lamps . Very good detectors can switch incandescent or high-voltage halogen lamps with up to 1000 W, with other lamps such as fluorescent lamps, LEDs or low-voltage halogen lamps the switching capacity is usually between 300 and 500 W.
For indoor or outdoor use
Outdoor motion detectors are protected against the effects of the weather , usually according to protection class IP54. The 5 stands for "complete touch protection and protection against dust deposits inside", the 4 stands for "protected against spray water". The protection class does not play such an important role in the installation in rooms.
control electronics;
PIR sensors do not work without the appropriate control electronics . These sensors are already installed in motion detectors and some individual sensors, but some sensors can also be upgraded with small and inexpensive circuit boards. These only require a mains connection (always take contact protection measures!) And a passive sensor. With two potentiometers, the on-time of the consumer can be controlled directly on the circuit board up to a breaking capacity of 1000 W, in the range of 10 seconds up to 15 minutes. There is also a photo resistor for setting the twilight threshold in the range of 10 to 2000 Lux.
FAQ – Frequently Asked Questions about Motion Sensors and PIR Sensors
Are there PIR sensors without lens?
Yes, there are. Due to their small diameter of less than 10 mm, they are particularly suitable for hidden monitoring , for example in a hole in the door frame. However, the absence of the lens is accompanied by very low detection angles . The motion signal is thus only triggered if humans or animals are directly in front of the sensor. A "cat flap" is a typical application example.
How can motion detectors be protected against vandalism?
Outdoor motion detectors are generally easy to detect and can thus become the target of vandalism. In order to prevent this, there is a module with integrated PIR sensor, whose entrance window plan closes with the installation surface. This motion detector is almost invisible when installed in walls and with an infrared-permeable window in front of the sensor.
Practical advice
If the existing control electronics are not sufficient, computer support can be integrated for a PIR sensor, for example via an Arduino board. Special PIR sensors equip such a board with signaling functions, configurable and controllable via software.
Motion detectors with Bluetooth function can be used without any DIY. They are easily set up using a smartphone or tablet with iOS or Android as the operating system. The brightness threshold, the switch-off delay and the angle of the detection range can be configured.
This text is machine translated.     About motion sensors, PIR sensors What was the motion sensor and PIR sensor? Typical areas of application: Selection criteria for the purchase FAQ – Frequently Asked Questions a...