All LAN connections are plugged in, the network is running, the computers can access it, but sometimes it is slow? With today's data volumes, high data transfer rates in the network are the key to enabling fast work. To find out how network switches can help you with this, please read our guide.
What is a network switch and how does it work?

The differences between switch and hub

Application areas of network switches

Types of network switches and selection criteria

Special terms for network switches

What must be taken into account when installing and using network switches?
What is a network switch and how does it work?
Part of the network technology for Ethernet . To put it simply, an Ethernet switch is a distributor in a Local Area Network (LAN) that connects the devices on that network for data transport purposes. This data is effectively forwarded with the so-called packet switching between the connected computers and other network devices such as printers, scanners or cameras. There are different approaches to data management. This is reflected in the following technical solutions: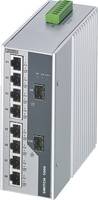 These are distribution boards, through which the individual network components can usually be easily connected to the network via plug-and-play. They work without any setup effort , do not require IP addresses or an administrator . The simple basic settings are usually implemented with DIP switches. Such solutions are best found in home networks and in small office networking solutions. Another area for the use of unmanaged switches are temporary working groups which are added to networks, for example, when field staff are to use the company Ethernet during meetings, or also LAN parties in the gamer scene.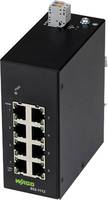 These devices are used in large networks with a large number of connected users and the highest security requirements, as well as in the remote management and maintenance of devices in networks. Managed switches offer many additional features:
Among other things, individual subscribers or network segments can be isolated and virtual LANs (VLAN) can be set up within physical networks. In addition, extended bandwidth management is possible, with which guaranteed bandwidths can be assigned to specific network subscribers. Managed switches manage the IP addresses of the connected network devices and also support the Simple Network Management Protocol (SNMP), which allows administrators to monitor the status of the connections in order to intervene in the event of errors or attacks on the network. To do this, these switches are accessed using web browsers. This allows easy configuration of the numerous parameters.
In the industrial sector, network switches often have a redundant power supply for increased fail-safety.
In our online shop, we offer a wide range of managed and unmanaged switches.
Differences between switch and hub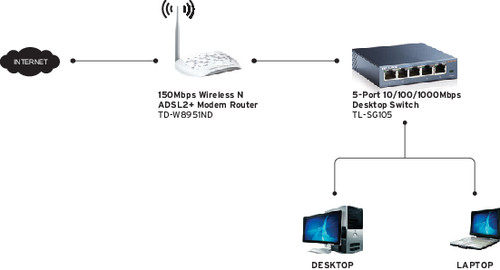 The hub and switch share the common feature that they are used for data exchange in computer networks – as well as routers or a DSL modem with ports.
As the simplest technical network connection solution, a hub sends data undifferentiated to each connected network device. All these devices share the usable bandwidth of the hub. Communication is always carried out one after the other as a query or response. If a device is busy with a large amount of data, the bandwidth for all other nodes in the network is reduced. In the meantime, this hub technology is mainly used to stream media content: A "transmitter" transmits to all connected (network) terminals. A hub can be compared to a multiple socket, which is very simple.
A switch, on the other hand, "makes" its own decisions about how the data packets are forwarded. It does not simply send everything to all, but only to the port of the selected network device. Each port can communicate independantly of any other port. Each device in the network has a uniquely assigned network address (MAC, Media Access Control) and associated ports, which are stored in a source address table (SAT). Switches can send and receive data packets at the same time. The big advantage is that when two devices on the network communicate, the bandwidth remains the same for the other users.
There are several methods for data transmission:
Cut-through : fast, instant data forwarding without error detection
Store-and-Forward – Buffer and validate the data packet before forwarding. This is a bit slower, but bad packets can be "sorted out".
Combination of cut-through and store-and-forward , which is internally controlled by the switch.
Fragment-Free : checks the first 64 bytes of the data packet. If this part is error-free, the data is forwarded. This procedure is rarely used.

Especially with the buffering of data packets (cache) and duplex operation very high data throughput rates are achieved. With active data management, much more ports are possible than in hubs. This means that switches for larger networks are mandatory.
Disadvantages of switches are:
The so-called latency time is much higher with an Ethernet switch than with the hub. The switch must first find the correct delivery port using a specified method of its internal address table.
Network administration and troubleshooting is more complex .
Types of network switches and selection criteria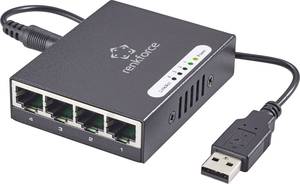 In our online shop you can select basic properties in the filter option "Category". This includes the ability to mount in a 19-inch rack, expansion options, media management and accessories. Switches for industrial applications are dedicated to a separate point.
The power supply is very variable and ranges from plug or DIN rail power supplies via block terminals, USB or also via the network up to the direct low-voltage connection . Also observe the so-called PoE function. With "Power over Ethernet", the switch obtains its operating voltage via the data network . To do this, power must be fed into the data line. This can save installation costs and simplify the use of uninterruptible power supply (UPS). PoE is standardized in IEEE standards and is used by network devices that require little power, such as VoIP phones and IP cameras.
The number of Ethernet ports is an important purchase criterion because it depends on the number of network devices. Network switches with only one Ethernet port are mostly used for data transfer in changing media, for example from fiber optic to electrical cables.
Also with the LAN transmission rate should not be heated up. It is expected that the demands on the transmission speeds will continue to grow. Switches with up to 10 Gigabit per second are already available.
Our practical tip: Differences in cables
Whether network cables are Fast Ethernet or Gigabit Ethernet cables can be seen by the number of contacts: If the RJ-45 connector has eight cables, this is a Gigabit-capable cable.
Understand special terms - autosensing, IEEE802.3x flow control
When customers buy a network switch, they often find special terms. These have to be understood for the purchase at least in basic terms, in order to find the optimal device. The maximum supported speed plays an important role here.
Autosensing
The speed of the data transmission of the devices is set automatically. Devices at 100 Mbps can be easily operated on 1 Gb/s switches.
IEEE802.3x flow control
of this mechanism usually has the task of optimizing the data traffic between switches and is designed to prevent the loss of data packets. Simply put, the feature synchronizes traffic between endpoints. For private users, the technology rarely makes sense, but it is nevertheless included in many switches.
QoS
Quality of Service (QoS) ensures that sufficient speed is always available for certain network protocols and ports. This is especially important when working with IP telephony.
VLAN
with this technology, devices in the network can be grouped into virtual networks. This technology is only needed in companies.
What must be observed during installation and use?
The number of Ethernet ports should always be very generous. This saves a costly new purchase when connecting additional network devices.
Only use high-quality and best ready-made network cables. Cat-6 and Cat-7 cables transmit data at up to 10 Gigabit per second, so they are now future-proof. But be careful: Cat 7 cables are partly equipped with plugs that are not compatible with RJ45 sockets.
About network switches All LAN connections are plugged in, the network is running, the computers can access it, but sometimes it is slow? With today's data volumes, high data transfer rates in the network are the key to enabling fast work. To f...