This text is machine translated.
Useful information about garden sockets
Garden sockets: Power under the open sky

Garden sockets: Power supply for garden, terrace and balcony

What was the advantage of garden sockets?

In this way, you will find the right garden socket for your needs

Plug boxes for weatherproof extensions

What was to be observed when purchasing a socket for the garden?

Design, shape and color diversity in garden sockets

So easy to install an external socket
Garden sockets: Power under the open sky
Outdoor sockets provide the garden with power when it is needed: Spontaneously for the next outdoor party, cooking together and watching TV outdoors. Or you can lay garden sockets around the seat and everywhere, where you want to easily connect electrical devices at any time.
Garden sockets: Power supply for garden, terrace and balcony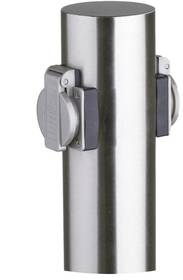 Your robotic lawnmower gets to work when you're not at home and cuts the lawn to an accurate five centimeters. Garden lights and light chains provide a pleasant feel-good atmosphere around the house at dusk. Wireless outdoor speakers create a relaxing music background – and with the rotating skewer for your grille, the chickens become so crispy-crispy that no more pieces are left.
At the same time, you want to charge your mobile phone or notebook on the relax chair. All these amenities work only with electricity. It is therefore important to be able to plug lights and other devices in exactly where they are needed.
Weatherproof garden sockets provide the necessary power, without having to get the cable drum out of the garage every time. The sockets for the outdoor area make you flexible in terms of power supply and independant of the available sockets, of which there are always far too few.
What was the advantage of garden sockets?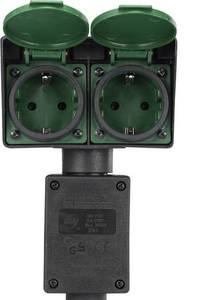 With the power distributors, it is easy to provide additional power connections safely and reliably in the garden. The splashproof sockets can be used to operate household appliances with voltages from 220 to 240 volts – outdoor lights, DIY machines and electric garden appliances of all kinds. The sockets fit seamlessly into your garden design and are always at your service if you want to connect something. The power distribution units are designed for outdoor weather conditions and can remain properly positioned even in the rain.
Another plus point: Garden sockets are usually designed as an outdoor multiple socket, thus offer several socket slots. As with a multiple connector strip for indoors, you can connect several devices to a distributor if desired. The simultaneous use of different consumers up to the maximum power of the socket is thus no longer in the way, moreover, the multiple principle prevents cable mess.
In this way, you will find the right garden socket for your needs
Garden sockets differ visually and functionally from conventional socket strips. There are models with built-in connection cables that are ready for immediate use, and power distributors that you install with a suitable, separately purchased connection cable.
Garden socket for mounting
An alternative to models with built-in connection cable and ground spike are power distributors for fixed mounting. They usually do not have a fixed cable. Thus you can select the desired length as required and lay the connection cable also sunk in the floor or in empty pipes. The installation is done according to the operating instructions on the wall (surface-mounted) or on the floor.
There are many possibilities for screwing in the garden, such as on walls, projections, wooden walls, fences or similar. Energy columns are accessible from several sides. These vertical distributors are mounted from above, for example, on floor boards, plasters or wooden floorboards and can be used almost anywhere in the garden.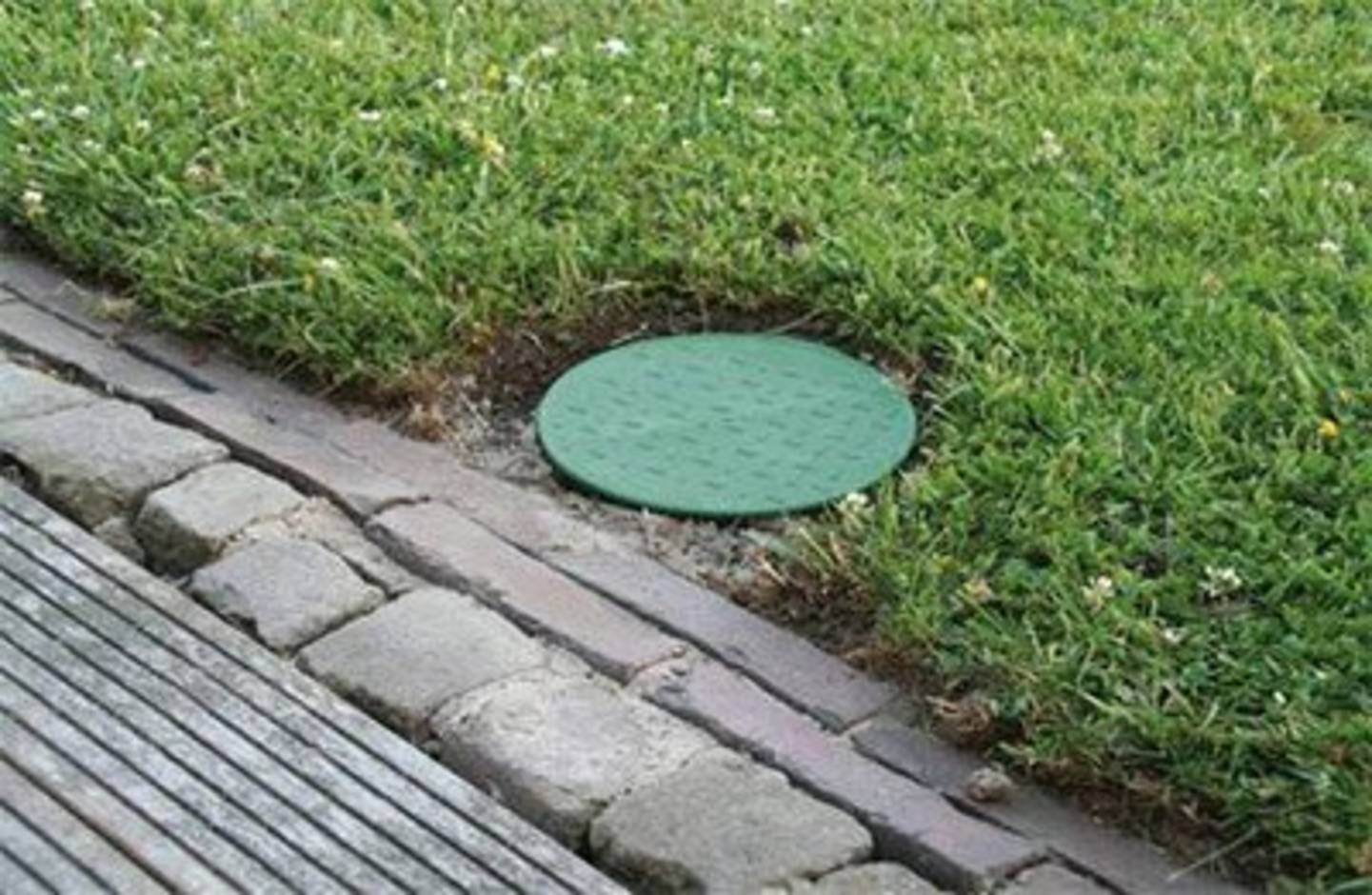 Garden sockets for floor installation can only be recognized by their plastic or metal cover when not in use. The installation is a bit more complex than with energy columns. The installation in the ground floor takes place in such a way that nothing protrudes in closed or recessed condition. Floor sockets are generally accessible without entry and you can easily move over them with the lawnmower. Unpopulated floor-mounted sockets are suitable for the installation of transformers or distribution boxes.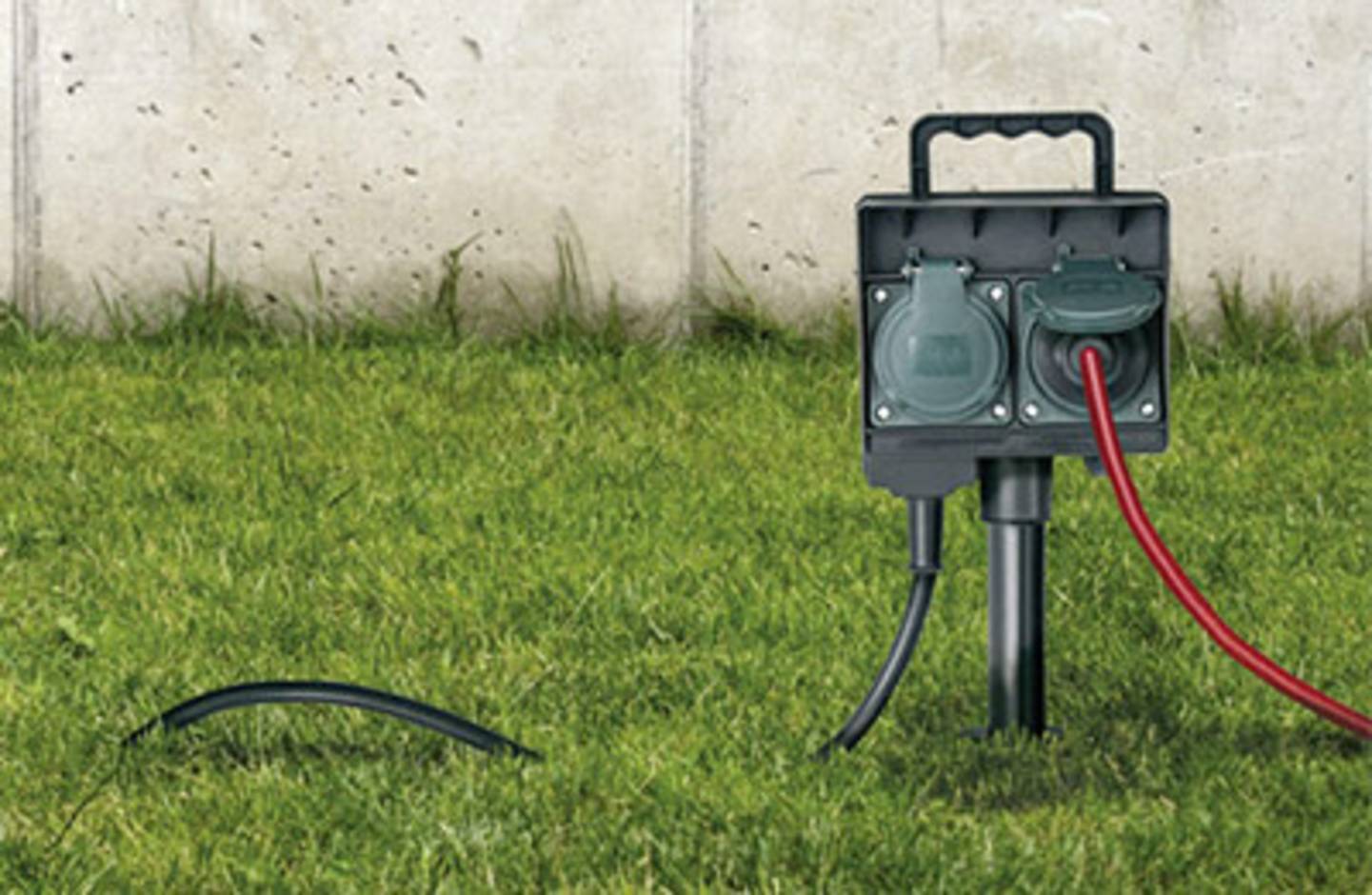 Garden socket with integrated connection cable
Sockets with permanently installed connection cables are ideal for fast power distribution in outdoor areas. These models are made of a weatherproof and break-proof plastic housing, which contains the sockets for your devices. There are versions with one, two (2-way), four (4-way) and more outlets. The connection cable that you connect to an existing Schuko socket leads out of the housing. Pay attention to the length of the cable specified in the product description.
Garden sockets with fixed cable are ready for connection and are characterized by a very easy installation. With the ground spike, which is often included in the delivery or available as an accessory, you can place the outdoor socket vertically in the ground so that nothing can slip. A handle attached to the housing is used to pull out the socket and ground spike from the ground.
Plug sockets in the garden: So you plan correctly
When extending the power supply in the garden or on the terrace, it is important to find out how many external sockets you actually need and where sensible locations are. Make a note of the devices for which you need a socket and whether the connection should always be made in the same place (garden lighting, electric grille, electric radiator) or alternatively at different sockets (electric lawn mower and other devices for gardening).
The old rule of thumb "one socket in every corner of the room" can be adapted for the garden. Plan a socket around your seating area in each corner. In this way, you can also charge wireless speakers with a weak battery at the power supply in addition to fairy lights and mobile phone chargers, or bring a fan outside if the sun heat is too high. For garden tools, a forward-looking planning with a radius of 10 to 15 meter connection cable is recommended. Ideally, you can reach any desired device location.
Useful extras: Timer and remote control
Garden sockets with timer switch automatically switch connected devices on and off at the times you have set before. With the timer function you can make your home safer or automate processes and save energy. The time control is useful, for example, for switching the outdoor lighting, for pond pumps and fountains. The time switch has a 24-hour day program and can switch one or more sockets at the same time, depending on the model. Analogueue timers can be set via switching pins on a turntable, digital models via buttons on the housing.
With a power distributor with remote control, the individual socket locations can be controlled separately by pressing a button. So you can switch on a light chain at dusk without getting up – and when it gets darker, you can switch on further lights. The remote control is also helpful in winter to regulate the garden light from inside.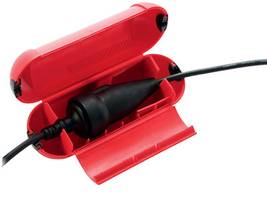 Plug boxes for weatherproof extensions
Sometimes you may have to extend the connection cables outdoors. Plug boxes provide for a plus in safety. Use a plug box to secure the plug connections of your extension cables. The cables are fixed in the inside of the box by a strain relief in such a way that an unintentional separation of the plugs is prevented by zerring at the cable. The housing protects the connections from contamination, moisture and damage. In addition, the box serves as a child lock. Plug boxes are available in different versions also for rubber earthing contact plugs and angled plugs.
What was to be observed when purchasing a socket for the garden?
When selecting a socket for garden or terrace use, observe the following criteria:
Weather protection: Sockets for outdoor use must be at least splash-proof according to IP44. This IP-protection class ensures that the devices cannot touch moisture and water spray. Garden sockets are not waterproof, so they must not be submerged in water.
Maximum switching capacity: The switching capacity in watts indicates the maximum permissible electrical load through the connected loads. The total power consumption of all connected devices must not exceed the switching capacity.
Safety flaps: Self-closing spring hinged lids are recommended for models with outer slots. They protect the individual sockets against the penetration of foreign bodies, dirt and water spray.
Child protection: Garden sockets with child safety lock prevent electrical accidents with small children.
Design, shape and color diversity in garden sockets
Optics play a very important role in the selection of energy distributors. In the past, electrical installations were often the motto: Electricity is the main thing! Similarly, sockets with a gray unit look were frequently used around the house. Fortunately, today you can choose from garden sockets in many colors, shapes and design variants. In this way, you can individually adjust the current sensors to the garden design. High-quality materials such as stainless steel, glass or stone provide visual accents.
There are sockets whose shapely housing is oriented toward real stones, wall plates or wooden pieces. Energy distributors with a green plastic housing are similar to the color of plants. The Grünoptik is an advantage if you need sockets on the edge of lawns, beds or bushes.
If installation is as invisible as possible, choose a model that can be placed in a concealed position, such as on the back of protrusions of the wall, between stones or in the floor. This means you have power wherever you go, without having to look at your family and guests constantly at power outlets. Combinations of easily accessible and therefore visibly attached and hidden reserve sockets for garden zones, in which you connect rare devices or lights, are also possible.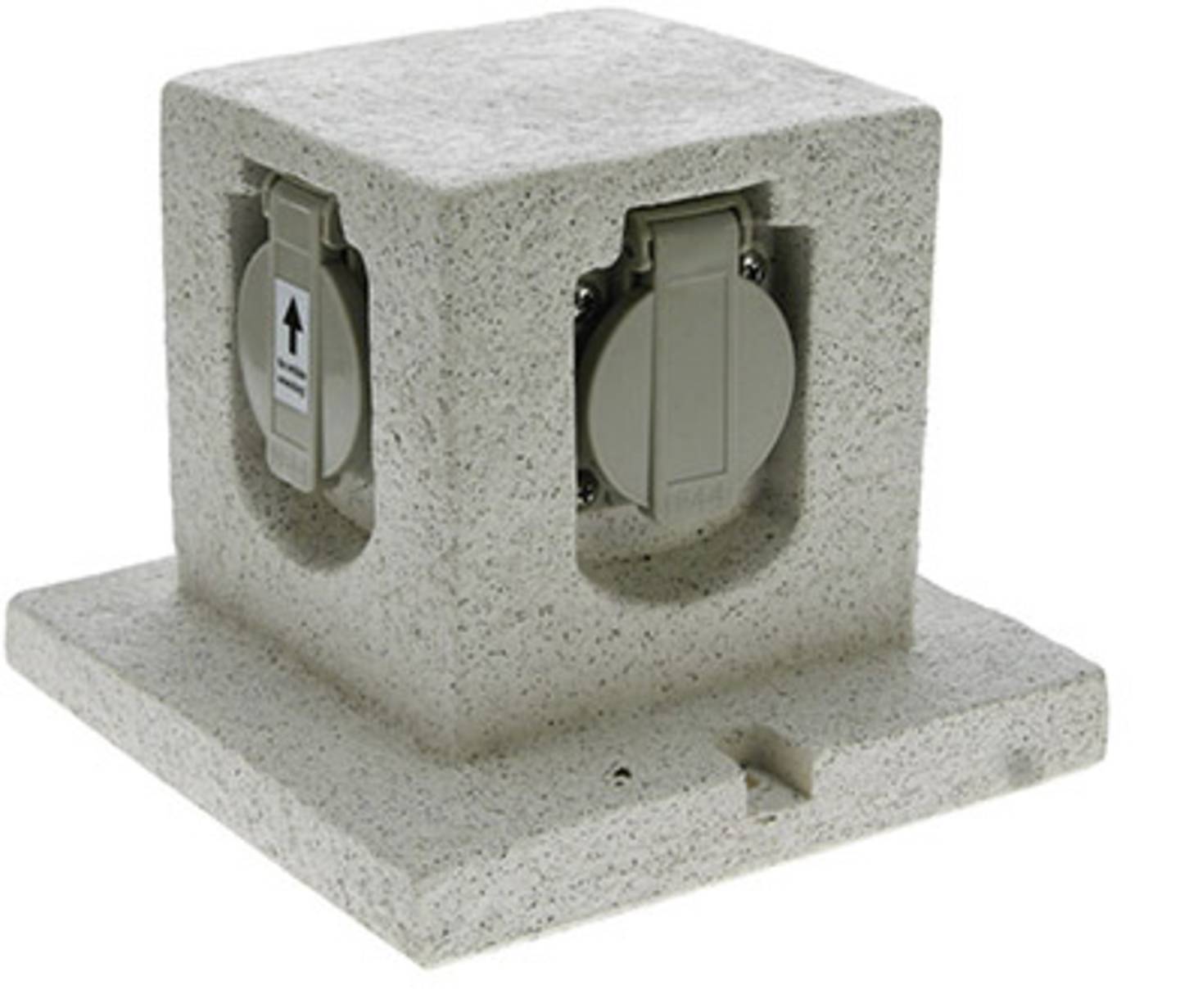 So easy to install an external socket
Do you want to install your own garden socket? The easiest way to do this is with a model with integrated connector plug and ground spike. Unpack – place the socket in the desired place and plug the connection cable into a suitable socket – your new power distributor is ready for use.
Make sure that the mains cable is not bent or exposed to sharp edges. Garden sockets may only be connected to an earthed socket, which is protected by an earth leakage circuit breaker (FI switch). Make sure that no water can accumulate at the location of the garden socket. Keep a minimum distance of 50 centimeters from ponds, pools, and streams.
Mounting external sockets: Safety is a matter of concern
Professional installation is crucial for the safety and reliability of outdoor electrical systems. You can easily install garden sockets with integrated extension cable and connector plug yourself at any socket – simply plug it in. With the necessary know-how in 230-volt power supply and electrical installations, you can also professionally mount sockets for which you need a separate connection cable.
If you are not familiar with the relevant standards for laying cables outdoors, a safe installation by a specialist is recommended. The electrician knows which cables are suitable and which regulations must be observed when pulling the strips. The installation of the professional costs you a few euros, but the time and comfort gain makes up for the one-time investment quickly.
This text is machine translated. Useful information about garden sockets Garden sockets: Power under the open sky Garden sockets: Power supply for garden, terrace and balcony What was the advantage of garden sockets? In this way...