Outdoor Tablets, Pro Tablets
About Outdoor Tablets and Industrial Tablets
What are outdoor tablets and industrial tablets?

Special features of outdoor tablets and industrial tablets

Purchase criteria for outdoor tablets and industrial tablets

Our practical tip: Always sufficient current

FAQ – Frequently Asked Questions about Outdoor Tablets and Industrial Tablets
What are outdoor tablets and industrial tablets?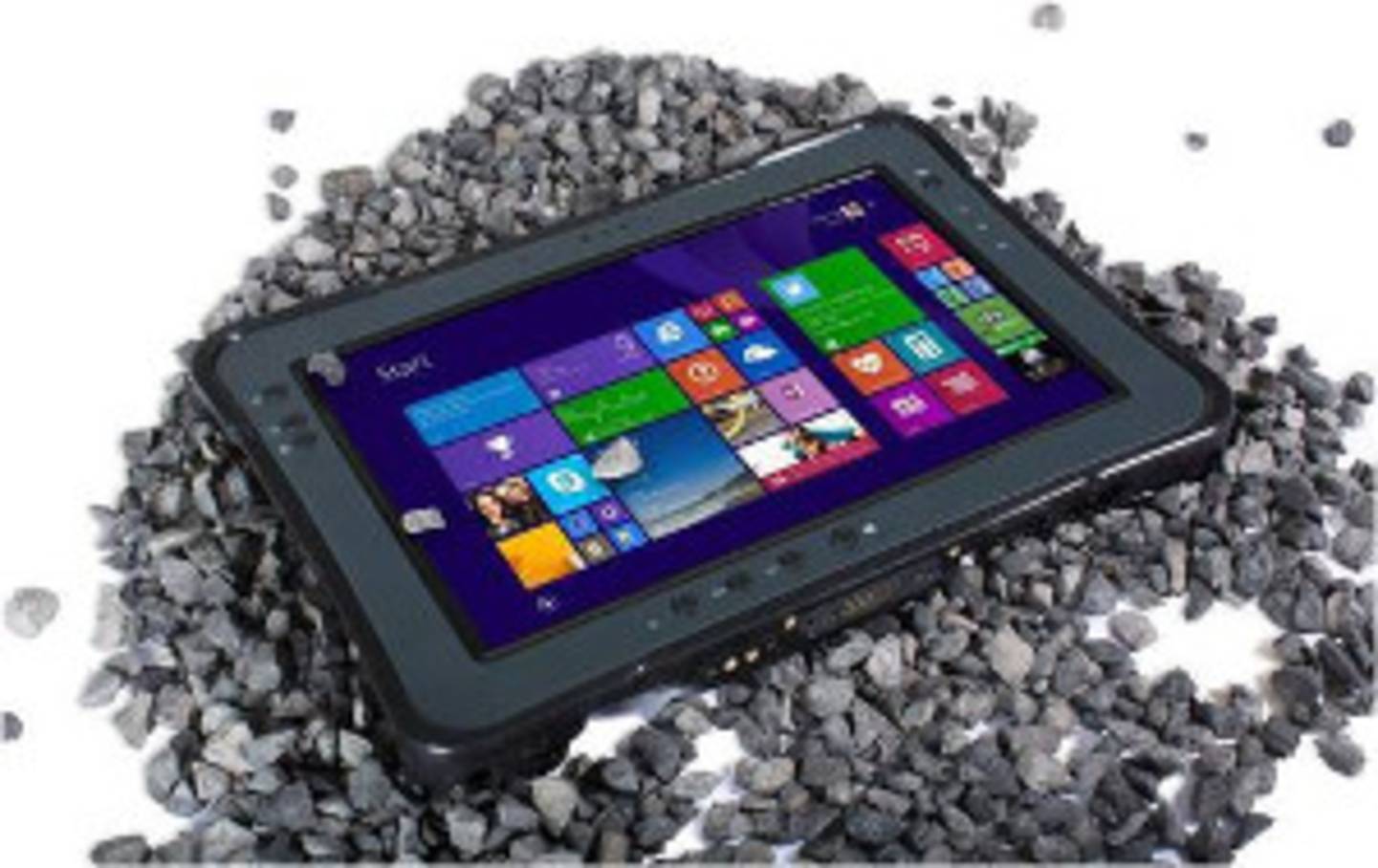 Outdoor tablets and industrial tablets generally have a "normal" tablet interior with one of the most common operating systems and the standard interfaces as well as audio and video components. The requirements for popular tablets are different from those for outdoor use under hardening conditions. They should be fast, light , and have a high-quality display.
However, the limits of conventional devices are quickly reached when used in wind turbines, ships or industrial environments. Industrial and outdoor devices are in demand here, which are less sensitive to external influences than conventional tablets due to special equipment. . The English magic word is called "rugged" or "ruggedized" – robust. Rugged tablets meet the high standards of ruggedness in outdoor use. They are stable, shock-proof, protected against dust and water and withstand even adverse conditions.
Special features of outdoor tablets and industrial tablets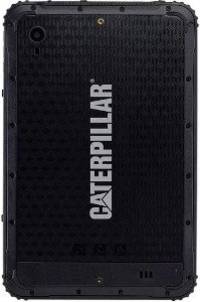 For outdoor and industrial tablets, very solid, break-proof materials with the necessary elasticity are used. In this process, housings are constructed that make the inner life insensitive to weather influences, high pressure and falls . The manufacturers of such tablets also ensure a wide working temperature range in which the function is guaranteed. The temperature range can range from minus 20 to plus 60 degrees Celsius . In addition, very high assured protection types up to IP68 are added. This protection class means in practice: The tablet is waterproof up to an hour and up to two meters deep, and is also dust-proof and protected against microparticles. Even the strict MIL-STD 810G standard from the USA is met by some devices. It specifies the environmental test conditions for military equipment.
Like conventional tablets, outdoor and industrial tablets have a capacitive touch screen, and many models use the display with gloves. Resolutions of up to 1200 x 1920 pixels are common, which outdoes the HD standard of 1,920 x 1,080 pixels.
A special feature of many outdoor and industrial tablets is the possibility that they access Glonass in addition to the well-known GPS. This is a global satellite navigation system operated by the Russian Ministry of Defense. GLONASS is a Russian word of art and stands for "global satellite navigation system". Devices that combine both systems for navigation have a clear advantage, because GPS/GLONASS receivers have almost twice as much satellite information as a model with access to only one standard. Location is thus possible even under poor conditions.
On some outdoor tablets and industrial tablets, it is possible to change the internal battery during operation to ensure uninterrupted operation. In addition, optional scanners and RFID readers – realized via the internal tablet camera – offer the option of reading bar and QR codes. This is an easy way, for example, to trigger an order at the supplier for wear parts that are marked accordingly.
In addition to the common Bluetooth, some devices also have other interfaces that are not included in the standard tablet. For example, these can be RS232 and USB serial ports that can be connected to the appropriate systems for control, diagnostics, and maintenance. Another special feature of some devices is the built-in G sensors, which are able to measure faster.
The areas of application of the robust outdoor and industrial tablets are varied. Similar to industrial PCs, they are used in the fields of industry, crafts, construction, agriculture, air and shipping, logistics and military.
Purchase criteria for outdoor tablets and industrial tablets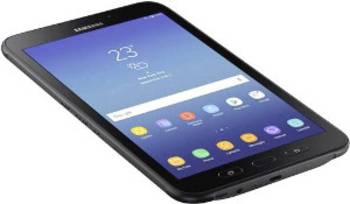 Prior to purchase, you should determine what feature set the device should have and under what conditions it will be used. A public swimming pool maintenance professional most likely does not need a tablet that works down to minus 20 degrees Celsius, but one that is protected against the ingress of water when submerged. The type of application in practice determines what the industrial tablet must be able to do.
The size of the display is important if your employees need to be able to see details on it. At the same time, a light and pleasant handling and thus the weight and dimensions of the device are important. Keep in mind: The larger the display, the more battery power is required. Smaller devices may have significantly longer battery life.
If you want to store a lot of data on the device, choose a model that has a high storage capacity or can be extended via memory cards. In addition, it can be important to have a specific processor series if you want to share the tablet in existing environments. If the device is to be connected to a docking station, an appropriate connection option is required. The operating system used is also important to ensure compatibility with existing computing environments.
Mobile internet is important for mobile use on the construction site or while traveling. Depending on the transmission standard from 2G to 4G, downloads and uploads can take place at different speeds. Some industrial and outdoor tablets are also able to establish a Wi-Fi connection when you are in a Wi-Fi network.
Our practical tip: Always sufficient current
No battery lasts forever – with one (charged!) Power bank or with handy, small solar chargers one cannot effectively counter decreasing battery power of the robust tablet on long tours or applications. Think of the appropriate charging cables.

FAQ – Frequently Asked Questions about Outdoor Tablets and Industrial Tablets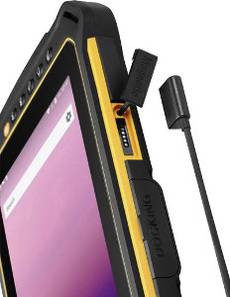 What should you look for when using outdoor tablets and industrial tablets?
Pay particular attention to secure storage of the devices and secure the data stored on them, so that in case of loss or theft no third party can gain access to sensitive company data. Many devices can be located after a corresponding activation.
Are there outdoor and industrial tablets with SIM card slots?
Yes, some models can be equipped with SIM cards so that an Internet connection via the mobile network is possible. The memory expansion required for this under certain circumstances is implemented with SD card slots.
Are there Apple outdoor and industrial tablets?
No, Apple does not sell devices that are explicitly suitable for industrial and outdoor use. In addition, the few automation solutions are compatible with Apple's operating system (even if some of the apps that are now available are well established). The common operating systems in this area are Windows and Android.
Useful accessories for your tablet: View and screen protection
Protect your tablet from unwanted side views with a privacy screen. With just a few clicks, our 3M product finder will guide you to the right protection for your product.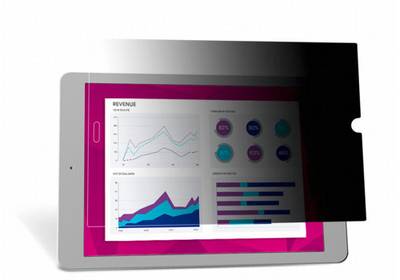 About Outdoor Tablets and Industrial Tablets What are outdoor tablets and industrial tablets? Special features of outdoor tablets and industrial tablets Purchase criteria for outdoor tablets and industrial tablets ...