This text is machine translated.
What was surge protection?

What types and types are there in the area of overvoltage protection?

Purchase criteria for surge protection – what is it all about?

FAQ – Frequently Asked Questions about Surge Protection

Conclusion: This is how you buy the right surge protection
What was surge protection?
Overvoltage protection refers to measures that protect electrical and electronic devices and modules against impermissible high voltages, which can lead to damage or total failure. Harmful overvoltages are caused not only by near or even direct lightning strikes, but also by capacitive and inductive effects of lightning discharges at a greater distance. Switching operations in the medium and low voltage power supply can be as much a trigger as switching off larger inductive loads. These include large electric motors, transformers and even conventional ballasts, such as those used for the operation of gas discharge lamps.
As no influence is exerted on such external events, local technical measures must be taken to limit any overvoltages to an unharmful level. Devices for overvoltage protection include varistors, gas-filled surge arresters, spark gaps, extinguishing chambers or suppressor diodes, whereby the latter are only used for lower voltages. Combinations of voltage limiting and current dissipating components are possible and common.
What types and types are there in the area of overvoltage protection?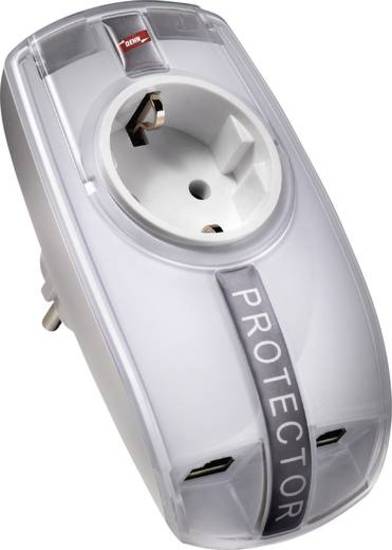 In order to protect mains-operated devices, there are overvoltage protection adapters and socket strips with integrated overvoltage protection. Some of these products integrate additional surge protection functions in the same enclosure. Depending on the version, they have additional plugs and sockets of different design. Antenna, telephone, and network cable versions are available, with individual adapters sold separately for each of the above line types.
Overvoltage protection adapter is known as fine protection. Their protective effect is limited in terms of high-energy interference. In the case of direct or very close lightning strikes and other energy-intensive events, they cannot guarantee effective device protection alone. In addition, do not protect the mains cable itself from damage caused by larger overvoltages. Their ability to limit and derive high energies is not sufficient for this purpose due to their design. In over-voltage intermediate plugs, a micro fuse is often integrated in addition. It triggers after a stronger overvoltage impulse, i.e. when the spark gap responds by a short-circuit, and disconnects the connected consumer from the mains.
For comprehensive and effective protection against overvoltage damage, an effective surge protection concept must be used in buildings. In addition to the fine protection described above, this also consists of coarse and medium protection. The term Ampère rough protection (type I) refers to protection modules that are installed in the building supply and can even discharge high currents of up to 100 kilos, just as they occur in the case of lightning discharges. Good systems limit overvoltages to around 1.5 kilo-volts. Such overvoltages can be handled by the medium protection (type II) to be installed in the floor distributors. It limits the residual energy passed through by the coarse protection in such a way that the third stage, the fine protection, is not destroyed by excessive energies and thus becomes ineffective. However, only the fine protection (Type III) is able to reduce the remaining overvoltage to a level that can be used by the connected devices. Important: The protective effect of each stage is based on the upstream one! Combined arresters are now available, which integrate coarse and fine protection in an arrester stage.
Purchase criteria for surge protection – what is it all about?
Depending on the architecture of the existing network type, care must be taken to ensure that the individual components are technically suitable for this purpose for rough and fine protection. The standards DIN VDE 0100-443 and -534 regulate when and how overvoltage protection is to be installed and which protective measures are required. Online, leading surge protection manufacturers also provide tips on planning and executing surge protection installations on their respective websites and offer selection guides for their products.
Modular systems are available on the market for type 1 and type 2 surge arresters as well as for combination arresters, in which the individual protection modules can be replaced individually. The advantage: In the event of an emergency, triggered protection modules can be replaced individually and thus cost-effectively.
Not all surge protection sockets and adapter plugs can intercept a second or even several successive overvoltage events. Their benefits are no longer available if there are further dangerous overvoltages. Good models indicate the triggering of the protective devices and disconnect the connected consumer(s) from the mains in order to prevent their damage.
FAQ – Frequently Asked Questions about Surge Protection
Can ich install a surge protector myself as an electrical layman?
The installation of the so-called fine protection in the form of surge protection intermediate plugs and surge protection sockets is no problem and just as easy as the connection of an electrical device with mains plug. For safety reasons, qualified electricians must carry out work on the electrical domestic installation, as required for the installation of coarse and medium-sized protection systems.
The house installation does not have either medium or coarse protection. Do surge protection intermediate connectors have anything to do with them?
Yes. Although these very energy-intensive overvoltage events cannot be limited to an unharmful level, most "normal" surges are likely. They are clearly in excess, considering the frequency of events. This helps protect your equipment from the most common loss events.
A lightning conductor is installed at the building. Is that not enough as overvoltage protection?
A lightning arrester is used for building and fire protection. There is no voltage limiting effect. Here too, a three-stage surge protection concept is necessary for comprehensive protection.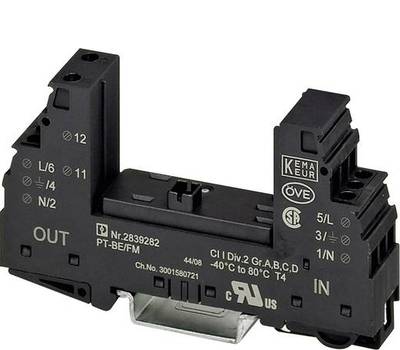 Conclusion: This is how you buy the right surge protection
As more and more electronic devices and controls are being used in modern households and these can represent considerable values, it is worthwhile to use high-quality overvoltage protection components. Ensure that good values for maximum forward voltage, energy absorption capacity and, in the case of surge protection intermediate plugs for the mains supply, that damage to the protection mechanisms is signaled optically via a warning light and/or an integrated fuse disconnects the connected devices from the mains.
Especially in the area of the overvoltage protection adapter, it is important to pay attention to the fact that all electrical supply lines are protected. Overvoltages find their way not only via the mains cable into the device, but also via telephone and antenna lines, for example. Network cables are also at risk, which in addition usually connect several computers and components together. It is therefore very important not to leave any "backdoors" open here.
Some manufacturers provide guarantees on surge protection adapters and can strips in the form of free product replacement or device insurance up to a certain value in a product registration after the purchase. This can be worthwhile if there is not already an insurance contract that explicitly includes damage from overvoltage.
Surge protection adapter and connector strips with additional protection functions for additional components are generally cheaper than buying a separate adapter. You save space, reduce the cable clutter and eliminate the need for an additional grounding cable, as the protective conductor potential is already available via the grounding plug.
This text is machine translated. About surge protection What was surge protection? What types and types are there in the area of overvoltage protection? Purchase criteria for surge protection – what is it all about? FAQ – Freque...