This text is machine translated.
PC casing: So versatile for gaming, office and more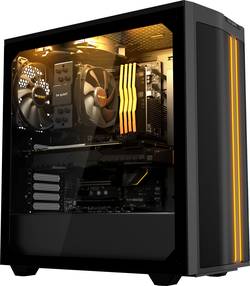 In the past, PC cases were unseemly boxes that had to find their place somewhere below or next to the table. Their central task was to provide sufficient space for all PC components. This image is no longer the case of desktop PCs today. PC cases have long since become important components that combine pragmatism with design. This guide explains what to look for.
Which PC cases are differentiated?

The most common case size: What was a MIDI tower?

When should it be a big tower chassis?

What is the role of the form factor?

Frequently asked questions about PC chassis
Whether it's gaming PCs, business computers, or personal devices, the hardware of the computers should be in a chassis. It surrounds the sometimes very sensitive components.
It offers space for classic elements such as mainboard, graphics card, drives and other elements. The appropriate slots are available in the housing itself. Furthermore, there are usually pre-installed fans to provide the necessary cooling during operation.
The decisive question before purchasing a housing is the size which is necessary. For example, if you purchased a MIDI tower but needed a big tower, you could hardly work with it.
Which PC cases are differentiated?
For a first overview, it is sufficient to distinguish four types of housing.
The best known are desktop enclosures and towers. Both are similar at first glance, but use the desk space differently. PC cases that can be placed directly on the table are correspondingly flatter. Theoretically, they can be positioned vertically like a tower, but their connections and ventilation slots are designed for horizontal use.
PC chassis manufactured as tower should stand upright. You must therefore find a place under or next to the table. There are tower housings in three common sizes: Mini, MIDI and Big/Full.
Not interesting for private use, but very important for IT, are bench-able housings. They are more of a frame, because they do not use the outer walls. The idea behind this is that users have the opportunity to expand and expand hardware components with just a few simple steps. It is not necessary to open and close the cover walls continuously.
Apart from that, HTPC are even more familiar. These Home Theater PCs are mainly intended for users of many media. They are therefore often placed directly next to the TV and controlled by remote control. Unlike pure TV devices, however, they have an additional desktop function.
Our practical tip: Working with Tempered Glass
Many manufacturers offer housings where at least one side wall is made of temperglass rather than metal. Internationally, there is talk of Tempered Glass. This special glass is particularly break-proof due to heat treatment.
The most common case size: What was a MIDI tower?
Structure of a MIDI tower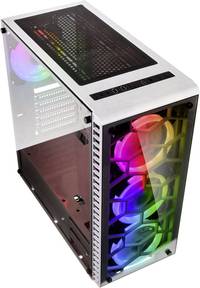 The MIDI tower housing is preferred for use as a design. MIDI towers are the standard for both private and business users. Since they are comparatively compact, the housings take up little space, but at the same time offer sufficient space for powerful hardware.
MIDI towers also have good dimensions to include a larger CPU cooler. The more powerful a PC is, the more cooling is required.
Most MIDI towers are designed for mainboards up to the format E-ATX. Smaller boards also find their place, such as Micro-ATX or Mini-ITX mainboards. Often hard disks can still be installed behind the motherboard tray, so that there is much more space for other components in the front area.
Some manufacturers also manufacture MIDI towers, whose hard disk cage is not fixed but can be removed in part. This gives the user even more scope, for example for a powerful and therefore larger graphics card.
PC-casing in MIDI-format including LED and pre-installed fans
MIDI tower for gaming PCs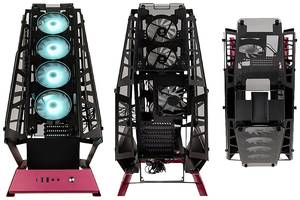 Gaming-casing in MIDI-size including fans and LED-lighting
Most gamers use a MIDI tower. The compromise between compact housing and space for components and cables is considered good. It is important to have sufficient interfaces for headphones and microphone when playing and as many USB slots as possible. At least USB 2.0, better USB 3.0 should be. The USB type C, which is traded as a new standard, is also preferred for high-end data transfer.
RGB lighting as a design element is also popular with the gaming housing. When the power supply unit is connected, the MIDI tower is illuminated in different colors, even rhythmically changing. Such a showcase housing underlines the image of a modern PC housing.
If less hardware performance is required, mini-tower can be the better choice. Compared to the MIDI tower, it is a space-saving miracle and can thus be used mainly in confined spaces or with many desks busy offices.
The dimensions of the housings are usually held in such a way that boards can find space up to the standard Mini-ITX. This is why the synonym "Mini-ITX housing" is not uncommon. Before purchasing, users must be aware that there are fewer PCI slots available.
Overall, the possibilities are limited, since the mainboard must be small and only a few connections are available. With the power supply and few slots for USB 2.0 or USB 3.0, the space is exhausted.
The disadvantage that only mini-ITX hardware can be used is the advantage of flexibility. The housings are not only space-saving at their place of use, but also very light and transportable.
In the meantime, mini-towers are often no longer manufactured in the shape of a tower, but in cube form. fractal Design or Inter-Tech offer these cube housings.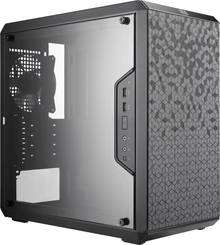 Mini-Tower with fan, side window made of hardened glass and USB 3.0
When should it be a big tower chassis?
The big tower, also called full tower, has its appearance when the performance is no longer sufficient. For example, if you are a graphic designer or an IT professional, you will not be able to use Mini-ITX models or even the classic MIDI tower.
The big tower has plenty of space, so that for example several graphics cards can be installed or a special water cooling can be accommodated. The large tower housing automatically offers more space between components, so that the circulation of the air becomes better.
Big-Tower are not only large PC-casing, they also bring a higher own weight. A stable surface, ideally the floor, must therefore be provided. The PC case should not be placed on a desk.
The space available for hardware and the overall very robust design therefore go hand in hand with less flexibility. Once set up in the office, this should also be the permanent placement for the housing.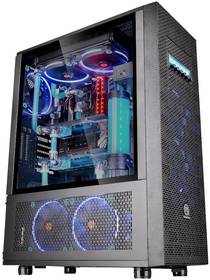 Full tower with two LED fans, 12 kilograms heavy and very robust
What is the role of the form factor?
In order for the choice to fall on a PC housing, it must be determined in advance which computer hardware is to be installed in the interior. In order to facilitate the assessment, there are form factors. This specifies the size of the housing, power supply and the like.
Background information on ATX format
The abbreviation ATX stands for Advanced Technology Extended and is one of the possible form factors. The ATX format thus makes clear announcements as to how large the housing or, for example, a PC power supply or a circuit board fail.
The widely used M-ATX format, also known as Mini-ATX, measures 11.2″× 8.2 .″ Even smaller is Micro-ATX with 9.6″× 9.6 .″ On the other side of the spectrum, XL-ATX forms the counterpart. The size of this ATX housing measures 13.5″× 10.3″.
Background knowledge about SSI EEB
Another form factor that should be known is the SSI EEB. The first three letters stand for Server System Infrastructure and the rear three for Compact Electronics Bay.
Although the standard is comparable to the sizes of the ATX format, it mainly refers to server elements and has some other specifications for the screw connection. The exact same ATX size cannot therefore be installed automatically if the screws are located in different places.
Background information on Mini-ITX
Mini-ITX describes a very special form factor of a motherboard. This motherboard form factor always measures 170 x 170 millimeters.
This means that the hardware is significantly smaller than the ATX standard and plays the supporting role for mini-tower and cube housing. Due to the arrangement of the screws, this mainboard form factor is compatible with ATX.
DTX Background Knowledge
DTX is also a well-known standard. The motherboard format has been on the market since 2007 and is smaller than ATX. However, upward compatibility is given.
For PC cases, mini-DTX is important as a format that moves between mini-ATX and mini-ITX as a size. Compared to these, it offers additional slots and thus more room for maneuver.
Frequently asked questions about PC chassis
Does a PC housing need to be cleaned?
Definitely clean dust regularly. To do this, it is essential to pull the power supply unit and either work with a narrow nozzle from the vacuum cleaner or with a dust cloth. Narrow areas can be cleaned with a brush.
How do you find quiet running PC cases?
This question is difficult to answer, since the noise produced depends on the whole of all the components installed. In principle, however, it can be said that with the number of fans, the noise development also increases. The manufacturer is quiet! Promotes the production of ultra-quiet PC chassis with pure base models.
Are all models including power supply?
No, it's not that easy. If you buy a new housing, you will find models with integrated power supply as well as models, which only have the power supply connection available. Before purchasing, it is important to pay attention to this fact.
This text is machine translated. PC casing: So versatile for gaming, office and more In the past, PC cases were unseemly boxes that had to find their place somewhere below or next to the table. Their central task was to provide sufficient spac...