This text is machine translated.
Useful information about print relays, plug-in relays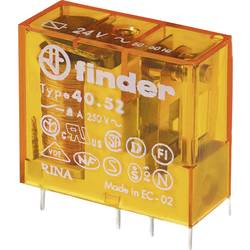 What was the PCB relay and plug-in relay?

Different types of relays

FAQ – Frequently asked questions about print and plug-in relays

Selected manufacturers and brands
What was the PCB relay and plug-in relay?
In principle, relays are used to switch larger loads using low voltages in order to be able to switch at remote points without having to pass the large load to the switching point. To do this, an electromagnet is used that attracts (or repels) when the switching current is applied and closes or opens or changes the contacts of the load to be switched via a mechanism. This achieves galvanic isolation from the load to be switched, which was provided for additional safety.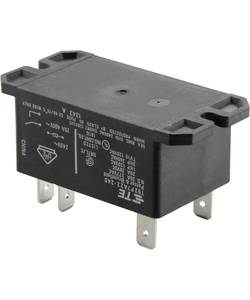 Technical specifications include the rated voltage of the (magnetic) coil – for PCB relays and plug-in relays in the Conrad shop, from 3 to 240 volts DC or AC. On the other hand, switching voltage and current are shown to define the range of application. The ranges here are between 30 and 690 volts and 0.05 to 50 amps.
Another feature is the number of normally open, normally open and changeover contacts ranging from one to five.
A distinction is also made between bi-stable and mono-stable relays.
Bistable relays hold a position once taken until a new switching pulse is received.
Monostable relays leave the activated switching position after switching off the switching current.
Further information on the application possibilities is given by the internal resistance of the switching coil, which ranges from 14.7 Ohm to 65,533 Ohm in the Conrad range of products.
Avoid switching arcs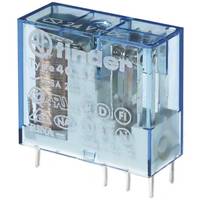 The switching contacts for the switching load are a quality feature and at the same time the biggest weak point of relays. When the contact is opened, a so-called switching arc can occur, which leads to contact burn, which was ultimately the result of destroying the contact and failure of the relay. Composite materials, such as silver and nickel, or silver and tin dioxide, offer greater resistance to burning and less wear than simple silver alloys. The connection of switching contact with the switching spring, usually riveted, also has a great influence on the service life of the relay.
In addition, there are additional circuits with diodes, for example, or the equipment with so-called blowing magnets, which prevent or reduce the contact burn.
Different types of relays
The following relays are available in the Conrad shop: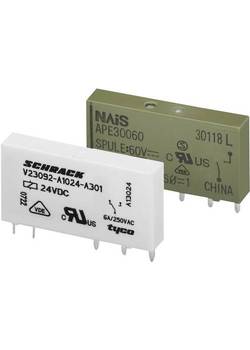 PCB relays: They are equipped with push-through solder pins for use on PCBs. Standardized circuit board grids are taken into account.
SMD relays: The relays in Surface-Mount (SMD) technology have no lead-out and wired connections. These relays are not plugged through, but soldered directly to printed circuit boards with connection surfaces. They are used in the industrial assembly of printed circuit boards. The abbreviation SMD means "surface-mounted component" in German.
Safety relays: They are equipped with particularly high-quality contact materials and switch safely and potential-free high capacitive and inductive loads.
Plug-in relays: They are equipped with flat, square or round plug-in elements, which enable a fast, mostly tool-free change of the relay. Some models fit in systemic exposures, similar to plug and socket. The mounting devices can also be soldered on printed circuit boards.
AND gate block: This is a relay with which logical circuits are implemented. For example, if input 1 and input 2 and input 3 have a voltage, a switching process is triggered. If an input is de-energized, the relay does not switch.
With industrial packaging in large quantities, very favorable purchase prices can be achieved. Conrad offers sets and packs of up to 40 relays.
FAQ – Frequently asked questions about print and plug-in relays
Which general attributes are important when buying relays?
The Conrad shop is primarily the assembly method followed by the voltage of the switching coil and the maximum current to be switched. It is often also provided with an indication of the number of NO contacts, NC contacts or changeover switches. The data sheets as PDF for download provide precise information about the technical conditions of the relays offered.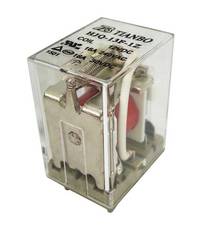 How can a defective relay be identified?
Wear on the switch contacts can cause a visible and possibly audible arc when the contacts are opened. This is also noticeable by the smell. Mechanical damage to the contacts and contact springs can also lead to the contacts no longer being fitted exactly on top was
Another source of error is the failure (blowing) of the solenoid, so that the relay no longer switches at all.
What was to be observed when replacing a relay?
Replacement must only be carried out if both the actuation and switching circuits are de-energized. Always use an identical type relay with the same power parameters as a replacement. Only special soldering tools should be used to change through and soldered relays on printed circuit boards in order to avoid damage to the conductor paths.
How long does a relay last?
It is not possible to make a basic statement about this, as the conditions of use and loading as well as the material used are too different. Some manufacturers offer to calculate a so-called "mean value until failure" for the customer with a description of the application environment.
Can a defective relay be replaced with a different type of connection?
This is always possible if the performance parameters are identical. Tests can be carried out with various relays for test setups and in development environments.
In most practical cases, such replacement will be prohibited due to safety regulations or simply not possible due to prescribed connections and the space required for installation or switching.
Selected manufacturers and brands
Afe ELECTRONICS (HK) COMPANY LTD., headquartered in Hong Kong, develops, manufactures and sells relays primarily for household appliances, communications applications and automobiles. Founded in 2003.
Finder has been working exclusively in the area of switching, time and monitoring relays since 1954. With over 12,500 products, Finder has one of the most extensive relay programs. The headquarters and the main plant are located in Almese, near Turin.
Omron, headquartered in Kyoto, Japan, is a global leader in automation. Omron Corporation is a global leader in automation. Founded in 1933, Omron employs more than 37,000 people in more than 36 countries. In 1930 Kazuma Tateisi, founder of Omron Corporation, began his business in the production and marketing of trouser presses.
Panasonic : Panasonic Corporation is a listed Japanese electronics company based in Kadoma, Germany, founded in 1918. The products are sold under several brand names such as Panasonic and Technics.
Phoenix Contact GmbH & Co. KG is a German company offering components, systems and solutions in the field of electrical engineering, electronics and automation. The headquarters is in Blomberg, Westphalia.
TE Connectivity is a global company with 75,000 employees in 150 countries in many divisions. The company is located in Schaffhausen, Switzerland.
Voltcraft is a Conrad own brand, developed since 1982 at the Conrad Technology Center.
Weidmüller: More than 160 years ago, as a textile company, began the production of press studs. Today it supplies products and solutions in the field of industrial connectivity to customers all over the world. The company is headquartered in Detmold.
WAGO currently employs more than 7,500 people worldwide, about 2,300 of them in the head office in Minden/Westphalia alone. More than 1,000 employees develop, produce and test at the second German development and production site in Sondershausen/Thuringia, which opened in 1991.
Zettler Electronics, based in Puchheim, has been producing a comprehensive range of products for more than 100 years, ranging from electromagnetic relays, LCD/TFT displays to transformers, magnetic components, switches and thermostats.
This text is machine translated. Useful information about print relays, plug-in relays What was the PCB relay and plug-in relay? Features of relays Avoid switching arcs Different types of relays FAQ – Frequently asked ques...