This text is machine translated.
About Philips Hue: 1000 smart light ideas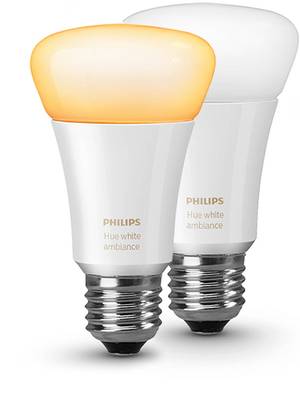 Do you want attractive lighting at work or want the right lighting atmosphere for every occasion and mood? With Philips Hue, you choose a smart, efficient, intelligent and sophisticated lighting system that can do far more than just "on" and "off". Switch on several lamps at the same time, change the light color or dim the lighting according to occasion and space usage. You do not need more than a smartphone for this, because the Hue lamps and lights can be operated easily via Bluetooth in a room. For other exciting functions, as well as the light control throughout the home, connect your Hue lamps with the Hue Bridge.
Programmable lighting settings for every occasion, increase the concentration while working, create a pleasant conversation atmosphere with warm tones or alert and alert with rather cool colors. In addition to 50,000 shades of white, you can also choose from 16 Mio colors to create your living area as you like.
And if no one is present, deter potential burglars because the rooms look lively thanks to Hue.
You can set your personal light preferences in the free Hue app for Android as well as iOS or via Hue wireless switch. Wireless radio motion detectors for indoors and outdoors control the light as soon as someone approaches.
The smart Hue bulbs can still be switched on and off via the existing light switches. In the Hue app, you specify whether the lamps should light up with the last light setting, a normal white tone or your desired tone when the power supply is interrupted. There are also countless hue light control apps from independant developers – you can get an overview with the search term "Hue" in the app store of your smartphone.
Dim, change color or control all lamps at once

Philips Hue is ready to go

Hue and Hue accessories at a glance

How do ich find the suitable Hue bulbs?
The Hue bulbs can do this

Automatic light scenes and presence simulation

How can ich get started with the Hue Starter Sets immediately?

Smart networking with Conrad
Dim, change color or control all lamps at once
LED technology used by Hue manufacturer Signify (formerly Philips Lighting) ensures energy efficient bulbs. These consume only a few watts and provide a more pleasant light than normal energy saving lamps. If you have multiple Hue bulbs, you can dim them together using a room and group circuit, or you can control them completely independantly in color and brightness.
The settings of the individual lamps, spotlights and LightStrips are programmable, with which you can create different light scenes. A tap in the Hue app is enough to call up a certain lighting mood. Whether you want to control a single floor lamp, the light in a room, a group of lights or in the entire house, it is up to you, because the Hue system is scalable and grows with you. The Hue app makes it easy to control these different options. It shows the lighting of all rooms and you can control your system with just one swipe on the display.
Hue offers a carefree all-round package, by the app automatically detects via smartphone location alias geofencing upon request, as soon as someone leaves the building, or enters, and controls your light accordingly for you. Alternatively, you can also remotely operate your Hue system while on the move.
For light comfort on call control your Hue system with the help of the voice control via Alexa (Amazon echo, Echo Dot), Google Assistant (Google Home) and Siri (Apple HomeKit). To adjust the light without stirring a finger. You activate the operation via the language assistants of Amazon, Google and Apple in the respective apps – you can start. Just say "Turn on the lights in the office", "dim the light in the reception area to 50 percent" or "turn the meeting room orange". Rooms can be addressed individually or together, and you can also activate scenes and thus control the lighting in several rooms at the same time.

Philips Hue is ready to go
A great advantage of Philips Hue is its easy, fast and dirt-free installation. The sparkling light system is designed to cope with no structural changes or technical adaptations to existing lights, recessed spotlights and electrical installations.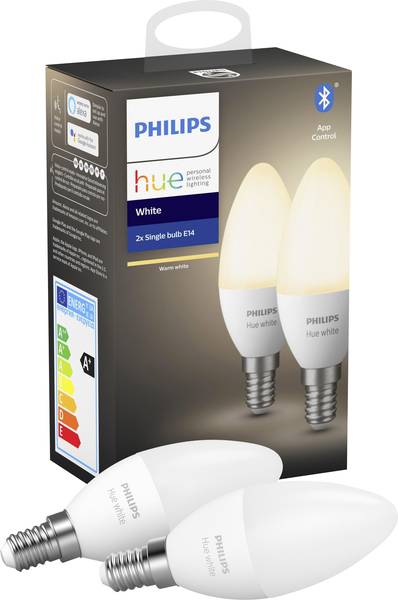 Hue is ready to go in a minute
There is no classic installation and you do not need to be a specialist. The Hue setup does not require any cable routing or other rework action: Simply replace existing bulbs with smart Hue bulbs. All lines and the previous switches remain unaffected.
Simply by inserting the Hue bulbs, a networked lighting system is created that you can expand at any time and take with you in case of a move. Due to its very easy installation, Hue is particularly suitable for commercial use in new buildings, old buildings, offices, stairwells, outdoor areas and shops.
Hue for new buildings and for renovations
The Philips Hue lighting system offers many exciting possibilities, especially when it comes to initial equipment or new equipment for rooms. For new buildings, renovations or renovations, simply opt for LED complete lights from the Hue series. These models work with energy-efficient LEDs and are already equipped with Hue intelligence by the manufacturer. Among other things, attractive wall lights, ceiling lights, ceiling spotlights, decorative lights, recessed lights, outdoor floor lamps and garden spots are available. The LEDs are either permanently installed in Hue complete lamps or a Hue bulb is already inserted. In both cases, you do not need any extra accessories.
Another option: You choose the lamps of your preferred manufacturer, which you like best, and use smart Hue bulbs – the lamps are smart. This works with all models with the common base type E27, E14 and spotlights with GU10 socket. In the Hue network, all lights listen to your command.
Smart Hue bulbs with two hearts: Bluetooth and ZigBee
Hue producer Signify offers two Hue series, which differ in radio standards: ZigBee and Bluetooth models, and ZigBee models.
Hue products with ZigBee
The smart and secure ZigBee wireless standard is supported by every Hue product. The international industry standard ZigBee offers you great flexibility and wide range of wireless lighting control throughout the building. The Hue Bridge serves as the switching center and ZigBee radio base. The bridge is connected as a gateway to your network or WLAN router. It controls the Hue lamps, motion detectors, switch sockets and other accessories.
Operation and automation is done via the Hue app for Android and iOS. Via the bridge you can connect the Hue lighting system on request with many popular home automation solutions such as HomeMatic IP, Magenta SmartHome and Bosch Smart Home. The interaction with IoT automation services such as Conrad Connect and IFTTT also runs across the bridge.
Full wireless range: ZigBee works as a mesh network. Each connected hue light automatically increases the range. This is a big advantage over systems that only work with WLAN or Bluetooth. A far away Hue bulb does not have to communicate directly with the Hue Bridge, thanks to ZigBee, but instead transmits the signal to the next lamp. In this way, you can often manage your premises and small company buildings with just one bridge, which can be used to control up to 50 lamps and 12 accessories. For larger light installations, simply add more bridges.
Learn more about the ZigBee standard
Hue products with ZigBee and Bluetooth
The latest generation hue bulbs have also integrated the Bluetooth wireless standard in addition to ZigBee. They are easily identified by the Bluetooth note in the product description and the Bluetooth icon on the packaging. The Bluetooth models simplify the entry into the smart room lighting and leave all the possibilities that Hue offers.
The Hue bulbs communicate directly with your smartphone or tablet via Bluetooth. You do not need a WLAN, a network and can start without Hue Bridge.
Signify has developed its own Bluetooth app for Android and iOS for Bluetooth light control. For super-fast start-up, the app automatically finds the lights after switching on and you can start immediately. They operate up to 10 lamps in a room via the app, select light scenes and regulate the light color and brightness according to the occasion or mood. This is also done by language via Amazon Alexa and Google Assistant.
With the Bluetooth app you can control your Hue lights within a radius of up to 9 meters. Bluetooth is therefore convenient if you only want to operate a few lamps remotely. The light settings and scenes can be transferred to other smartphones. This allows colleagues to control the light via Bluetooth.
Learn more about the Bluetooth standard
Switch to the Bridge at any time
Once you have started your Hue system with Bluetooth, you can extend it easily and at any time with the Hue Bridge. Your light settings can be transferred to the classic Hue app for the Bridge at the push of a button. With the integration of the Hue Bridge sparks the bulbs via ZigBee and you can control up to 50 bulbs throughout the home and garden. Connect to the Hue Bridge to enjoy additional features such as timer setting, remote access while on the go, and music, games and movies synchronization. These features are not or are not fully supported by the Bluetooth app. The light control via Bluetooth is the easy entry into the smart home lighting and enables you to control up to 10 Hue bulbs in a room.
Hue and Hue accessories at a glance
The selection of intelligent Hue products is huge. This means that the right product can be found for every lighting situation and lighting requirement in indoor or outdoor areas. The extensive Hue range includes LED lamps with E27 and E14 screw threads, spotlights with GU10 bases and slim LightStrips / LED strips for indirect lighting of furniture, counter tops, suspended ceilings and niches.
With Hue White filament with E27 socket, there are chic vintage bulbs in retro look. The filaments, which are based on traditional Edison lamps with visible filament, are well suited to lamps without a lampshade.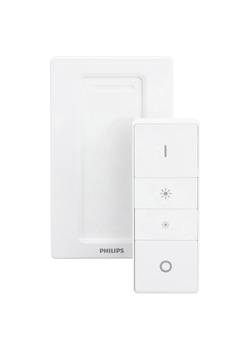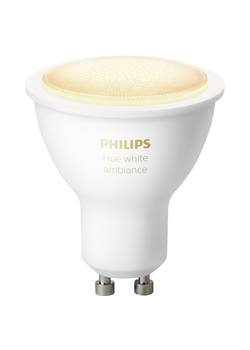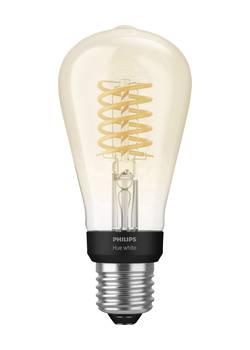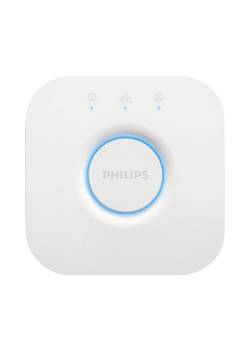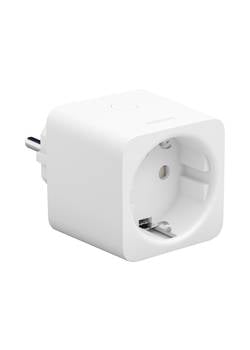 They include floor spots, recessed spots, mounted spots, bathroom lights, portable lights with built-in rechargeable battery, outdoor spotlights, outdoor lights and garden lights. Philips also offers complete wall, table, ceiling, pendant and decorative lamps as well as freestanding column lights in the Hue family. The Hue Play Lightbars project individual lighting moods on walls.
With the smart plug of Hue, even lights without Hue bulbs become part of the lighting system. Simply plug the sparkling smart plug between the socket and the lamp, and you can control the light via Bluetooth or the Hue Bridge.
Other accessories include dimming switches, motion sensors, outdoor motion sensors and a smart button for operating lamps with a click. Other accessories for the Hue light system are available under the name Friends-of-Hue, such as smart switches from Busch-Jaeger.
How do ich find the suitable Hue bulbs?
If you want to enjoy all the advantages of the Hue system in the white and color range, the Hue White and Color Ambiance series lamps are the best purchase. The white ambience lamps are a good choice if you want an atmosphere-related light atmosphere, in which you can adjust the light tone from cool to warm white in addition to the brightness. The Hue White lamps provide you with pleasant warm white LED light that can be dimmed at will.
The Hue bulbs can do this
With Hue, you can choose from three basic light bulb variants: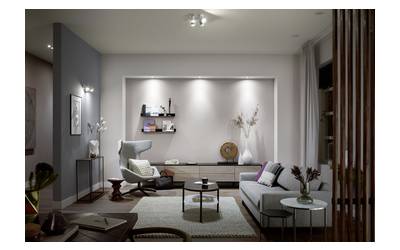 The Hue White LED lamps provide a high quality warm white light (2700 Kelvin) and are suitable for the entire living area. With the automatic light control via Hue app, you can not only switch your light on and off, but also dim it as you like. With numerous accessories, such as the Hue dimming switch, you enjoy a comfortable and flexible operation.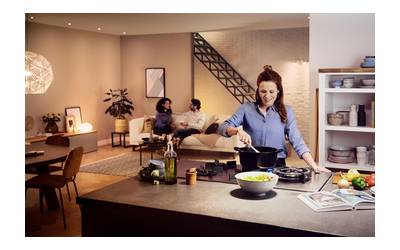 Philips Hue White Ambiance dimmable LED lamps offer a wide range of white options from warm white to neutral white and cold white. Choose from 50,000 white tones and always have perfectly tuned white light for every occasion: Whether you're a dinner party or a relaxing end to the day, Philips Hue creates the ideal room atmosphere.
Philips Hue White and Color
With Philips Hue White & Color Ambiance LED lamps, you can choose from 16 Mio colors or a wide range of white, from warm to cool white to give your living room the right ambience. Dim the light as desired, set ready-made light scenes or synchronize it with films, music and games. Enjoy the full smart home experience for your home with Hue White & Color Ambiance and discover many more features.
Automatic light scenes and presence simulation
In the Hue app, there are a variety of automation options available under "Routines". Here you will find predefined actions for "Home & Away" and "Sleep". Tap "Other Routines", you can create timers, timers, and also set up presence simulation to quench burglars.
By means of a time program, the light switches on at a certain time or at sunset, and also switches off again. You can specify which rooms or groups are to be included in the burglar alarm, on which days of the week the routine should apply, how the light is dimmed and when it should go out again. The adjustable variance makes the automatic light for the outside not so easy to recognize.
You can also set up convenient short-time timers. When the time expires, the Hue system will flash in the desired rooms.
How can ich be done with the Hue Starter Set immediately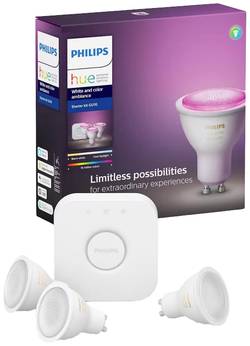 take off!
The easiest way to build an app-controlled hue light system with bridge and multiple bulbs is through the Hue Starter Sets. The starter sets for beginners are available in three color spectra for the socket types E27 and GU10. In addition to LED lamps (E27 or GU10), they contain a wireless dimmer switch and the Hue Bridge.
Our practical tip: Use Meethue
To remotely control your personal Hue system on the go, create a free online account on the official Hue page at http://www.meethue.com. Here you can also view other users' light scenes. All you need is a user name and password to get started.
Smart networking with Conrad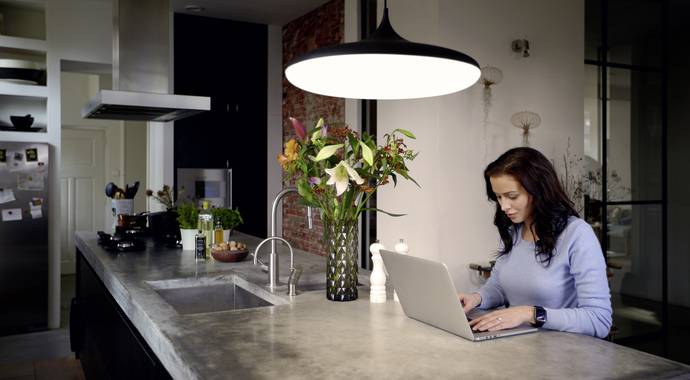 You want to network your own smart home system, but do you have devices from different manufacturers? We help you integrate your devices into a smart home system!

The smart home provider Philips Hue & Hue Living Colors has an interface to our IoT platform Conrad Connect. Discover ready-to-use projects that can be used to combine your devices or create your own individual projects according to your needs!
This text is machine translated. About Philips Hue: 1000 smart light ideasDo you want attractive lighting at work or want the right lighting atmosphere for every occasion and mood? With Philips Hue, you choose a smart, efficient, intelligent and ...