This text is machine translated.
Solar systems: Generate electricity with the power of the sun
Set the solar sail for power generation and use the free energy of solar radiation to manage your electricity consumption. A solar system, also called a photovoltaic system or a solar power system, fulfills the desire to produce its own electricity . A solar power system converts the radiant energy from natural sunlight into electrical energy. The electricity is available for immediate consumption and can be used to meet the demand for electricity. If desired, unused power can be stored in a lead-acid battery and used at night or in bad weather, when the sun does not shine.
Solar power systems have a wide range of applications and the purchase prices have fallen in recent years. This allows a cost-effective entry into modern and sustainable energy production. The advantage is that the systems require little maintenance.
Advantages of a solar system

What was the difference between complete photovoltaic systems and small solar systems?

Which components belong to a solar system?

Which solar systems are still available?
Where can a solar system be set up?

How is a solar system calculated correctly?

Power rating of solar systems

Differences between photovoltaic and solar thermal
Advantages of a solar system
A solar system can meet the individual demand for electricity on site, reduce energy costs and promote the environment.
Electricity, where nobody is

Lower electricity costs With a solar system as so-called island system, you can easily and comfortably use electrical energy wherever a power supply is missing or a generator is used. Whether garden house in the green, detached garage or a pavilion, with photovoltaics you can operate electrical systems and electrical devices. Thus, the solar power from regenerative sunlight can drive lighting systems, refrigerators, radios, sound systems, pond pumps, alarm systems or the dishwasher. Often you can get away with a PV system at a lower cost than with a connection to the network.
For office buildings, rental houses, workshops, production plants and homes, a photovoltaic system coupled with the grid is often a sensible investment. The self-generated electricity reduces the power consumption from the public supply network. This relieves the solar system from the wallet. They become much more independant of rising electricity costs. So it makes sense financially to buy a photovoltaic system, because it can lead to savings.
Environmental protection
From an ecological point of view, photovoltaics is a profit anyway . The electricity from the sun is environmentally friendly and sustainable, because sunlight is available without limits. No fossil substances are used for energy production via a solar system and no CO2 exhaust gases, soot particles or fine dust are produced.
In recent years, photovoltaics has achieved the highest growth rates among renewable energies in terms of installed power. Systems of the latest generation are characterized by high efficiency.
By using photovoltaics, you are setting a sign for a sustainable, environmentally friendly energy supply , climate protection and the improvement of air quality. By choosing a solar system, you produce your own eco-power and contribute to the energy transition.
The electricity generated by solar radiation via photovoltaics is an important pillar of the energy transition, even according to the German government's ideas. For this reason, the Renewable Energy Sources Act (EEG) promotes electricity production via solar collectors.
What was the difference between complete photovoltaic systems and small solar systems?
Solar power systems are worth more than ever, and the variety of systems is correspondingly large. The products can be distinguished by whether they are connected to the public electricity grid or not.
Grid-connected Solar Power
Classic photovoltaic (PV) complete systems work with large-area collectors on the roof of buildings, workshops, warehouses or car ports. In everyday life, the stationary plants can be recognized by their often widely visible collector surfaces. Such PV systems are linked to the public grid so that the excess solar power produced can also be fed in against payment of a feed-in tariff. The systems deliver a high yield and were originally of interest to the public grid because of the feed-in remuneration generated. By lowering the feed-in tariff, PV systems are now particularly lucrative for their own consumption, as the kilowatt hour of electricity via the sun is to be produced more cheaply than to be taken from the mains.
Autonomous small solar systems
Solar small systems or solar island systems are the compact models among PV systems . They are used as independant power supply wherever there is no direct access to the public power grid. The solar sets allow you to build up a mains-independant power supply. Typical areas of application for solar island systems are summerhouses, mountain huts, boats, camping, caravans, mobile homes and outdoor activities.
Solar small systems are often assembled ready for operation and easy to set up. Once set up, the operation can also take place mobile. Electrical commissioning is usually possible without tools and is done quickly.
Which components belong to a solar system?
A photovoltaic system consists of a combination of several matched components. Depending on the model, one or more high-quality solar modules, connection cables, charge controllers, a long-life battery, installation material and installation accessories are included. Some of these systems are already equipped with inverters, so that a 230V supply is possible. Solar modules, inverters, charge controllers and other solar technology accessories are also available separately.
Sets without inverters supply 12V loads such as lamps, radios or pumps with current. By integrating an inverter, you can also connect regular 230V consumers in the company or in the workshop.
The energy is divided by a charge regulator between the consumers and the supply to the battery storage. The charge regulator charges the battery during the day with unused solar power. By the automatic storage of the self-generated current you can also get out of the mains completely or partly even in the evening hours and at night without expensive electricity.
Better equipped models allow to use prioritized solar energy. If this is not sufficient, the system switches to the public power supply. Due to the fast switching time, an uninterruptible power supply is available to you with a combined solar system. The charge regulator also ensures that maximum power is obtained from the modules even in difficult weather conditions, in order to supply the active consumers and at the same time to optimally charge the solar battery.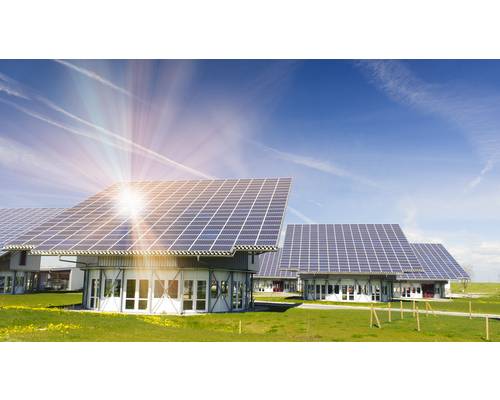 Practical advice
Complete systems or solar system sets contain all the necessary components including assembly and installation materials. The components of the all-round carefree packages are coordinated and enable you to start up immediately. The packages are usually prepared for specific installation environments, for example for tiled roofs or corrugated iron roofs.
Which solar systems are still available?
In addition to solar systems that can be used flexibly, there are also products tailored to specific applications. These include solar systems specially designed for mobile homes and caravans. The solar sets for camping come without inverters and the solar battery and can charge the on-board battery usually present in caravans with the solar power.
Another special variant is solar ventilation systems. They are used as grid-independant ventilation systems in which solar power drives a fan. Areas of application can be greenhouses, indoor pools, terrariums, plants for livestock farming and rarely used rooms such as warehouses or attics. The fan blades can be adjusted so that the devices can be used in suction or blowing mode.
Other special facilities are available in the form of solar pool heaters for indoor and outdoor pools, as well as spa whirlpools, solar fountains and solar lights.
Where can a solar system be set up?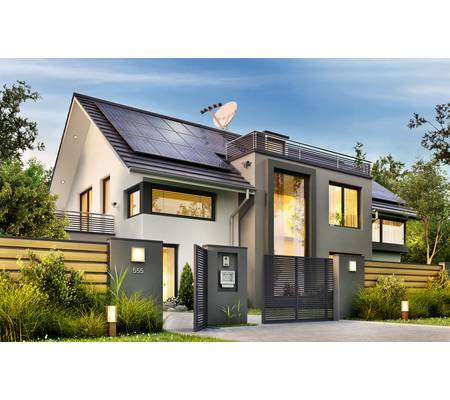 For the system, you need a suitable surface on which a solar panel or several modules can be mounted. The systems achieve the best performance if they are oriented south and no shadow is created by neighboring buildings or trees. A slope of about 30 is recommended°.
Various options are considered for the installation, such as the own roof. Ideal conditions are above all sloping roofs and flat roofs. Their area directed toward the sky is mostly not used and used otherwise anyway. The roof mounting can usually be done on the existing cover or surface without losing its previous protective function. In case of large-scale assignment of modules, the load-bearing capacity and structural stability of the roof construction should be clarified with a specialist company in case of doubt.
If there are no suitable roof areas, the solar modules can also be installed on open areas or green areas. The prerequisite is that no additional surfaces are sealed by the solar system.
How is a solar system calculated correctly?
The potential of a PV system depends on three factors: The duration of solar radiation, the number and area of installed solar modules and the technology used. The free solar calculator from Conrad shows how large your new photovoltaic system should be to generate sufficient solar power and to produce your own energy. The online calculator is a useful tool for planning your own 12 V PV system.
Enter the number and power of the consumers you wish to operate solar in the solar system computer. Then add to the expected operating time of the plant per day. From this information, the computer determines the required components for your solar power system up to a maximum power requirement of 2880 Wh.
The calculation on the basis of your power requirements serves as the basis for the purchase of a suitably dimensioned system. In addition, you will receive tips on selecting the right solar modules, the size of the module, the charge controller and the battery capacity. With the solar calculator, you can take a decisive step closer to your own plant for the use of alternative energies. It is best to test the solar computer immediately and find out what power your small solar system should have.
Power rating of solar systems
Solar systems differ in their performance, which is indicated in the unit Watt peak (from the English peak). It is an important indicator of photovoltaic systems and is determined under constant standard conditions in the laboratory . A cell temperature of 25° C, a radiation intensity of 1,000 watts per square meter (W/m²) and a solar light spectrum of 1.5, which corresponds to the solar peak in Karlsruhe, are preset. Karlsruhe is located in the south of Germany and thus has better solar conditions than regions in the north, where the efficiency is somewhat lower due to lower solar radiation.
The unit Watt peak enables you to objectively compare different solar cells and solar modules under standardized test conditions. Rule of thumb: Higher quality products achieve higher performance, resulting in higher annual returns. Ultimately, they are more economic.
The product description indicates the rated power of the solar module and thus the peak power of the device. In addition, the multiple of watt peak such as kilowatt peak, megawatt peak and gigawatt peak are commonly used. WP, kWp, MWp or GWP are used as abbreviations.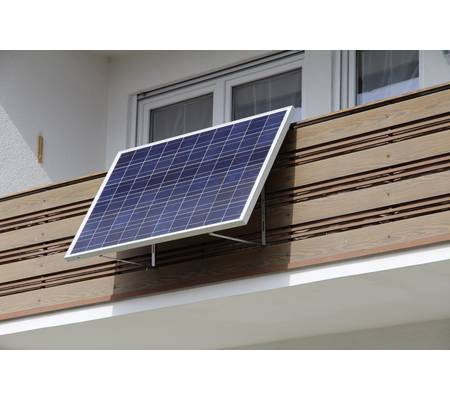 Differences between photovoltaic and solar thermal
The solar cells in a photovoltaic system convert the sun's rays directly into electricity. Solar thermal use in a solar thermal system converts solar radiation into heat and is used for hot water and heating support. Photovoltaics thus stands for the generation of electricity by solar energy, solar thermal energy for the generation of heat by solar energy.
This text is machine translated.  Solar systems: Generate electricity with the power of the sun Set the solar sail for power generation and use the free energy of solar radiation to manage your electricity consumption. A solar system, also c...