About pin and socket strips
What are male/female headers?

What are the different features of pin strips/socket strips at Conrad?

FAQ - Frequently Asked Questions about Headers/Sockets
What are male/female headers?
Pin headers and socket strips are part of the PCB connectors as a subset of connectors. They are used to establish stable, but detachable electrical connections between fitted circuit boards and the electrical environment. They are used where it is necessary to be able to replace complete electrical or electronic components quickly as required, for example to keep machine downtimes short or to repair safety-relevant areas after failure, so to speak, with a single touch.
The connections are positive, so that incorrect connections are safely avoided. Either the contacts, the plug-in housings or the sockets are shaped or arranged in such a way that only designs thought for each other can be put together. The technical term coding stands for this in plug technology.
In addition, pin strips and socket strips can be fitted with latches to create a secure connection in mechanically demanding environments, for example in vehicles, highly vibrating tools or household appliances (washing machine, electric jigsaw).
The pin strips and socket strips are always soldered on an installation system strip or circuit board. Approximately ten percent of the products offered can be separated and thus be assembled to the number of contact points actually required or available using simple tool inserts.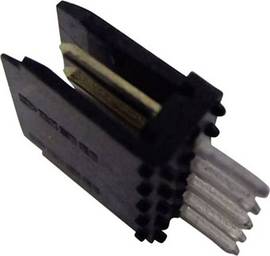 What are the different features of pin strips/socket strips
at Conrad?
Sub-categories include headers/receptacles as:
Socket housing cable with quick connectors for cables, which are then secured in a positive way under an insulating cover
Socket housing board for soldering to circuit boards with a pitch of 0.5 mm
Socket strip (precision), which as SMD components are also suitable for use with the industrial SMT soldering technology
Socket strip (standard) for soldering to PCBs in various common grid dimensions
Pin strip (precision), also partly as SMD component, also for use with industrial SMT soldering technology in small grid dimensions
Multi-pin connector (standard) for soldering into PCBs in larger board grid dimensions
Connection pin strips for soldering in
The products are designed as a straight socket, as socket strip straight or angled, as plug and pin strip straight or in angled design in order to be able to react to different design and installation requirements.

The number of poles ranges from single-pole to 100-pole versions.

The material of the contact surface can be gold, gold plated, selectively gold plated, nickel, nickel tin plated or completely tin plated. The contact material has a significant influence on the lowest possible contact resistance of the connections and the maintenance of the signal quality when passing through the plug connection.

The current load capacity ranges from 0.5 ampere to 48 ampere. The design of the pins: Square, square, flat, round or rectangular. The design of the socket: Round or square.
The pitch (with RM abbreviation) from 0.5 millimeters to 7.62 millimeters in common gradations, also for industrial applications

The pin length on the PCB side, i.e. at the soldering position: From 0.85 to 13 millimeters

The pin length on the plug side: From 2.3 to 14 millimeters

The pin diameter: From 0.05 to 1.3 millimeters

The size of the sales unit as a number of headers/sockets in a set of different types and up to 3,000 pack units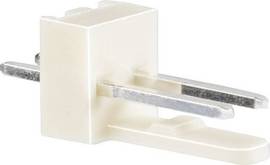 FAQ - Frequently Asked Questions about Headers/Sockets
What do I need to consider when selecting male/female headers?
The selection is based on the application purpose, the grid size of the existing installation systems or circuit boards as well as the electrical, mechanical and thermal parameters of the application environment. The decisive factor for thermal resistance is the housing material.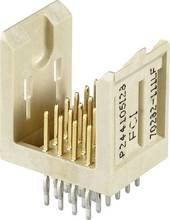 What should be observed when replacing male/female headers?
When replacing the device, the electrical and mechanical data of the respective product must be observed. Special soldering techniques are required for many components to be replaced, some of which are industrial. This work should be done by specialists. For desoldering, we recommend the use of a hot-air soldering iron or a pliers soldering iron – a so-called tweezers. For this purpose, there are special soldering tips with which several soldering points can be operated at the same time. The devices are also available in the Conrad shop.
How can I detect defective pin strip/socket strip systems?
Defects on pin strips/socket strips occur among other things
The oxidation of the contacts, i.e. at the pins and/or sockets with increasing contact resistance. This leads to voltage drops, reduced current conductivity and the transmission of signals suffers. This can be accompanied by heating and, in extreme cases, can lead to the melting of the system housing or the desoldering of the contacts.

Dirty solder joints that lose contact in the event of vibration or other mechanical influences.

Deformation or breakage of the housing as a result of heating, mechanical overloading or reaction with chemicals.

Deformation of the pins due to careless connection, contamination or improper use of tools.
About pin and socket strips What are male/female headers? What are the different features of pin strips/socket strips at Conrad? FAQ - Frequently Asked Questions about Headers/Sockets What are male/female headers? P...