This text is machine translated.
Useful information about PMR radio devices
How does a PMR radio device work?

Applications for PMR radio devices

What PMR radios are there?

Selection of PMR radio devices

FAQ - frequently asked questions about PMR radios
How does a PMR radio device work?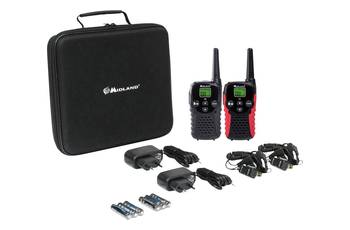 PMR stands for Private Mobile Radio. The Ultra High Frequency, short UHF frequency range from 446,000 to 446,100 MHz, has eight channels (with DMR 446 in digital radio 16 channels), which are available free of charge for different uses. Some PMR radios can also operate other radio ranges such as LPD (Low power device) or SRD (Short Range Devices) and Freenet.
With a range of several kilometers, PMR walkie-talkies can connect several subscribers with each other. They facilitate communication by transmitting call dialogs between transmitter and receiver like normal mobile phones. However, everyone can listen to these calls in the open channel.
Therefore, some code words or previously agreed sound sequences are sent, which the receiver can only set in meaningful relationships with the help of the corresponding decryption.
The stationary PMR radio sets are used by amateur radio for hobby applications.
The number of amateur radios in the PMR network has now shrunk dramatically. This increases your chance to use a free frequency range in your area without any interference.
Two to six-party radio sets are used to coordinate groups in mobile activities. For example, at festivals, you can leave expensive smartphones at home and communicate via Walkie Talkies instead. Security headsets also often transmit in the PMR range, was this could lead to some exciting insight.
PMR radios are advantageous as a mobile phone replacement for children who are still too young for their own smartphone. The easy-to-use technology is popular with the small and promotes first-ever media skills. In contrast to passive tracking systems, you can conduct free conversations over short distances with hand-held radio devices in the PMR network and do not have to roar across the street or across the courtyard as before.

PMR radios for emergencies
PMR radios are used as emergency detectors, for example in geocachers, mountain hikers and forest runners. If one of the participants is in danger of a device, it can send a warning signal to all others by simply pressing a button on the device. Even seniors in need of care who are located in the immediate vicinity can easily keep in contact via PMR radio. An LCD display shows the current status of the devices.
Our practical tip: Comfortable communication
The advantage of the PMR devices lies in the free operation and their easy operation. Once the same frequency is set up for all participants, many devices only have a simple button that you press when you want to start calls and sometimes a separate button for setting emergency tones. But: The conversations are not encrypted and theoretically audible to everyone. The range is sometimes several kilometers.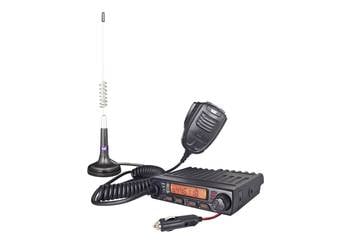 In amateur radio hobby, not only mobile radios are popular, but also stationary devices. The possibility of talking to strangers on the open frequencies or listening to foreign conversations in secret has not lost its appeal even in the modern information age.
Some PMR devices have FM radio reception. You can still listen to all stations in your environment, even if in Germany the switch-off of the ultra-short-wave, i.e. FM frequencies is planned for years in favor of DAB+.
Did you know ... In the past, it was more common to be able to listen to police and fire-fighting radio on the open PMR frequencies. These are now encrypted and moved to other frequencies. In addition, PMR radios were installed in vehicles in front of the modern car radios, in order to implement emergency communication in tunnels and in case of accidents and to drive away the boredom of long-distance drivers.
What PMR radios are there?
In our shop you will find different types of radios:
| Model | Designation |
| --- | --- |
| PMR-wireless device | Classic PMR radios can transmit and receive in the PMR range on several channels. They enable (depending on the model) far-reaching radio over up to five kilometers. |
| Portable radio transmitter: | In addition to stationary radio devices, portable radio devices are also available for the common radio applications PMR, LPD and Freenet, which are used, for example, for geocaching. Sets of two to six walkie-talkies can be transported in practical cases and offer numerous extras. |
| Freenet PMR radios | Freenet/PMR radios can be used to use both the channels of the PMR radio range and the Freenet frequencies. Different manufacturers use these additional frequencies. |
| LPD/PMR radios | PMR radios, which also support the radio application Low power device (LPD), have numerous other channels in the LPD frequencies. |
Our practical tip: Comply with the regulations
Only radios manufactured by manufacturers in accordance with statutory regulations may be used for each radio application. The approved devices must not be tampered with or converted .
Selection of PMR radio devices
Number of devices in the set
In the shop you get PMR sets for two to six subscribers. Some of the radios are supplied in a common carrying case for easy transport, including batteries, chargers and adapter cables.
Range
The range is specified by the manufacturers as the maximum range in the open. In practical use, these values are significantly reduced, since each obstacle obstructs the radio waves and thus shortens the reliable area of application.
Private and semi-professional PMR radios must have a maximum transmission power of 500mW in order not to be subject to registration. This results in an average range of 5 kilometers. However, the possible distance depends strongly on the ambient conditions. Under optimum conditions, up to 10 kilometers of airline are possible, in heavily built-up areas, the receiving radius is partly only 200 meters. Therefore, select a radio device with the highest possible range from the start.
Power, battery life, and charging
For mobile use of PMR radio devices you need sufficient battery life. The possibilities for recharging are particularly relevant if you want to use your PMR devices in adventure vacations such as scouting trips or camping trips, where there are not sockets everywhere. Do not forget to replace batteries/rechargeable batteries.
Stationary PMR radios are usually connected to simple sockets with a power supply. If such a device is to function even in the event of a power failure, select one that allows battery operation as a substitute.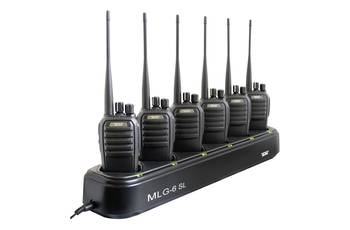 Useful functions
VOX function: The VOX function automatically switches between transmission and reception mode. her voice is switched to and from the VOX function. This means you don't miss a contact attempt by your participants and don't have to move a slider back and forth as with dialogs with old devices.
Push-to-talk buttons, or PTT buttons, need to be pressed or held briefly to initiate call content submission. Otherwise, only the reception of other subscribers is activated, own noises are not transmitted. Walkie-talkies with PTT keys are more practical for occasional use than those with continuous transmission.
squelch and automatic channel search make it easier to find and use suitable frequencies for undisturbed calls in the network.
Different ring tones, vibration alarm and Roger-Beep when dialing in further subscribers facilitate the communication.
LED spotlights indicate the device status. LED flashlights are integrated with some walkie-talkies and are automatically switched on when the emergency button is pressed to find the caller better.
Software for device optimization helps, among other things, in setting up sub-channels. Some also include programmable buttons and Bluetooth devices as part of the functional scope of walkie-talkie sets and stationary PMR radios.
Compatible accessories
Common additional options are headset connections for hands-free call guidance and speaker outputs. Other accessories such as belt clips, headsets and much more are available, especially for outdoor activities. Accessories for PMR radios can also be found here in the shop.
FAQ - frequently asked questions about PMR radios
Do you have to register your radio in the PMR area?
Basically, the PMR radio range is still public until 2026 and can be used by amateurs with a transmission power of up to 500 mW without registration. The manufacturers of PMR radio devices follow the legal requirements for this. All devices in our shop are ISO certified. The Federal Network Agency informs about the frequency allocations for Germany.
Is communication with PMR radios audible to everyone?
Communication with PMR radio devices can be heard for each subscriber on the corresponding channel. For undisturbed group communication, pilot tone techniques, such as CTCSS coding tones, can be used to hide other stations through the squelch and only allow stations with this setting. However, the own transmitted signal can still be received by all subscribers.
What can I do if I hear people and sounds other than those of my participants? ich ich??????????????????????? was
PMR radio takes place on all frequencies. In this respect, you should not be surprised if someone randomly selected the same channel as you. Some devices offer a scan function that automatically looks for free frequencies. Change the frequency on all your radio devices. With a little luck you will find a free channel on which you can send and receive undisturbed. The chances are good, because the increased use of smartphones has significantly reduced the number of communication devices in the PMR radio range in recent years.
Can you also use PMR radios abroad?
Country-specific regulations are in place to determine which radio applications are approved for private use. If you want to pursue various hobbies with PMR radio devices abroad, for example on holiday, you should inform yourself in advance about the legally free radio areas on site.
This text is machine translated. Useful information about PMR radio devices How does a PMR radio device work? Applications for PMR radio devices What PMR radios are there? Selection of PMR radio devices FAQ - frequently aske...