This text is machine translated.
What type of power supply is there?

Our practical tip: Calculators in school and further education

What defects can occur on calculators?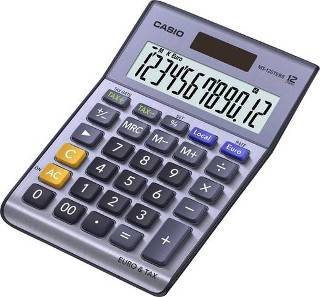 Pocket calculators are electronic calculators in a compact, portable design. Due to their small dimensions and low weight, they can be easily transported in a bag – hence their name.
The devices allow numerical calculations such as basic arithmetic operations and percentage calculation. Large-scale calculators handle more complex calculations, such as calculating with powers, roots or logarithms. Programmable calculators are also available that can remember complex functions and formulas.
The quantities to be calculated are entered via a keyboard that is equipped with the numbers from zero to nine, the keys for the arithmetic operation and the retrieval of the result. In addition, at least one delete button is also used to empty the result memory. Even simple models often already have a simple addition or substrate storage.
In most cases, the input and the result are represented by a liquid crystal display (LCD).

Distinguishing features of the computers
Calculators differ, among other things
The equipment with calculation methods
The display and the display type
The power supply
The additional functions
Locations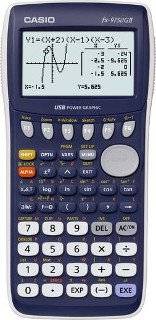 Basic arithmetic operations, often also percentage calculations, can be carried out with simple calculators. For this purpose, a temporary addition memory is available with which the intermediate results of calculations are stored and can be retrieved from. The keys are usually labeled "M+" (add to memory), "M-" (remove from memory), "MR" (fetch memory), and "MC" (delete memory). If the calculator is turned off, the contents of the memory will be erased.
Scientific calculators are equipped with more extensive calculation options. This includes root and power calculation, trigonometric functions such as sine or Cosinus, differential and integral calculation as well as the calculation with logarithms. A graphics-enabled calculator also offers the option of displaying these functions as a curve on the display. They often have multiple memories that can "remember" values independantly of each other.
Even more comprehensive calculators can handle fractions, calculations in degrees and radians, conversion of different number formats, vector and/or matrix calculations and different transformations. In addition, some of these calculators can also be used to solve currency conversions, financial mathematics or tax tasks, such as the calculation of interest rates and interest rates, amortization or annuity events.
Programmable calculators go one step further. They are equipped with an internal memory. This can be "fed" with calculation sequences, in order to always have repeating calculations ready. This helps the user simplify and automate calculations. For this purpose, a so-called programming mode is integrated, which can process letters as well as the input of numbers. These text-based programming editors are already quite close to PCs. Some scientific calculators with high-resolution graphics displays can certainly measure up to tablet computers, but are specialized in computing tasks. Some of the devices have a setup that can be used to configure settings.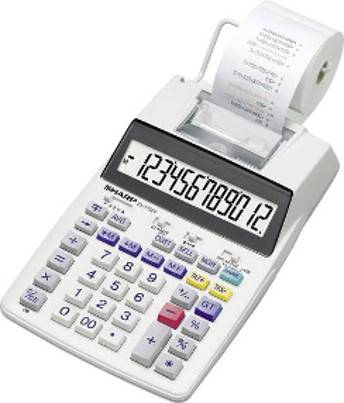 A large part of the modern calculators are equipped with low-power, high-contrast LCD displays. Depending on the task and equipment, the digits and symbols are displayed in block symbols or high-resolution pixels, was particularly important for graphics-enabled calculators. Calculators with touch displays are also available.
Desktop calculator with print function have vacuum fluorescent displays, also known as a Digitron display. With pin-sharp characters, they ensure that the display is clearly visible, for example in artificially lit rooms (offices), and also have a wide viewing angle. Due to their higher power requirements, such displays are installed in mains-operated calculators.
What power supply options are available for calculators?
The most suitable power supply depends on the application area and location. Calculators must be small and light in terms of words. Therefore, large sets of batteries or rechargeable batteries, which require a lot of space and weigh heavily, are not suitable for handy models. Often, small lithium-ion batteries are installed. In addition, many models have a small solar module to maintain the charge.
The combination of solar and battery operation is very common and offers optimum energy efficiency. Powerful devices with larger, perhaps even colored displays use larger batteries or externally rechargeable batteries for power supply. So-called desktop computers – usually with printing options – are almost always equipped with a connection to the low-voltage network. In addition, they can also be equipped with Li-ion button cells, in order to receive memory contents or programming after switching off.
Our practical tip: Calculators in school and further education
Education is a matter of country in the Federal Republic of Germany. This is reflected in the rules for the use of calculators, especially in tests. The same applies to vocational training and further training as well as to examinations for certain degrees. The Ministries of Culture of the German Federal States have made different definitions of which types of calculators are specifically approved in tests.
One example is the admission of technical and scientific school computers in examinations at high schools: It is permitted in all federal states except Baden-Württemberg, Lower Saxony, Saxony and Thuringia. Some manufacturers of calculators (CASIO and Texas Instruments, for example) offer lists to help you find out about the regulatory requirements in the German federal states. The schools and vocational training institutions provide detailed information on which computers are admitted to which educational content. In the classroom, the use of calculators is generally possible everywhere due to the teacher's educational freedom.
What defects can occur on calculators?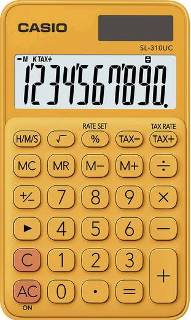 Pocket calculators are basically very durable products. Failure criteria include, for example, a display destroyed by mechanical effects, exhausted accumulators or batteries. Defective solar modules also lead to failure of the device, as the internal battery can no longer be recharged.
Due to the low energy requirements of modern calculators, long-term batteries that are not replaced may also leak liquid that can damage the contacts and battery housing. In many cases, a repair is more expensive than a new purchase, especially if it is a simple model without a graphic function.
With desktop computers with printing options, the ribbon is exhausted as with a conventional typewriter or with needle printers. This can only be corrected with a replacement. The printing mechanism should also be cleaned immediately according to the manufacturer's specifications. You can also find suitable ribbons, rechargeable batteries, batteries and cleaning materials in our online shop.

This text is machine translated. About calculator What was a Differentiators These displays are used What type of power supply is there? Our practical tip: Calculators in school and further education What defects can occ...