Polycrystalline Solar Panels
This text is machine translated.
Useful information about solar modules
How are solar modules structured?

Which solar modules are available from Conrad?

FAQ – Frequently Asked Questions about Solar Modules
What was solar module?
Solar modules are components of solar systems and convert the energy radiation of sunlight into electrical energy. For this purpose, photoelectric effects in chemical elements or compounds are used.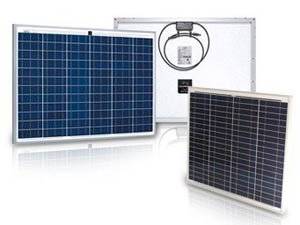 A solar module consists of solar cells in series or parallel connection. The materials used in the solar cells work with the so-called inner photoelectric effect.
The photoelectric effect describes – in general – that metal plates emit electrons when exposed to light. The intensity of the electron current is directly proportional to the light intensity. Among others, the theoretical models for this are based on Max Planck and Albert Einstein.
The photovoltaic effect is a type of internal photoelectric effect. In this process, charge carrier pairs are separated by the influence of the radiating light and pass into certain zones of a semiconductor. This movement generates a current, the photocurrent, which can be taken at the connections of the semiconductor material used.
How are solar modules structured?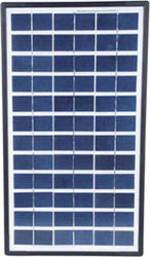 A solar module consists of the following elements:
Safety glass panel: Protects the sun from weather and dirt
Transparent plastic layer: Absorbs the solar cells. Ethylene vinyl acetate (EVA) or silicone rubber is used as the material.
Electrical connection of the individual solar cells with each other by soldering bands
Weather-resistant plastic backing for protection with polyvinyl fluoride or polyester film
The entire structure is surrounded by a frame – for reasons of weight saving from aluminum profile. It protects the glass panel during transport, handling and installation. It also serves for reinforcement of the construction in solar panels.
A junction box is installed for removing the electrical energy, often already with connection cables and plugs. Freewheel or bypass diodes ensure (depending on the interconnection of the solar modules) that non-illuminated modules are "skipped" electrically.
Each solar cell has an individual, unchangeable serial number on the frame or on the embedded solar cells.

The individual elements are combined in a process similar to laminating.
Solar modules are available as flexible and rigid was their application bandwidth multiplied. Rigid solar modules usually consist of silicon-based solar cells. The solar cells are mechanically protected from environmental influences by the module. The housing material is suitable for permanent outdoor use. There are maintenance-free, self-cleaning modules that are also resistant to salt water. Flexible modules consist of monocrystalline cells between transparent plastic plates.
Solar modules always supply direct voltage (DC). Electrical characteristics are:

Open circuit voltage
Short circuit current
Voltage, current and power in the best possible operating state
Temperature coefficient (TK) for power change, no-load voltage change and short-circuit current change
Efficiency and aperture efficiency (relative to the opening width of the module)
Maximum system voltage
Which solar modules are available from Conrad?
Solar modules are differentiated in our online shop according to different technical aspects:

Category

The advantages are low production costs and lower amortization time. These modules are interesting for investors with larger areas.
Monocrystalline solar panel.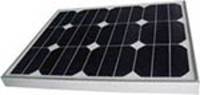 They are time-consuming to manufacture, but extremely efficient due to the high silicon content. Due to their high efficiency, they are particularly suitable for small roof areas.
Polycrystalline Solar module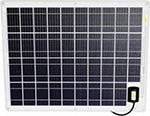 They have a lower degree of efficiency than monocrystalline modules, for example. It is less commonly used in pure silicon. These modules can be used well on large surfaces. This type of solar module is currently the most widely used in the world
Nominal voltage
Modules are available with 3, 6, 12 and 24 V DC voltage.
Power
The solar modules offered by us have power ratings from 0.75 to 160 WP.
The "Watt peak" (from the English peak = "Peak") is common in the photovoltaic sector, but not a standard-compliant designation for the electrical power (unit: Watt). In addition, multiples such as kilowatt peak (kWp) and megawatt peak (MWp) are commonly used. This so-called unit is used to compare different solar cells and solar modules under standardized test conditions with the following parameters:

Cell temperature: 25 degrees Celsius
Radiation strength: 1,000 watts per square meter (W/m²)
Solar light spectrum: 1.5 (for example, the highest sun level in Karlsruhe)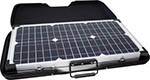 Solar modules can be used to supplement or replace the conventional power supply wherever areas are available for the use of solar radiation. Campers, sailors, model builders, garden enthusiasts and mobile workshops are also among the target groups for the use of solar modules.
FAQ – Frequently Asked Questions about Solar Modules
What safety and operating instructions must be observed?
The individual components of small solar systems are supplied with comprehensive operating instructions. Please take note of these carefully before starting the installation. Special attention should be paid to possible bending radii and to the avoidance of vibrations. When connecting modules, always observe correct polarity.
Solar modules are designed for solar energy generation in outdoor applications throughout the year. For this purpose, direct the solar module to the south without shading.
Humidity is the greatest enemy of the interior of the solar modules. During transport, installation and attachment, make sure that the outer protective elements are not damaged.
What is the service life of solar modules?
The service life is indicated with up to 25 years. The original efficiency rate is down by about 10 percent after 20 years, up 13 percent after 25 years. Crystalline solar cells can be expected to last up to 30 years.
What was to be observed when disposing of solar modules?
The material of a photovoltaic module can be recycled by up to 95 percent in specialized companies. It is prohibited to dispose of electronic components as household waste. Use the public collection points of the municipalities.
Practical advice
Do not drill any additional holes on your solar module to avoid damaging the protection against weather influences. After a hail shower, you should check the safety glass of the modules.
Before installing a solar system, consider any necessary adjustments to your insurance cover. There are now so-called all-risk insurance companies for this purpose. These cover damage caused by natural forces, short circuits, construction errors, operating errors, theft, vandalism, repair work and even loss of revenue due to defects.
Calculate solar system correctly» Test our solar system calculator for 12 V island photovoltaic systems now
This text is machine translated. Useful information about solar modules What was solar module? How are solar modules structured? Which solar modules are available from Conrad? Who uses solar modules? FAQ – Frequently Asked Q...