Whether 3-way, 4-way, 6-way or in special designs: Socket strips or multiple sockets can be found in every household. Especially when the electrician has used the 230 V wall sockets sparingly when installing the house.
However, although we use multiple sockets for a variety of purposes, there is a lot to be considered. Because too careless handling can quickly lead to serious problems. We will give you interesting information about socket strips and tell you what to pay attention to when handling them.
What power strips are available?

What must be taken into account when selecting socket strips?

What must be taken into account when connecting power strips?

Frequently asked questions about power strips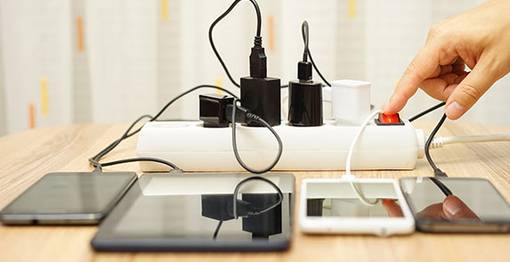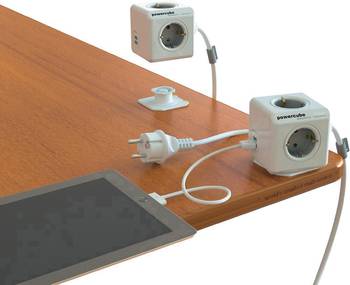 Socket cube with USB charging function.
A power strip or multiple socket offers the possibility to operate several 230 V consumers at a mains socket. Accordingly, the housing of a multiple power strip offers a different number of slots for power plugs.
The slots can be designed for earthing contact plugs , CEE plugs or for European plugs. However, there are also other types of construction, such as FR connectors . The connection to the mains is made via a cable with mostly cast mains plug . Alternatively, socket strips without connection cables are also offered, which can be individually mounted.
Depending on the intended use, multiple sockets may have additional equipment features. These include switches, child safety devices, master/slave functions or devices for overvoltage protection .
In addition, more and more connector strips are equipped with USB ports. This makes it possible to connect a USB charging cable directly to the power strip. The integrated USB charger then controls the output voltage.
What power strips are available?
The plug-in power distributors can be distinguished once according to their special features and their design.
Special features and features for socket strips:
A key differentiator and also a purchasing criterion are the different features and features. These can be available either individually or in combination.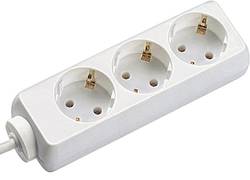 Inexpensive socket strip for domestic use.
These multiple sockets do not have any special additional performance features. They are therefore offered at a reasonable price.
Since the price is also reflected in the quality of the plug contacts, it is advisable for high-performance consumers to put on high-quality brand quality. zu setzen.
Socket strip with child lock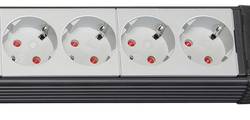 The red covers under the openings serve as child protection.
A key feature of socket strips is the child safety device .
Under the round openings for the contact pins, a plastic flap covers the live connector contacts .
This prevents children from inserting objects into the contact openings and thus suffering a life-threatening electric shock.
To the socket strips with child-proof lock
Switched Power Socket Strips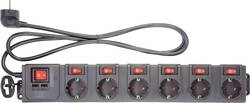 Multiple socket outlet with jointly and individually switchable sockets.
By means of an integrated switch all connected consumers can be separated from the mains supply together.
Alternatively, there is also the option of separating individual socket pots from the power grid.
For this purpose, an appropriate switch is located next to each earthing contact socket. .
To the socket strips with switch
Socket strips with timer switch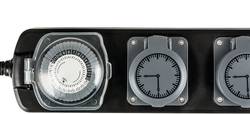 A timer controls the power supply of the sockets.
The timer allows consumers to operate only at a certain time .
Lighting can be switched in a targeted and efficient way.
As an alternative, there are also automatic switching devices that switch off the connected devices after a certain time.
To the socket strips with time control
Power strips with surge protection

Power strip with integrated surge protection.
These multiple sockets are equipped with special protective elements or protective devices.
This effectively keeps destructive voltage peaks from the mains supply away from the connected devices .
To the power strips with surge protection
Master/slave socket strips

The master socket is highlighted in color by the slave sockets.
If the consumer load connected to the master socket is switched on, the outlet strip also supplies the slave sockets with mains voltage.
Thus it is sufficient only to switch on the television, in order to also put the SATELLITE receiver and the sound system into operation.
To the socket strips with master/slave function
Power Socket Strips with RCDs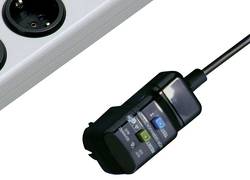 With this strip, the residual current circuit breaker is integrated in the mains plug.
The integrated residual current circuit breaker (FI) monitors the current flow via the connector strip.
If, in the event of insulation damage, the metal housing of a connected device is under voltage, the FI prevents a life-threatening electric shock .
To the socket strips with personal protection function
The individual sockets of the strip are switched via radio remote control.
Radio socket strips offer the possibility to switch the connected consumers comfortably from the desk or the armchair by radio.
Depending on the design, the consumers can be switched on or off individually at the different sockets.
To the radio socket strips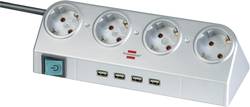 In addition to the power connections, USB charging sockets are also available.
There are now a number of devices that can be charged via USB.
This includes not only smartphones , tablets and so on, but also many toys and remote-controlled entry-level models, which are now charged via USB.
So that a notebook or PC does not have to run constantly, sockets with USB connection are an ideal alternative. The USB charging cable can then be connected directly to the charging sockets.
To the socket strips with USB connection
Variety of colors in connector strips

It does not always have to be black, white or brown.
In addition to black and white, there are power strips in a wide variety of colors .
Nevertheless, the classic black and white are used preferentially.
Different designs for socket strips
In addition to the special features and equipment features, the socket strips also differ in their design.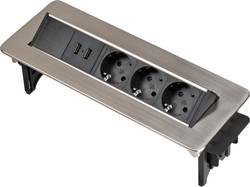 Typical power strip for table installation.
Until some time ago, the classic power strip , as it is found millions of times, was also known as a table power strip. Probably because the tables weren't equipped with electrical outlets in the past.
Meanwhile, however, this has changed. The term table sockets nowadays refers more to sockets and plug strips which are intended for installation in and on the table.
To the table socket strips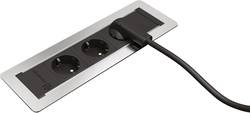 Built-in sockets can be functional and strong in design.
When installing a built-in power strip, it is logical that a little more effort is required.
For this purpose, built-in sockets always appear clean and tidy because of the cables laid out invisibly.
In addition, the recessed installation ensures that they are never disturbed or in the way.
To the built-in socket strips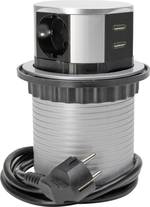 A retractable socket tower can also have several floors.
Socket towers are installed recessed in table tops or worktops.
This means they do not disturb and are ready for use at any time.
If required, the tower is simply pulled out and then offers a wide range of connection options .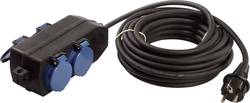 Socket distributors can be used mobile or stationary.
Socket splitters are multiple sockets with partly quite long cable .
In mobile use, they serve as extension cables with multiple sockets .
When used in stationary applications, they are often suspended above the work station in order to be able to connect different machine tools.
To the socket distributors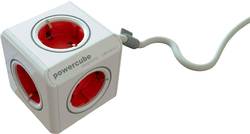 Convenient socket cubes offer power connections in all directions.
Socket cubes are the space saver under the multiple sockets.
They can be mounted on any table or on any worktop.
An invisible mounting on the underside of the table or work tops is also possible. There are no limits to the possibilities.

19" power strips have fastening straps on the right and left.
In stage or event technology, a wide range of electronic devices are required for light and sound control.
These are installed in 19-inch (19-inch) wide boxes for easy installation, removal and safe transport.
As a result, it is also advisable to install 19" socket strips firmly in the 19" rack and thus supply the devices with power.
What must be taken into account when selecting socket strips?
In order to find the right power strip for the respective project, one should think a few times in advance or answer the following questions:
1. Which connector system is required?
On the German market, there are two different systems for the power plugs. In addition to the round earthing contact plugs, the flat Euro plugs are also used.
Accordingly, plug connectors adapted to the different systems are offered.
While a Euro plug can be easily plugged into an earthing contact socket, this is not possible in reverse. If only Euro plugs are used, the use of a space-saving Euro plug strip makes sense.

Space-saving socket strip for Euro plugs
2. How many slots must the power strip have?
The most important selection criterion is the "Number of sockets" item in the technical data. If only three slots are required, it is rather impractical to take a larger connector strip. This only takes up unnecessary space and can under certain circumstances be stored worse.
3. How must the sockets be arranged in the strip?
If the sockets are close to each other, it can easily lead to problems if large plug-in power units are connected. The power supply enclosure then partially covers the neighboring socket. The alignment of the sockets is also important. If the can inserts are not twisted sideways, an angled mains plug can cover the neighboring box.
4. How long must the supply line be?
Often, the mounting location of the strip is not near the wall socket. In this case, it is necessary that the outlet strip's supply line is long enough. In the opposite case, an excessively long supply line often acts as a nuisance.
5. What additional function does the power strip have to perform?
In addition to the power distribution, it may also be necessary for the power strip to perform other tasks. If multimedia devices are connected, a surge protection power strip would not be bad. If the power strip is mounted on a workbench, we recommend a personal protection power strip. Power strips in the living area should always be equipped with a child safety device.
6. Are switches required?
A socket strip with switch offers the decisive advantage that a click at the switch is sufficient to de-energize all connected consumers. This reduces the standby power consumption to zero using a switch. It is even more comfortable if each socket in the socket strip is equipped with its own switch. On some distribution boards, the switches are designed to function as foot switches.
7. Are optics and design important?
When the power strip is stowed behind a cabinet, color and design do not matter. In the visible area, on the other hand, the optics are more important. Especially when, for example, in company rooms, great importance is placed on perfect design.
8. What are the external influences?
It goes without saying that socket strips for outdoor use must have the required IP protection class However, a power strip must also be equipped for indoor use, where spray water or steam is to be expected.
Also for changing locations on construction sites. Here it is better to grab a solid aluminum case.
What must be taken into account when connecting power strips?
The connection of a power strip is done quickly. But you can make mistakes just as quickly. The worst mistake you can make is the power strip overload.
A wall socket is normally protected with a 16 A circuit breaker. At a voltage of 230 V, this results in a maximum power of 3680 watts .
If power-hungry consumers such as fan heaters, radiators or hot plates are connected to a power strip, the limit value can be exceeded very quickly. If the circuit breaker does not then trip, the power strip can quickly overheat or lead to a fire in the socket. Therefore, you should always pay attention to the performance of the connected devices.
Equally important: The connected mains plugs must be firmly and contact-proof in the strip. Loose plugs or loose plug-in power supplies cause not only contact problems. The excessive contact resistance can lead to malfunctions and overheating of the power strip.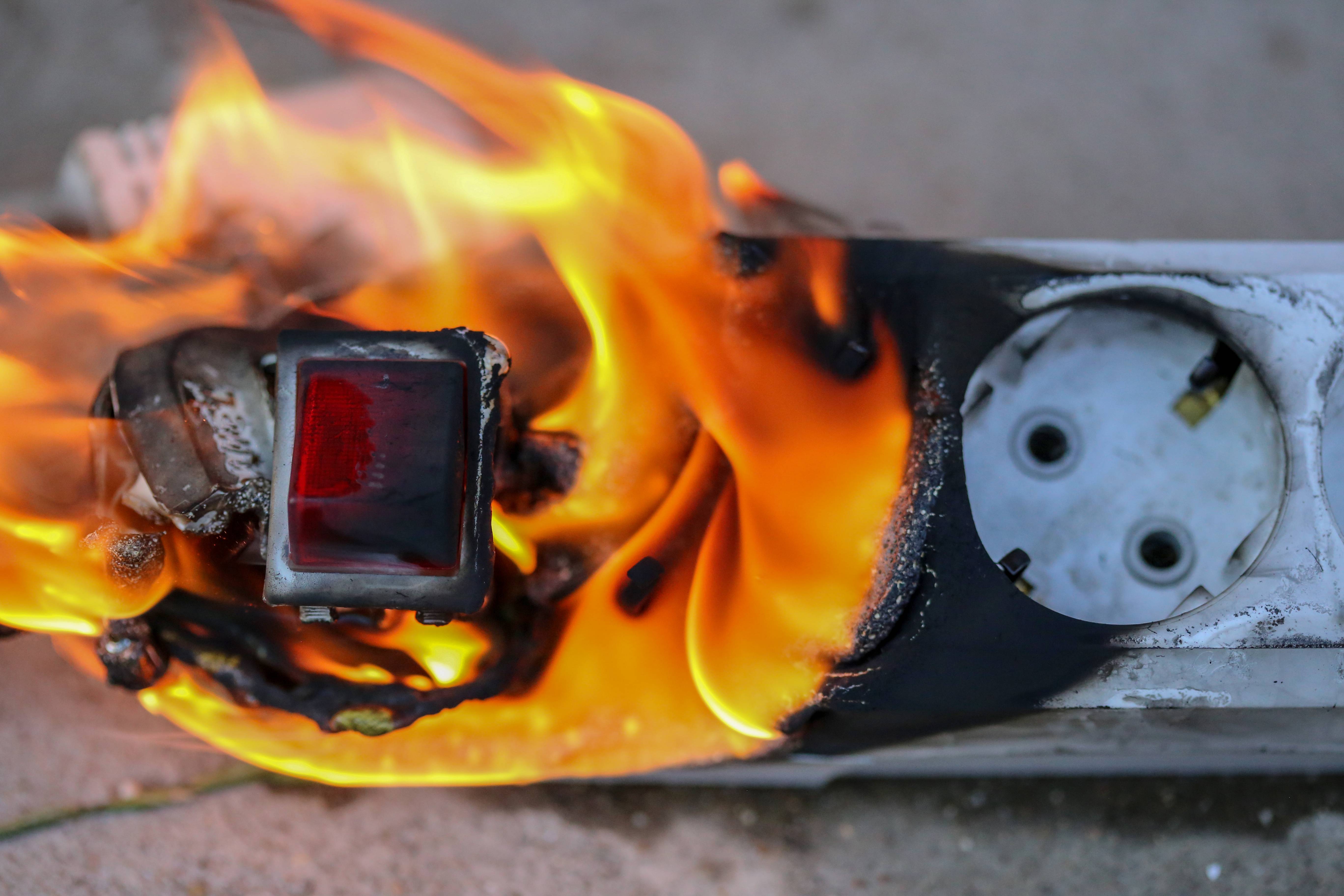 Overloading can quickly lead to a fire in a socket.
Frequently asked questions about power strips
How many devices can be connected to a power strip?
It is not the number of connectable devices that is decisive. The power consumption of the connected devices is much more important. This must not be higher than the maximum connected load of the connector strip.

Why are most power strips white or black?
The colors white and black are rather neutral and can be inserted visually more easily into the environment. In the kitchen area, you would rather prefer a white bar, whereas in one corner of the work room a black bar is more inconspicuous. In addition, socket strips in black are not so sensitive to dirt.

What does the term H05VV-F3G1.5 mean?
The connection cable of the multiple socket is described in detail under the designation H05VV-F3G1.5:
H = harmonized wire identification; 05 = rated voltage 300/500 V; V = PVC cable insulation; V = PVC sheath insulation; F = fine wire or flexible; 3 = number of wires; G = with protective conductor (green/yellow); 1.5 = cable cross-section in mm².

How do surge protection power strips work?
For an effective surge protection, voltage peaks that are significantly higher than the mains voltage must be effectively dissipated. It is not only the mains voltage that is monitored. Some power strips also secure the telephone line, antenna cables or network cables.

For this purpose, spark gaps and voltage-dependant resistors are used. Together with super-fast fuses, they provide the connected Hi-Fi systems, televisions or even telecommunications equipment with effective surge protection. Important: Surge protection is not a substitute for lightning protection. Rather, overvoltage protection should be seen as a useful addition to lightning protection.

What is a UPS power strip?
A UPS power strip is not intended for connection to an earthed mains socket. A cold device plug is mounted on the connection cable instead of the protective contact plug, which is connected to a UPS (uninterruptible power supply). The UPS detects a power failure and supplies the connected computer for so long that a data backup can be performed on a hard disk.

What is the difference between a European plug and a safety plug?
A European plug has only two contacts for the phase and the neutral conductor. This is completely sufficient for mains-operated devices of protection class II. Devices with metal housing, such as a toaster, must be connected via safety sockets. An electrically conductive connection with the metal housing is established via the earthing contact. In case of insulation damage, the FI would trigger if someone touched the live housing.
Interesting products on the subject of socket strips & cable drums:
Cable extension (outdoor)
  About power strips Whether 3-way, 4-way, 6-way or in special designs: Socket strips or multiple sockets can be found in every household. Especially when the electrician has used the 230 V wall sockets sparingly when installing t...