This text is machine translated.
About Powerline
Do you know the problem? You want to build up a WLAN network in your house, but in some rooms you do not have sufficient WLAN reception. In order to enable a stable network connection even under difficult structural conditions, the use of Powerline adapters is a practical and reliable solution. All you need to know about Powerline was in our guide.
Powerline adapters at a glance

Important criteria when purchasing Powerline products

Our practical tip: Do not connect Powerline adapters to multiple sockets

FAQ - Frequently Asked Questions about Powerline Adapters
Powerline adapters at a glance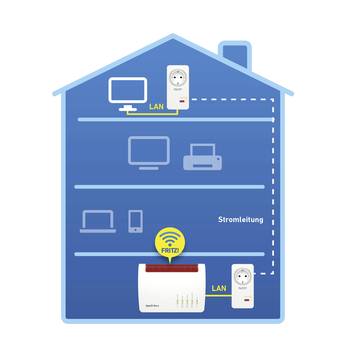 The big advantage of Powerline is that unlike conventional Ethernet cabling, you don't have to lay any new strips in the house and instead have access to the power cables available in every room. But how does it work? A functional Powerline network requires at least two adapters. The transmitter converts the digital data signal into an analogueue signal and modulates it on the power line at high frequency. The receiver adapter converts the analogueue signal back into a digital one. End devices can be connected to Powerline adapters either via integrated Ethernet ports or with some models via WLAN. This means that the Internet connection can also be used by smartphones or tablets without any problem. Such Powerline WLAN adapters support current WLAN standards such as Wi-Fi 5 and make an additional WLAN access point unnecessary. The maximum range of Powerline products, depending on the manufacturer, is between 300 to 500 meters, was sufficient for most homes and apartments.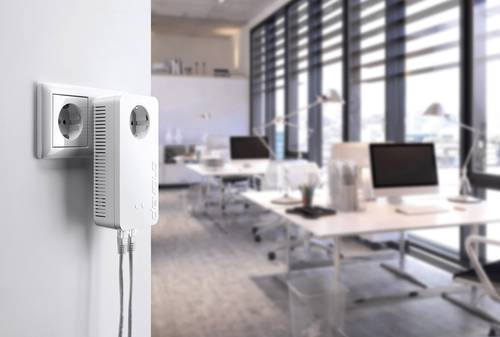 It is particularly convenient that a Powerline network can be extended to additional devices at any time if required. It does not matter whether you use PowerLAN in combination with a DSL connection or on an LTE router equipped with a SIM card.
Many Powerline adapters also offer a slot for a plug. The socket in which the adapter is plugged can thus continue to be used. Many Powerline products turn a standard power outlet into a smart outlet that allows you to control your power via smart wizards such as Amazon Alexa or Google Assistant. Connected devices can then be conveniently disconnected from the power supply with an app installed on the smartphone. It is also possible to switch off automatically via an integrated countdown function. Powerline configuration can now be done easily by various manufacturers using an app installed on the smartphone. The application shows the user the current status of all adapters in the network as well as the current transmission speed and allows a convenient update of the firmware.
Important criteria when purchasing Powerline products
The market now has a variety of different Powerline solutions. But which one is right for me? In order to find the right product, it is important to know what purpose you are pursuing. If you're just surfing the web and sending some emails, in many cases low-bandwidth Powerline kits are enough. If you want to stream videos or play online, you should choose adapters with a bandwidth of 1,200 Mbit/s or higher. In general, a higher bandwidth is very beneficial when operating Powerline in order to better absorb any losses that may occur in the power grid.
Avoid mixing devices from different manufacturers to ensure stable operation. Often you will find in the retail so-called starter kits, which contain two or more adapters in one set at a bargain price.
Of particular importance when operating a Powerline connection is the quality of the existing power lines. It is important that you check whether your house has modern cables installed before you buy them. The higher the quality and shorter the power line, the better the result that can be achieved with Powerline. On the other hand, ailing lines have a negative effect on transmission quality and signal strength. In such a case, you should better use an alternative such as WLAN.
Before you buy, consider how many devices you want to connect to a Powerline adapter. Models with multiple Ethernet ports save you the need to purchase additional network components. Access a WLAN Powerline adapter if you want to go online with mobile devices such as smartphones. A practical side effect is that you can save yourself the purchase of an access point. If you already use digital assistants such as Amazon Alexa or Google Assistant in the smart home area, an adapter set with integrated WLAN socket can also be useful.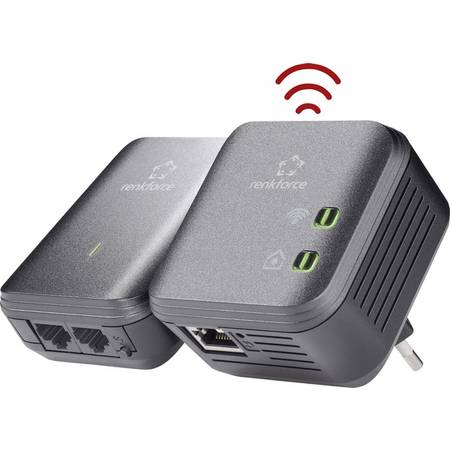 Please note that you cannot operate as many adapters as you want in a network. The maximum number of Powerline adapters can vary significantly from manufacturer to manufacturer. TP-LINK, for example, specifies a theoretical maximum between 6 and 254 adapters, depending on the model.
If you have modern power cabling, you should use Powerline models that meet the HomePlug-AV2 standard. In newer buildings, three-wire power cables (phase, neutral and earth) are used, while in older houses two-wire cables have been laid. With an AV2-compatible adapter all three wires can be used for data transfer. The devices independantly identify which wire is best suited for transmission.
Our practical tip: Do not use Powerline adapters with multiple sockets
Multiple sockets are practical and can be found in any household, but they are not suitable for connecting a Powerline device. Power strips have an integrated interference filter, was also useful. However, the filter also filters Powerline signals, was this, which can lead to drastic drops in transmission rates. Ideally, you should do without multiple plugs and plug the adapter into a normal socket. In addition, it makes sense to place the adapter in such a way that computers or smart TVs, if no WLAN is used, can be connected with a network cable on as short a way as possible.
FAQ - Frequently Asked Questions about Powerline Adapters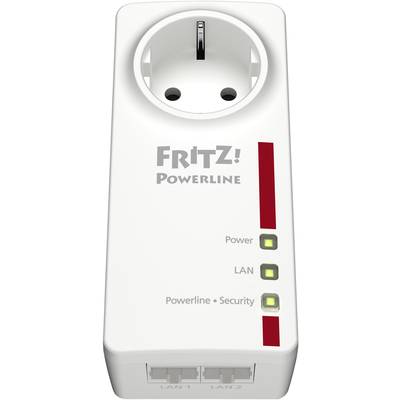 How do I install a Powerline network?
Installing Powerline adapters is a snap: Plug the first adapter into an electrical outlet near your router and plug the network cable connectors into the appropriate sockets. You can then equip all rooms from which you want to access the network with Powerline adapters. Finally, you only need to connect the different adapters with each other using the Sync button. You can then start up the Powerline network.
Is Powerline secure?
Modern Powerline devices use 128-bit AES encryption to protect your data traffic. Also, the neighbor in the apartment next door cannot access your internet connection. Although it uses the same power supply, the electricity meter serves as a barrier here that the data packets cannot pass through. Thus, Powerline is just as secure as a conventional network with Ethernet cables or a WLAN connection.
This text is machine translated. About Powerline Do you know the problem? You want to build up a WLAN network in your house, but in some rooms you do not have sufficient WLAN reception. In order to enable a stable network connection even under di...