This text is machine translated.
Circuit boards, also known as circuit boards, are the basis for the functionality of electrical devices, as they are used to connect the components electronically. You can find out which types of boards are available, how they differ and for what purposes they are suitable for in our guide.
Our practical tip: Templates for switching processes
Purchase Criteria - What's it all about?

FAQs - frequently asked questions about boards

Conclusion: This way you can find the suitable circuit board
Circuit boards or circuit boards are used in electrical devices as carriers for electronic components , i.e. to establish an electrical connection with the components. They are available in almost every electrical device and are available separately in numerous designs. Whether you want to assemble your own PC or need a circuit board for experimentation – the choice in our online shop is large and has the right model ready for every need.
The designations board and PCB are used interchangeably. Other common terms include circuit boards, printed circuit boards, or printed circuit boards (PCBs). A circuit board consists of a base material and a copper coating with conductor paths following a circuit pattern. For photo-coated boards, an original is exposed to the base material, which is then etched and galvanized, i.e. made electrically conductive. Electrical components can be soldered to the finished printed circuit board. In case of plug-in boards, the components are mechanically fastened by simply plugging in.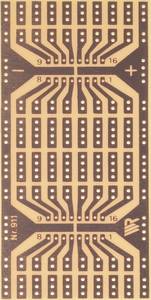 Which boards are available?
In our online shop we offer you a wide range of printed circuit boards as well as all kinds of accessories, including products for soldering, etching and galvanizing as well as spacers and tools such as scalpels and blades. To find the PCB that suits you, the available boards are sorted by category. Below is a brief overview of the different types of PCBs: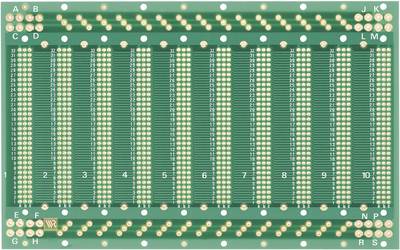 Breadboards
Plug boards, also called plug boards, enable solder-free attachment of components , since the latter are simply inserted. This type of circuit board is ideal for experimental purposes, as new arrangements are always possible without great effort. The components can be easily removed and re-positioned.
SMD circuit boards
These PCBs are intended for use with surface-mounted device (SMD) technology. The components are therefore attached to the surface of the circuit board by soldering and are no longer wired. This makes the assembly easier, in addition the technology saves space, since the PCB can be fitted on both sides.
Multilayer boards
The trend toward ever smaller, ever narrower devices with ever greater power and more complex functional scope led from the first and later two-sided board to so-called MCBs (multi circuit boards) or multilayer PCBs. Several thin printed circuit boards are glued together, to put it simply, so that there is plenty of space for the assembly of components and complex circuits in the smallest possible space. MCBs are often used in modern digital technology such as computers and modern smartphones. If the so-called "motherboard" of a PC is mentioned, this refers to the motherboard of the computer. The planes of a PCB are connected by means of through-contacting, i.e. by vertical connections, which run through holes in the carrier material of the board.
Experimenting boards
Experimental boards are, as the name suggests, especially intended for experimenting with components and circuits. They are suitable, for example, for hobby constructors and for setting up laboratory circuits. You can choose between experimental circuit boards of different sizes and grid dimensions as well as between models that can be fitted on both sides.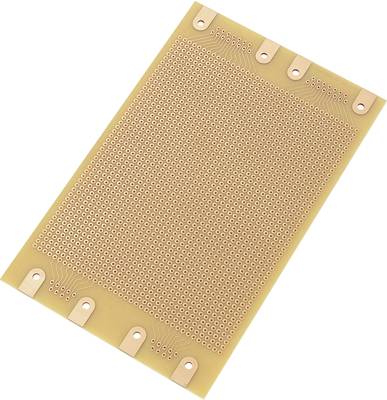 Euro boards
The board, also known as the Eurocard, is a PCB (often) already equipped with components, which corresponds to standardized dimensions. Euroboards are available with dimensions of 100 x 160 mm, where deviations are possible.
IC Boards
IC stands for the English term integrated circuit. IC boards therefore already come with an integrated circuit. They are mainly used in microprocessors and memory modules.
Breadboard boards
Breadboard boards have holes and solder pads in a standard pitch. In order to attach components, they only need to be attached by soldering. Breadboard boards are available, with some eyes connected to traces, as well as models that are already fully equipped with traces.
It should be noted that a printed circuit board can be assigned to several of these categories. For example, breadboard boards are often experimental boards. Circuit boards must be distinguished in principle in terms of their equipment, the type of component assembly and the underlying technology.
Our practical tip: Templates for switching processes
Amateur hobbyists who love to experiment have the opportunity to produce their own PCBs. The so-called positive method is taken from photography and is based on the UV exposure of a circuit template on a positively coated photo board. Templates for printed circuit boards with a wide range of circuit layouts can be found on the Internet or in relevant magazines. Alternatively, you can create your own PCB layouts with special software. UV radiation is required to transfer the layout to the copper surface. Whether you use a professional exposure device or help yourself with other UV devices is up to you. In order for the process to work, several UV tubes with low power are generally required. The exposure time depends on the exposure device and the distance to the board. Keep in mind that the PCB photo coating has a spectral sensitivity of 400 Nm.
Purchase Criteria – What's it all about?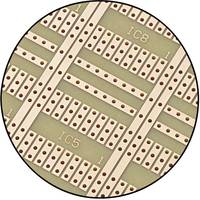 Essentially, the choice depends on what the PCB is to be used for. Depending on, Whether you want to install the board in a particular device or need a basis for experimental circuits and control of components, either prefabricated versions with conductor paths and pre-defined solder joints – possibly already equipped with components – or "blank" boards, which allow you all the possibilities, are better. Plug-in boards are a good choice, especially for trial and error, while standardized models with specific, prefabricated circuits can be beneficial for equipping computers or other devices.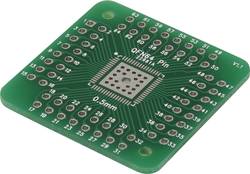 Another selection criterion is the material, or more precisely the carrier material on which the copper layers are applied. Boards made of hard paper (material identification: FR2) are used in the past and still frequently found today. However, glass fiber mats impregnated with epoxy resin (ID: FR4) are increasingly used, which have a lower water absorption and better insulation properties than the hard paper version.
The size of the PCB is also important, especially if the board is to be installed in a housing. The dimensions of Eurocards are defined to 100 x 160 mm according to DIN 41494 and IEC 60297, with variants permitted. Apart from that, there are printed circuit boards in many formats. You can filter in our online shop according to the length and grid dimension of the plates and thus quickly find suitable products.
FAQ - Frequently Asked Questions about Boards
How can ich create my own templates?
If you want to implement your own switching ideas, you can create your own templates. For this, you can use the best PCB software for the PC, which is equipped with useful features such as editing and drawing functions. Print the original in high resolution. This is important, so that every detail can be transferred exactly during the subsequent exposure of the board.
What was to be observed when soldering?
The A and O in the hands-free assembly of printed circuit boards with components is suitable equipment – in addition to external dimensions and a quiet hand. If the circuit boards are used for soldering, soldering strips and electronic soldering irons with adjustable temperature prove to be advantageous. If the heat is too high, the components may be damaged. Faulty solder joints are a common cause of malfunctioning circuits and short circuits. Unwanted connections, which are caused by splashing during soldering, can sometimes be visible to the naked eye if the circuit board is held against the light. Such "bridges" can sometimes be loosened by scratching carefully. "Cold solder joints", i.e. those with no or bad conductivity, may look dull or porous. This requires re-soldering.
Conclusion: This way you can find the suitable circuit board
The PCB that is right for you depends on your project: Depending on whether you are looking for standardized circuit boards or plug-in boards for experiments, certain versions are recommended. With us you will find pin boards and circuit boards for soldering in many sizes and grid dimensions. In addition, we offer you an extensive range of accessories for hobby and professional use.
This text is machine translated. About boards Circuit boards, also known as circuit boards, are the basis for the functionality of electrical devices, as they are used to connect the components electronically. You can find out which types of ...