Proximity & Distance Sensors
This text is machine translated.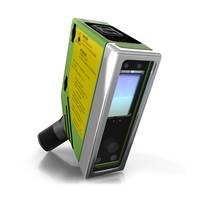 About distance sensors
What was distance sensor?

How do distance sensors work?

What is the difference between distance sensors?

FAQ - Frequently Asked Questions about Distance Sensors
What was distance sensor?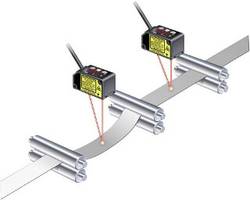 Distance sensors are used, among other things, in automation processes in many ways. They measure distances with high precision or monitor distances, positions, levels or lengths. Depending on the device type, the measuring ranges range from a few millimeters to several hundred meters. Thanks to its compact housing shape, distance sensors can be easily integrated into various environments.
Users of distance sensors are, for example, manufacturers of measuring and test equipment as well as conveyor and logistics systems for a wide range of industries. They are also used for level measurement and control, for measuring stack and object heights, for detecting small objects over long distances, for determining the position of shelf-mounted devices, lifting platforms or lifting tables, etc.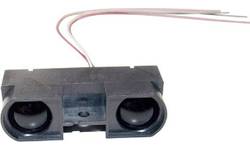 Laser sensors are suitable for a wide range of applications. You can measure standing, moving or vibrating objects. Even in difficult environments such as robot production cells, hot or shiny surfaces, changing colors of the object to be measured or unfavorable angles to the laser beam, laser distance sensors provide precise results.
Other application examples include parking aids on cars, door openers, alarm systems, hand dryers, part measurement, distance control, thickness measurement, planning check, dimensional check, distance check, thickness measurement.
How do distance sensors work?
Triangulation
Laser distance sensors, which work according to the principle of triangulation, measure with high precision small distances. They can also be used with moving or vibrating measuring objects.
A sensor uses a light source, usually a laser beam, to project a point onto the object to be measured whose surface reflects the incoming light. Depending on the distance of the sensor from the object to be measured, this reflected light hits a PSD inside the device at a certain angle. Angle calculation calculates the distance between the measured object and the sensor.
Phase displacement
The phase measuring principle is suitable for accurate measurement of larger distances. The distance of an object is determined by the phase shift between a light beam reflected by the object and a reference light beam.
A laser diode sends a sinusoidal laser beam, which is divided into a measuring beam and a reference beam using a semi-permeable mirror. The measuring light beam is directed toward the object, reflected from its surface and directed to the receiver element via an optics. The reference light beam is directed directly to the receiving element. The light running time of the measuring light beam results in a phase shift to the reference light beam, from which the distance of the object is calculated.
Time-of-flight technology / time-of-flight procedure
Distance sensors, which work according to the time-of-flight procedure, also called time-of-flight technology (TOF), can measure very long distances up to the kilometer range.
A laser diode sends a pulsed, low-frequency laser beam that is reflected by the object to be measured or a reflector used as the measuring point. The reflected beam is directed to a receiver unit where it meets with a delay, depending on the distance traveled. In the device-internal evaluation unit, the distance of the object to be measured from the sensor is calculated via the light speed and the measured running time of the laser beam.
Some devices also measure the phase shift to provide even more accurate results.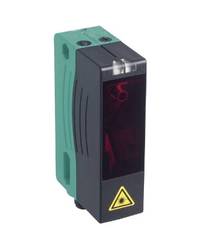 Pulse-Ranging technology
A laser diode emits extremely short, powerful light pulses, which are reflected on the surface of the measured object and are detected by a receiving element.
The discrete emitted light pulses have a much higher energy content than the permanently transmitted laser beam in other measuring methods.
The advantages of Pulse Ranging technology are that it works independantly of the ambient conditions, delivers precise results and is interference-free with regard to ambient light and temperature changes.
Practical advice
Not only distances, but also surface reliefs can be measured using laser distance sensors. For this purpose, the sensors can be moved rasterly or continuously over the surface to be measured.
What is the difference between distance sensors?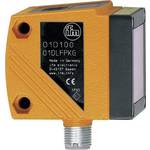 Distance or distance sensors differ mainly in the size of their measuring range. From a measurement range in the millimeter range to long distances of several hundred meters, suitable devices are available for every type of distance measurement.
The measurement results are output as analogueue signal, in some cases as digital signal. Some devices also have a display on which the measured distance is shown. Devices with different connections and outputs are available: Open cable ends, NPN or PNP output sensors and push-pull outputs.
FAQ - Frequently Asked Questions about Distance Sensors
What is the measuring accuracy of laser distance sensors?
In general, laser sensors provide high precision measurement results. However, the accuracy of the measurement results depends heavily on the device type used and the measured distance. For some devices, the deviation is in the micrometer range from short distances to a few millimeters to centimeters at longer distances. Please refer to the product description for details.
How long do laser distance sensors last?
Through the non-contact measurement a laser distance sensor works wear-free and is durable. Depending on the environment in which the device is to be installed, sensors are available with a robust outer casing, which protects against water spray, temperature fluctuations and other influences and is conducive to a long service life.
PNP or NPN as output sensor?
With a common positive voltage supply (+V), you select the NPN output sensor, with a common negative voltage supply (-V) you select the PNP output. When an NPN/PNP is connected to a programmable logic controller (PLC), its input stage detects the state of the sensor, but the sensor must be of the same type as the PLC.
How do laser distance sensors differ from lower cost ultrasonic sensors?
In the area of distance measurement, optical sensors such as laser distance sensors are usually preferred, as they have a higher measuring accuracy than ultrasonic sensors, which are used in other areas. Ultrasonic sensors send ultrasonic pulses and values the time delay of the echo coming back. This method is more susceptible to interference and can produce incorrect results, e.g. when measuring obstacles, slopes or small distances.
This text is machine translated. About distance sensors  What was distance sensor? How do distance sensors work? Practical advice What is the difference between distance sensors? FAQ - Frequently Asked Questions about Distan...