Push Switches, Push Buttons

Pressure switch and pushbutton: Make or disconnect electrical connections
What are pressure switches/pushbuttons?

Switching states for pressure switches and buttons

Differentiation of the different pressure switches and push buttons

FAQ – Frequently asked questions about push buttons and push buttons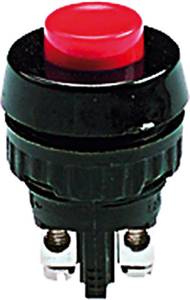 What are pressure switches/pushbuttons?
Pressure switches and pushbuttons are used to establish a temporary electrical connection between a power source and a device or to temporarily or permanently disconnect the existing connection . . The design ensures that the live switching contacts are disconnected from the control elements without accidental contact.
Push buttons and push buttons can be visibly installed so that they can be operated by human hands. For example, as light switch, as button for relay-controlled lighting or as on and off switch of household appliances or power tools, thus also installed in handles or designed as foot switch.
Invisibly installed pressure switches and pushbuttons are used, for example, as end (off) switches, alarm contacts or safety switches in electrical devices, on doors to be secured, windows and openings of devices of all kinds.
Switching states for pressure switches and buttons
Pressure switches and push buttons are partly equipped with signal elements that indicate the switching status or readiness for operation. These can be lights, light emitting diodes or acoustic signaling devices. Special models can be locked in a shift position. Pressure switches maintain the switched position until further pressure on the switch triggers the next switching process.
Pushbuttons hold or release the electrical connection only as long as the button is pressed. There are also multi-stage positions, which are realized by pressure depth. To trigger the switching process, a defined minimum pressure must be applied to the switching element in order to travel the actuating path.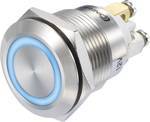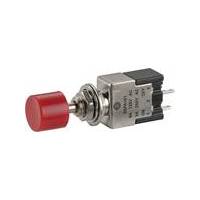 An essential quality feature of pressure switches and pushbuttons is the nature of the actual contacts , which has a decisive influence on the service life.
All pressure switches and push buttons have special, usually standardized installation dimensions , in which case openings, distances of screw holes or circuit board grids, mounting surfaces and the switching paths are described. Round pressure switches and push buttons have chamfering or noses for securing against twisting during installation in the housing. The respective product data sheets provide precise information.
Differentiation of the different pressure switches and push buttons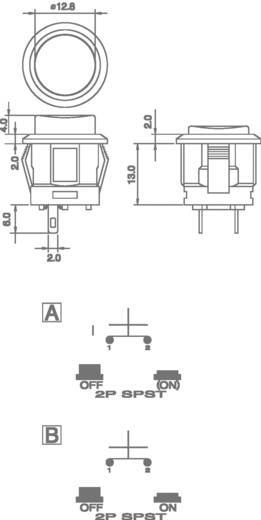 Maximum switching current: From 0.0015 ampere to 20 ampere switching voltage: From 1.5 volt to 400 volt
Color of the light/signal means: Nine different colors are available
Type of bulb: Glow lamp, bulb, LED or neon lamp
Material: 13 metal or plastic variants
Protection rating: From IP40 (protected against one-wire access) to IP69K (dust-proof, full touch protection and protected against water during high pressure/steam jet cleaning)
Type of electrical connection
- AMP-Superseal: Suitable for use in the automotive industry, agriculture and the mechanical engineering industry, up to IP67
- Flat band: Design as space-saving conductor strip
- Flat plug for cable lugs
- Cable: Lead-out cable with open end
- solder connection as pin or eyelet, also angled
- Print: For use on printed circuit boards
- SMD/SMT: For use with industrial equipment
- quick connection by click-lock
- screw connection Snap-in: Connection mounting in intended holders
Switch positions: These differ according to the number of available on/off switch positions (up to a maximum of 4)
Special features:
- membrane switches are used in electronic devices such
as audio/TV systems or remote controls to enable flat designs.
- Foot/rough hand buttons are clearly visible and easy to use, often as a breakdown or emergency shutdown.
- Handle switches are incorporated into handles, for example to switch and guide a tool at the same time.
- Sensor switch/piezo button: The switching process is triggered capacitive by touching. This function
is also guaranteed, for example, with surgical gloves.
- Snap-on switches hold the switching position after pressing a button, similar to a ball-point pen.
- Button converters convert the signal of a button into the on/off function of a switch, for example for controlling
relays or lamps.
- Door flap switches are
used, for example, in the domestic area for switching lighting in cabinets (house bar).
- Vandalism protection: This means that pressure switches and push buttons are especially equipped for public areas.

For pressure switches and push buttons, the environmental limit values must be observed in accordance with Directive 2011/65/EU of the European Parliament and of the European Council of 8 June 2011. The non-official designation is RoHS(2) and is offered at Conrad as a selection criterion in the shop. Very favorable purchase prices can be achieved with large quantities. At Conrad, pressure switches and push buttons are available in packs of up to 3,000.
Learn more about the IP standard
FAQ – Frequently asked questions about push buttons and push buttons
What safety instructions must be observed when handling pressure switches and pushbuttons?
Installation and maintenance work require specialist knowledge, therefore work may only be carried out by qualified personnel.
Before starting installation or maintenance work, it is essential to disconnect the power supply, ensure that it is not switched on again accidentally and check the effectiveness of the shutdown.
In the operating state, protection against accidental contact must be ensured.
In the event of malfunctions or damage, the pressure switch and push button must be disconnected from the power supply immediately and secured against further use.
 Pressure switch and pushbutton: Make or disconnect electrical connections What are pressure switches/pushbuttons? Switching states for pressure switches and buttons Differentiation of the different pressure s...