Raspberry Pi 4B: Experiment with the popular single board computer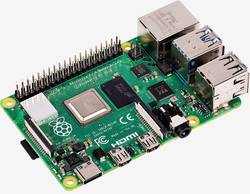 Today, many computer technology manufacturers use design to determine exactly when, how and where to use their devices. Not so with the new Raspberry Pi 4. Without housing and with a variety of compatible extensions, the single board computer invites you to experiment. In our guide you will learn what was different from the small power pack and what you can use it for.
What is Raspberry
What is the difference between the Raspberry Pi 4B and its predecessors?
Applications for the Raspberry Pi 4B
Our practical tip: Use heat sinks
FAQ – Frequently Asked Questions about the Raspberry Pi 4B
What is Raspberry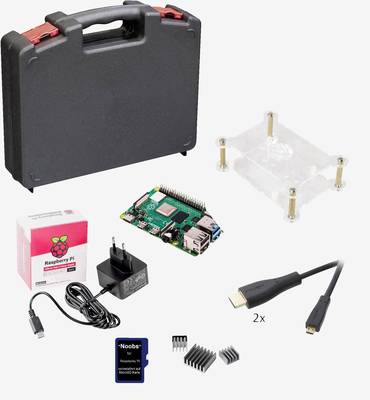 The Raspberry Pi 4 is a definitive continuation of the pioneering role of the first single-board computer. The development of smaller components made it possible to produce affordable computers for private households from the mid-seventies. All the necessary electronic elements of these first home computers, such as the Apple I or THE KIM-1, fit on a carrier, a board – the single-board computer was born. In the meantime, more complex systems have displaced them from the living and working rooms.
Thanks to Raspberry Pi, the single-board computers have been experiencing a second spring for a number of years, because their comparatively simple design makes ideal for computer scientists, hobbyists and purists. Apart from the power supply, through which they have to be supplied with power, all essential components of single board computers are located on a circuit board. This usually includes a processor, RAM, clock oscillator, reset switch, ROM for programs and I/O interfaces dependant on the application. Thanks to their space-saving design and low power consumption, single-board computers are used in different areas. In many embedded systems such as household appliances, vehicles and production technology, they handle measurement, control and control processes.
Unlike single board computers built for a specific purpose, Raspberry Pis are flexible personal computers, although without "unnecessary" components like a housing. They have the typical peripheral interfaces for end-user use, such as USB and HDMI connections in different designs. Thus, different input devices such as mouse, keyboard and screens can be connected to the respective Raspberry Pi without an adapter. In addition, their cards, which are about the size of credit cards, include a GPIO interface and a SoC from Broadcom, consisting of a corresponding Broadcom dual video GPU, a CPU with ARM architecture and DDR SDRAM.
In addition, all models have a slot for an SD or microSD card, which serves as a bootable medium for the operating system. Many open source operating systems are suitable for the Raspberry Pi. Most of them are Linux systems, such as Arch Linux or CentOS. Raspberry itself recommends that you use its own operating system, Raspbian. Raspbian is based on the Linux distribution Debian and uses the free desktop environment LXDE as a default graphical interface. With SD cards pre-loaded with the NOOBS (New Out of the Box Software) installer, you can easily set up Raspbian without much experience.
What is the difference between the Raspberry Pi 4B and its predecessors?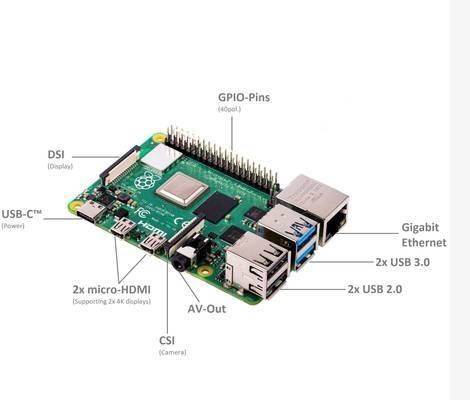 The Raspberry Pi 4 Model B has been on the market since June 2019. Only a good year separates it from the previous version of the Raspberry 3 Model B+. Technically, the newer version still makes a big leap, starting with the SoC. Raspberry continues to use a quad-core Broadcom system. The BCM2711, however, houses powerful Cortex-A72 cores, which eclipse the Cortex-A53 of the SoC BCM2837 built into the Raspberry Pi 3+ with a frequency of 1.5 GHz each in terms of speed.
Even the GPU of the new SoC can do much more. The VideoCore VI graphics processor boasts 500 MHz, was 25 percent faster than its predecessor. In addition, it benefits from a more up-to-date API, OpenGL ES 3.0. Previously, Raspberry Pis was only available in version 1.0 and 2.0, which meant that users had to make a major compromise on rendering 3D graphics. With the new architecture, the Raspberry Pi 4 offers completely new possibilities graphically. Up to now, a maximum resolution of 1080p Full HD and 30 frames per second was possible. The Raspberry Pi 4, on the other hand, enables 60 fps and 4K UltraHD.
But this can only be extended thanks to the extended main memory. The Raspberry Pi 4 is changing the way of RAM in two ways. First, the new model allows up to GB of RAM, four times the previous version. Second, you don't have to commit yourself to it if you were going to do with less. There are two more versions of the Raspberry Pi, with a RAM of 1 GB or 2 GB. Even with the same RAM size, the LPDDR4 memory of the Raspberry Pi 4 does more than the LPDDR2 memory installed so far.
The I/O interfaces have been overhauled to ensure that the clearly tightened specs are used. Instead of connecting a standard HDMI cable or mini HDMI, the Raspberry Pi 4 has two micro HDMI connectors for 4K UHD screens. When used simultaneously, however, the SBC only comes to 30 fps. It offers smoother 60 frames only with a UHD display. Raspberry has replaced two of the four USB 2 ports on the Pi 3 with USB 3.0 ports, which have a significantly higher data transfer rate. An improved data transfer is also ensured by a LAN connection for Gigabit Ethernet, WLAN according to IEEE 802.11b/g/n/ac (2.4 and 5 GHz) and the support of Bluetooth 5.0. Previous models have either no Bluetooth at all or no Bluetooth 4.2 at all.
Applications for the Raspberry Pi 4B
The original idea behind the Raspberry Pi is not a purely commercial one. Inspired by his youth's single-board computers, Upton developed the first model in 2012 to reach young people. With a cheap, versatile and easily accessible device, you should be able to learn how computers work. Especially the cheapest version of the Raspberry Pi 4 with 1GB RAM is still perfectly suitable as teaching material for young engineers.
Due to its strong downward compatibility and comparatively low acquisition costs, it is also suitable for typical applications of other modern single-board computers. Thanks to the many interface options, hobbyists can connect the Raspberry Pi 4 with different extensions and sensors, for example, to automate household appliances and tasks.
The significantly higher performance compared to the Raspberry Pi 3 opens up new areas of application or improves the usability of the Raspberry Pi in certain areas. The larger memory and higher data transfer rate make the Raspberry Pi 4 more effective than a mini-server. Since the computer can do more graphically and has a higher quality video output, it is also better than a media center or console for retro Games. Raspberry itself makes no secret of the fact that the model is designed as an advance to the PC market. GB RAM is the most suitable for basic office applications, because it does not get to the knees even with several browser windows, an open document and music in the background. The possibility of connecting a second screen also benefits the application as a PC.
For certain applications you will find in our shop sets, for example an education set and a DIN rail set. In addition to the Raspberry Pi 4b, the handy storage cases contain all the components that are important for the respective intended application.
Build your own cloud solution with the Raspberry Pi 4b
Back up data and retrieve it from anywhere - in today's world, it's part of everyday life. With the Raspberry Pi, you can build your own cloud server, which is completely independant from traditional cloud providers.
A Raspberry Pi Model 4B with 4GB RAM, a microSD card and a suitable power supply with USB-C plug is required.
Our practical tip: Use heat sinks
High temperatures are harmful to any computer. In extreme cases, permanent hardware damage can occur or even a fire hazard can occur. Many computers may slow down their performance and shut down without warning if overheating is imminent. Unsaved data may be lost.
Raspberry has released the VLI firmware update, which reduces the operating temperature of the Raspberry Pi 4 by enabling Active-State power management (ASPM). To make sure that the waste heat does not add to the single board computer, it is advisable to use a heat sink (Heatsink). In our shop you will find suitable heat sinks, which contribute effectively to the protection against overheating at relatively low costs.
FAQ - Frequently Asked Questions about the Raspberry Pi 4B
Is it worth upgrading from a Raspberry Pi 3 to version 4?
This depends entirely on which application the Raspberry Pi is intended for. A Raspberry Pi 3+ that is built into an embedded system and serves its purpose can continue to do so. The effort of removing and installing the unit is not necessarily worth increasing the performance in this case. The same applies to the Raspberry Pi as a learning project. Basic knowledge of computer technology can also be taught with an older model. If you do not have a Raspberry Pi yet or use it actively every day, for example as a multimedia center or PC, you should definitely use the much better Raspberry Pi 4.
Is the Raspberry Pi 4 compatible with Windows?
Many users of the Raspberry Pis have long wanted to be able to use Windows. Windows RT has been a Microsoft operating system version for years, and is suitable for ARM-based devices. The 1 GB RAM of the Raspberry Pis, however, was not enough for a full desktop version, apart from very complex workarounds. Only one version, tailored to the Internet of Things, was compatible. With the increased working memory of the Raspberry Pi 4, at least with regard to the hardware, nothing speaks against a Windows alternative to Linux systems. However, according to the Raspberry founder, Microsoft would have to invest a lot of work in Upton to optimize Windows 10 for the Raspberry Pi, for example. Microsoft seems unlikely to be addressing this project in the foreseeable future.
(This text is machine translated.)
Raspberry Pi 4B: Experiment with the popular single board computer Today, many computer technology manufacturers use design to determine exactly when, how and where to use their devices. Not so with the new Raspberry Pi 4. Without housing and with...