Refurbished & Discounted PCs
This text is machine translated.
Refurbished PCs: Used computers as new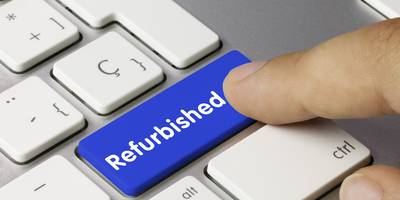 It doesn't always have to be new goods: As refurbished PCs, used computers come on sale again after a professional overhaul. The offer is very diverse and there are devices for the most varied requirements and tasks. In our guide, we'll introduce you to the increasingly popular topic of refurbished PCs and give you helpful tips.
The differences to a new device

Desktop, MIDI, Mini: Find the right model

Peripherals for refurbished PCs

Our practical tip: Pay attention to the connections

FAQ – Frequently Asked Questions about refurbished PCs
Whether test equipment, demonstration model or backrunner: There are numerous reasons why computers come back to sale needed. Often they come from the hardware pool of large companies, where they were used as workstations or IT devices.
The hardware in companies is usually replaced on a regular basis, although it is still suitable for further use.
Before they are sold again as refurbished PCs, used computers are carefully refurbished, cleaned and tested. The term refurbished refers to the verb to refurbished, which in German means "reworking".
All the measures associated with such a reconditioning process add value to the product for the buyer, so that the buyer does not acquire any classic used goods here, which change the owner without prior maintenance and warranty. The range of refurbished PCs is very large, because of their price advantage they are now a very popular option when purchasing computers.
The differences to a new device

The terms A-goods and B-goods are often used to differentiate between new goods and refurbished PCs. In an ideal case, the buyer does not have a significant difference in the use of refurbished PCs compared to new devices. Noticeable differences usually exist – if at all – only as visual defects, for example in the form of light signs of use on the housing and the like. Professional repair and cleaning of refurbished PCs usually provide the same level of performance and reliability as new equipment. However, refurbished PCs are cheaper to purchase, and the amount of savings is variable. Moreover, used computers are also in the spirit of the times, because they correspond to the increasingly relevant idea of sustainability and give used hardware a new purpose.
Desktop, MIDI, Mini: Find the right model

The range of refurbished PCs is almost as diverse as the market for new devices. There are used computers as workstations, as desktops, in the larger MIDI tower or even in the very small mini tower. All-in-One is also available as used PCs. More important than the form factor, however, is usually the interior, i.e. the combination of the installed components such as processor, main memory, graphics card, storage media and more.

The basic requirement for a business PC are office applications and these are usually relatively sufficient in their hardware requirements. Entry-level models with low-cost Intel Atom or Celeron processors are also ready for these tasks. 4 GB of RAM is sufficient for this. With regard to a certain future-proof and increasing requirements in operation under the common Windows 10, it is now sensible that the main memory is 8 GB. 16 GB RAM or more is only useful if many programs are used in parallel or within individual programs with very large objects. In these scenarios, a lot of memory prevents the computer from becoming noticeably slower or reacting only with a delay to input.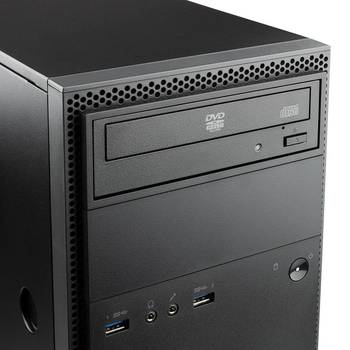 As a storage medium, classic hard disks are an option in Office PCs, and as a rule, they are replaced or supplemented with significantly faster SSD drives in the context of more powerful computers. Windows and the most important programs should be installed in parallel use of SSD and conventional hard disk on the SSD drive. The SSD drive should not be smaller than GB for this purpose, better still models with at least 200 GB of storage space.
A conventional hard disk can be a good addition when it comes to storing large media libraries, because they have much less space. Optical storage media such as CDs and DVDs have also lost significant relevance for used PCs. It depends on the individual application area whether a corresponding drive is still needed in the PC. In the business environment, this may be necessary by installing special software, which is only available on optical data carriers.
For more demanding tasks, the more powerful processors of the Intel Core i5 and i7 series as well as the AMD models of the Ryzen series are suitable. A special case is the topic of gaming: While the integrated graphics units of processors are sufficient for many other tasks, many modern games require separate graphics cards, which are usually from the graphic card manufacturers NVIDIA and AMD. In the gaming segment, there is always a higher need for an individual configuration of the computer, so that it can be a bit more complicated to find a model that is suitable for your own ideas, which is needed.
Peripherals for refurbished PCs
As a rule, used PCs come without input devices, i.e. traditionally mouse and keyboard. In addition to these input devices, there can be other useful peripherals depending on the equipment of the PC and the intended purpose of use: A USB hub can be used to extend the number of ports and also make the connection of USB devices even more comfortable. A memory card reader is also often a useful addition to the refurbished PC.
Our practical tip: Pay attention to the connections
One likes to underestimate how important or at least comfortable the availability of certain connections is. Desktop computers and mini PCs are traditionally on the desktop, while PC systems in the MIDI tower are underneath. Especially in this scenario, it is important to ensure that frequently used connections are ideally located on the front of the housing, so that they can be easily accessed in everyday life. The basic principle is that a PC should always provide the connections that are actually required in practice. This can be a certain number of USB ports, but it can also affect special connections for monitors based on HDMI, DVI, DisplayPort or even VGA. The connectors on the monitor that is typically purchased separately must match the ports that the computer is equipped with.
FAQ – Frequently Asked Questions about refurbished PCs

What was happening with a refurbished PC in the event of a warranty claim?
Even if the hardware has been refurbished by refurbished PCs and is working properly when delivered, a warranty claim may occur later, just as with a new device, if a component no longer functions correctly. In such a case, the warranty period is usually 12 months.

Are refurbished PCs including the operating system coming?
Each PC requires a so-called operating system for use, usually Windows 10 from Microsoft. As with new devices, refurbished PCs also have models that are shipped without Windows 10. In this case, you can purchase a license for Windows 10 separately and install the operating system yourself. The drivers required for the hardware components of the PC either install Windows independantly or they are included with the refurbished PC at the time of purchase. As a rule, they are also available for download by the manufacturers.
This text is machine translated. Refurbished PCs: Used computers as new It doesn't always have to be new goods: As refurbished PCs, used computers come on sale again after a professional overhaul. The offer is very diverse and there are device...