Teksten forneden er maskineoversat fra den tyske originaltekst.
In flat ribbon cables, unlike conventional cables, the individual wires are arranged flat next to each other instead of in tube form. This enables multi-core cables, which still do not take up much space and can be easily connected. They are mainly used in computers.
Design and function of ribbon cables

Where are ribbon cables used?
What to consider when purchasing?
Design and function of ribbon cables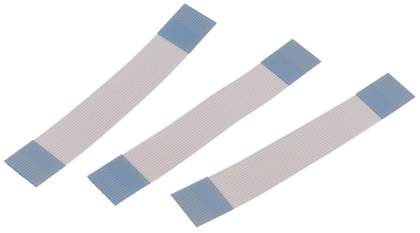 Ribbon cables are always multi-core cables. The characteristic shape stems from the fact that the individual cable strands are arranged flat next to each other and thus form a surface. This gives flat cables the shape of a belt or belt . With conventional cables, however, the wires are arranged round or tubular and enclosed by insulation around them.
The parallel arrangement results in both advantages and disadvantages .
The use of ribbon cables is particularly worthwhile for many individual wires. At both ends of the cable, the individual strands flow in the same order. This facilitates identification and correct contact. They can also be connected more easily, since all wires lie next to each other in the distance.
There is therefore a large selection of many-pin plugs for ribbon cables. They are simply pushed onto the end of the cable. Thus, they can be plugged into suitable sockets, as they can be found on circuit boards.
The sockets are often connected to the insulation displacement technology , also abbreviated to IDC. To do this, pull the flat cable through the plug. This is then pressed onto the cable with a special vice and thus the contact is made. With this method, plugs can be attached in any way not only at the cable end, but also in the cable center.
Due to the flat design, they can be easily led through slots or along edges. However, the lack of an additional insulation layer makes it more susceptible. Therefore, the cables should only be bent crosswise to the running direction. In addition, they are more susceptible to environmental influences and not intended for outdoor use.
Where are ribbon cables used?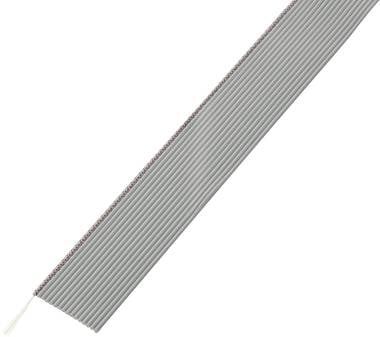 Because of their properties, flat cables are particularly suitable in areas that require a large number of cable cores as well as simple plug-in capability and whose lower robustness is not important. These requirements are particularly found in the protected housing of computers.
Many signal cables are required, especially in data transmission. Ribbon cables are used here. D-Sub plugs such as the RS-232 interface or VGA can be connected well. VG strips or PCI sockets are also suitable for connecting flat cables. These plug types are particularly suitable for flat cables due to their wide shape. In this way, large amounts of data can be transferred quickly.
They are also used to connect components in computers. This includes especially internal peripherals such as drives and hard disks, which are connected to the mainboard in this way. Due to the flat design, they take up only a little space at optimum arrangement.
Especially flat cables are also used in mobile devices such as notebooks and tablets, in order to connect displays or storage devices. These "flexible flat cables", or FFC, are small variants of flat cables. They are optimized to take up as little space as possible.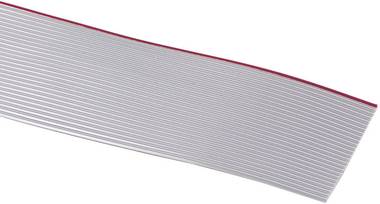 The big disadvantage of the parallel arrangement is the much lower flexibility. The cables can only be bent safely on one axle . In the other two directions, however, they behave very stiff and break quickly. This makes handling difficult, especially when the cable has to be routed through detours. This also becomes a problem with longer distances.
It is worth using conventional cables to avoid potential cable breakage. In addition, the flat cable laid can prevent airflow and access to the remaining components if it needs to be wound. However, the flexibility is sufficient for the direct connection of two sockets, e.g. in a computer or server housing.
What to consider when purchasing?
Flat cables are available in various configurations. All information can be found on the respective product page in the "Technical data" tab. In the following, you will learn what to look for and how to find the best cable for your application.
The number of cables and their distance from each other are important. This is specified as a grid dimension and shows how far individual wires are apart. This is important if you want to find a suitable plug for the cable, for example. Common grid dimensions are 0.5 mm, 1 mm and 1.27 mm.
The cross-section and the rated voltage indicate the maximum voltage and current that can flow through the individual cables. These values must not be exceeded, as the flat cable will heat up and cause a fire.
To avoid identification and possible errors due to the large number of cable cores, ribbon cables always have a color marking . This ranges from a single red strand marked "wire 1" to cables with a full rainbow pattern with ten different colors that repeat themselves.
Depending on the brand, the cables are available as piece goods or in prefabricated dimensions.
Shielded ribbon cables are also available, which increase transmission quality and avoid interference, especially with analogue data transmission.
If you are unsure about your purchase or if you have any further questions, our customer service will be happy to provide you with personal advice.
Ribbon cables are suitable for many-pin connections such as data transmission in protected areas . Here they shine with simple plug-in capability, space-saving dimensions and high clarity. They are therefore particularly suitable as signal lines in network and computer technology as well as for data transfer between two devices.
Teksten forneden er maskineoversat fra den tyske originaltekst. About ribbon cables In flat ribbon cables, unlike conventional cables, the individual wires are arranged flat next to each other instead of in tube form. This enables multi-core ...