What are rocker switches?

What are the properties of rocker switches?

Which connections can rocker switches be connected to?

FAQ – Frequently Asked Questions about Rocker Switches
What are rocker switches?
Rocker switches are used to establish, disconnect or trigger further operations by switching pulse . The operating element rocker switch is insulated from the live switching contacts for the user. The electrical contacts are actuated via the rocker, usually in conjunction with mechanical components such as levers, pins or springs.
The rocker is fixed with spring force in an reached position or returned to the starting position. As a result, the rocker switches are differentiated according to latching and momentary models . Another special feature are switches with fixed center positions, which can trigger latching or momentary switching processes from the center in both directions.
The rocker switches are available from Conrad in ten different housing/button color combinations. For illuminated rocker switches there are seven lighting colors, which can be designed as surface, LED or spot lighting.
Another optical feature is the printed text, which can be either verbal (FOR example ON/OFF or ON/OFF) or digital (0/1 or I/II) or with symbols of electrical engineering.
A special model is the OLED rocker switch , whose display is equipped with organic light emitting diodes. This allows programmable symbols or even animations to be displayed on the switch surface. To set up the OLED rocker switch, a programming software is required, which is available for download on the product page in the Conrad shop.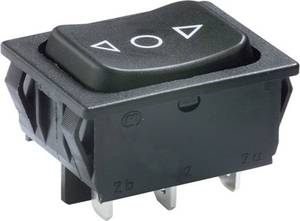 Rocker switch with central position and two switch-on positions.
What are the properties of rocker switches?
The rocker switches are designed for switching currents from 0.02 to 30 Ampere at a switching voltage range of 12 to 250 Volt.
Most switch models comply with IP40 protection and are thus protected against access with a wire . Some models have higher degrees of protection, which may vary with the installation position. The maximum degree of protection IP67 is available, which guarantees dust tightness and complete protection against accidental contact as well as protection against temporary immersion.
In terms of functionality, a distinction is also made between the available switch positions. This ranges from simple on/off to combinations with multiple on/off/on positions for rocker switches with fixed center positions, which means that different switching processes can be implemented. Many models are available in multi-pole versions.
Learn more about the IP standard
Which connections can rocker switches be connected to?
The following versions are available for electrical connection in the Conrad shop:

Flat plug for standardized cable lugs in the wide 2.8 over 4.8 to 6.3 millimeters
Solder connections, also as solder lugs, for permanent connection to cable ends
Solder pins, also angled, for soldering to conductor or mounting plates
PCB connections for soldering onto PCBs in standard grids
Quick connections for snap-in mounting in suitable counterparts to enable mounting or replacement of the switch without tools
Screw terminals for connecting with cable lugs or clamps or tinned cable ends. Also for screwing single-core cables into screw loops, which then hold the cable by force connection.
Rocker switches usually have standardized dimensions, which fit into equally standardized openings of devices, or take into account the standardized grids of electrical installations. Also important : the thickness of the material into which the rocker switch is inserted to ensure that the latches and springs function reliably. In addition, some manufacturers indicate where burrs should be located on recesses to prevent damage to the switch during installation. Round rocker switch housings usually have mechanical elements to protect against twisting during assembly and disassembly, which protects the connected cables from damage.
FAQ – Frequently Asked Questions about Rocker Switches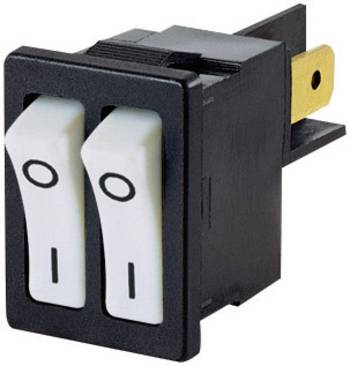 What safety instructions must be observed when handling pressure switches and pushbuttons?
The installation and replacement of rocker switches requires specialist knowledge, therefore work may only be carried out by qualified personnel
Disconnect the power supply before starting work
In the operating state, there must be protection against accidental contact
In the event of malfunctions or damage, rocker switches must be immediately disconnected from the power supply and secured against further use
How long does a pressure switch and pushbutton last?
The service life is described with switching cycles and lies in the middle five-digit range. The exact specifications can be found in the manufacturer's data sheets.
How can I detect defects in rocker switches?
Due to the wear of the switching contacts, a visible and also audible arc can occur when the contacts are opened. This may be noticeable by smell. The resulting burn-off leads to increasing contact transition resistances up to their failure.
The wear of the rocker mechanism is first noticeable by impermissible holding of the switching positions until it then no longer functions.
In vibrating environments, the cable and connector fastenings may also become loose, causing the electrical system behind the switching unit to fail or become inoperable.
  About Rocker Switches What are rocker switches? What are the properties of rocker switches? Which connections can rocker switches be connected to? FAQ – Frequently Asked Questions about Rocker Switch...