This text is machine translated.
Metric screws for many applications

Metric threads according to ISO

Types of screw heads and screw head drives
FAQs: The most common questions about metric screws
Metric screws for many applications
One of the numerous possibilities of joining machine or components by force connection is the connection by means of screws alongside clamps, chocks, nails or clamps. Pins or bolts with a thread are used for this purpose. The metric screws available from Conrad are standardized according to ISO and differ in size from US or Whitworth threads with inch dimensions.
Screws differ according to the following criteria:
Type of thread
Diameter of the pin, length of the pin
Properties of the screw head, screw head drives
Material
Tip texture: Pointed or blunt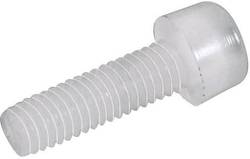 Metric threads according to ISO
In Germany, the use of metric screws is the most common. Since 1996 the ISO standard 1502 has been valid for metric threads. It is specified in more detail in DIN standards 13 and 14. In addition, there are the less common imperial screws known as US or Whitworth threads. The metric ISO threads are divided into standard threads, fine threads and pointed threads, which differ in each case by the pitch of the thread sequence.
The outer diameter of metric screws is indicated by the designation in millimeters beginning with "M". For example, M 10 is a screw with an external diameter of 10 millimeters. The range is from M 1 to M 64. A distinction is made between control threads and fine threads only by the fact that the pitch of the threads in millimeters for fine threads is lower.
In colloquial terms, screw/nut pairs with metric ISO threads are also referred to as metal threads, even if screw or nut are made of other materials in individual cases. The term is used to distinguish between screws that cut their threads into the carrier material itself, such as sheet metal or wood screws.
Types of screw heads and screw head drives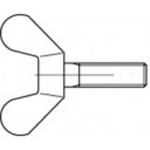 At first glance, screws differ in the shape of the screw head.
Hexagon head screws have a hexagonal outer shape and are usually screwed in and out with wrenches or pliers.
Pan head screws have a flat head surface and are usually screwed to the carrier material. They usually have a screw drive with a slot or cross-head and a suitable screwdriver.
Lens head screws are used when the surface must not be pressed in and at the same time the risk of injury through protruding edges must be minimized.
Countersunk screws are designed so that the head sinks into the workpiece until they are flush with the surface. There are flat or round head countersunk screws.
Unlike other screws, knurled screws and wing screws are operated by hand and not by means of a tool.
Decorative screws are placed on top for decorative purposes.
In addition to the outer shape of the screw head, a distinction is made between the so-called screw head drive, i.e. the type of tool with which the screw is operated. Very common drive forms are slotted and cross-recess. In addition, there are numerous other drives such as hexagon socket (Allen), square socket, multiple socket (XZN) and six-round socket (Torx). Outer hexagon and outer square are also drive forms and head variants at the same time. In addition, there are screw-form combinations such as outer hexagon in combination with inner cross-head.
The screws available in the Conrad range are made of different materials. You will find metric screws made of steel variants from structural steel to stainless steel, made of brass and other alloys, blackened or galvanized as well as plastic screws made of polyamide.
FAQs: The most common questions about metric screws
Which screws should be used for what?
The use of the appropriate screws is particularly important in terms of the stability and durability of installations. This is accompanied by the safety aspect. For this reason, it is important to clarify in advance which material the used screws should consist of and which thread size is required. The length of the screw is also relevant to give stability depending on the support material of the joint part. The specifications are in the form diameter x length, a M 5 x 120 screw therefore has an external diameter of 5 millimeters and a length of 120 millimeters.
The material used also depends on the purpose of use. When using the product outdoors, it is essential to ensure that the screws used are resistant to weathering and rust. In wood, for example, steel and stainless steel screws are preferred.
Which dowels and nuts should be used?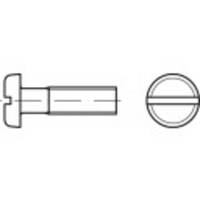 Wood screws do not need a counterpart to create a firm connection by force connection, as the thread burbs itself into the wooden joining part. Metal requires a suitable threaded counterpart. Some support materials must be pre-drilled and fitted with a dowel in the appropriate size to support the screw.
Wood and sheet metal screws have a pointed end, metal screws have a blunt end.
If nuts are required, pay attention to the specification of the internal thread dimensions. If a dowel is used as a joint part, the specification of the core hole diameter plays a role, which is basically lower than that of the outer diameter of the screw thread.
To measure the required screw size, use a sliding caliper and take into account that the screw head is included in the specified overall length.
This text is machine translated. About metric screws Metric screws for many applications Metric threads according to ISO Types of screw heads and screw head drives Screw materials FAQs: The most common questions...