This text is machine translated.
Useful information about operating hours counter modules
What was the operating hours counter module?

What are the operating hours?

Development of the operating hours counters
What operating hours counter modules are available at Conrad?

Our practical tip: Documentation

FAQ – frequently asked questions about operating hours counter modules
What was the operating hours counter module?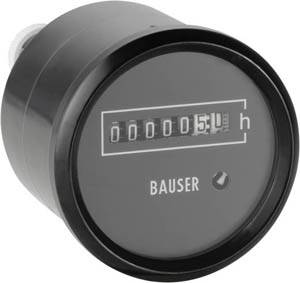 To record the operating hours, the counter modules not only use switching on and off processes, but also values such as revolutions, vibrations or linear movements. The latter are always converted into an electrical signal. The incoming pulses are set in relation to the internal time base of the counter. This information is required in many technical areas in order to comply with maximum permissible operating times as well as maintenance and test intervals for machines and systems.
Many operating hours counters are multifunctional: You can record and display other time-based values such as speed or frequency. To do this, some devices must be opened and set to the respective task with so-called dip switches.
Operating hours counter modules are mainly intended for use in industrial environments. Therefore, the visible front side has a guaranteed protection class, while the entire module has a different protection class. Operating hours are sometimes counted as "invisible", for example in a car that issues a service note on the instrument panel at the required time.
What are the operating hours?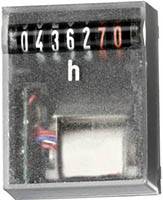 Equipment of any kind is subject to wear and tear during operation, which in many cases has safety-relevant aspects. The duration of a technical facility is relevant for a wide range of industrial and private sectors. The general term reliability describes the probability that a system will operate without error for a certain period of time under defined conditions. This time must be recorded.
In order to counter the hazards of component failure, times are defined for certain processes and devices during which maintenance work must be carried out or components must be renewed. Examples of this are the main examination of cars, the testing of hoists, pressure vessels or elevators, and the maintenance of aircraft and heating systems.
For this purpose, operating hours counters are used that record the actual time used from the start of use of a technical device.
Another point of view is that for technical systems that are linked to operating and maintenance periods, the long-term costs for maintenance, maintenance and new purchases can be calculated very accurately by recording operating hours.
These measuring instruments cannot take into account whether a system is used for its intended purpose, whether performance parameters, permissible running times or maintenance intervals are observed or exceeded. This is always the responsibility of the operator or user.
Development of the operating hours counters
Precise detection with roller counter due to high shock resistance
The need to maintain certain operating and maintenance cycles on technical equipment was recognized early on. Older hour meters used conventional clocks that were mechanically unlocked and stopped to determine the useful life.
On aircraft, a sensor on the front edge of the wing was used to start or stop the count over the over/under pressure that occurred there.
With the development of electromechanical counters, it was possible to trigger counting processes by means of electrical pulses. For this purpose, mechanical counters were "upgraded" with uniformly running motors or with electromagnets.
Other historical designs of operating-hour meters used a capillary in which a drop of mercury moved to brought in end contacts.
What operating hours counter modules are available at Conrad?
Operating hours meter modules of different brands can be found in our shop in the field of built-in measuring instruments.
In technical terms, the counters are distinguished by:
Protection class: Covers the range from IP40 to IP54 for the entire device
Reset: Method of restoring the original state of the counter module: Electrical, manual, combined. Some operating hours counters cannot be reset.
On the respective product pages you will find operating instructions for download.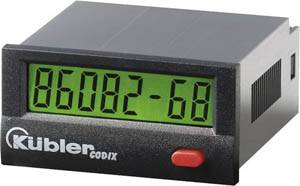 Practical advice
Despite intelligent measuring technology – also for operating hours – a written documentation on commissioning and breaks should be kept about technical systems. High-quality counting technology has data loggers with which such values can be stored by means of computer technology. For certain technical areas, such documentation obligations may be required by law.
FAQ – frequently asked questions about operating hours counter modules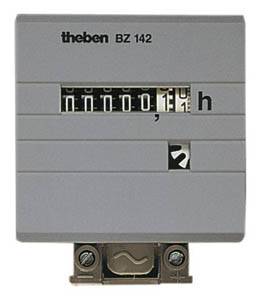 What was important when dealing with the counter modules?
Observe the manufacturer's connection instructions. Certain cables that comply with the electromagnetic compatibility (EMC) guidelines may be recommended. You can also obtain such cables from us, for example suitable data cables. The signal lines should not exceed a total length of 30 meters.
Handling the devices requires qualified personnel who are familiar with the installation, commissioning and operation of these counter modules, especially when connecting further controlled components to the low-voltage power supply.
In the event of any visible damage or malfunction, immediately discontinue use and replace the device.
Digital panel-mounted measuring devices can be recycled as electronic waste in accordance with the legal regulations. If the devices have a lithium battery for the internal memory, it must not be burned or exposed to a temperature range below -20 or above +70 degrees Celsius. They must be disposed of separately from electronic waste.
Only use undamaged batteries and keep the battery compartments and their closures clean and smooth. These small cells should always be used with tools to avoid touching them with your fingers. When the batteries run out, a measuring device must not be used any longer.
How do errors in digital panel-mounted measuring devices become apparent?
No indication on the display due to a defective measuring device, missing supply voltage or missing measuring pulse of the operating time to be measured.
Poorly readable display due to incorrectly set contrast regulator.
This text is machine translated. Useful information about operating hours counter modules What was the operating hours counter module? What are the operating hours? Development of the operating hours counters What o...