This text is machine translated.
What was shaft coupling?

What types of shaft couplings are available?

How are shaft couplings specified?

What was to be taken into account when selecting and operating shaft couplings?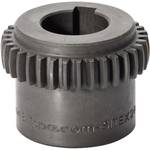 Shafts are used in the mechanics to transmit rotation, torque and thus mechanical work. Coupling of two shafts in a drive train, e.g. between the engine, gearbox and the machine to be driven, uses couplings which have certain design characteristics depending on the application requirements. The main characteristic of the shaft coupling is that the speed and the torque on the input and output sides are the same. In addition to the transmission of the mechanical work, shaft couplings can fulfill other tasks due to their design, e.g. Damping of mechanical vibrations between the individual machine elements, balancing of shaft misalignment and electrical insulation.
Each shaft offset and the resulting restoring forces result in a high load on the shaft bearing when the shafts are rigidly connected, and thus in avoidable wear. Even when the shaft ends are precisely aligned during assembly, offset or angular displacement can occur due to dynamic and thermal influences during operation.
What types of shaft couplings are available?
In the simplest case, it is a rigid coupling, i.e. a continuous axial connecting element, which fits on the respective shaft ends and is attached there e.g. with adjusting screws, clamping connections or keys. This results in a largely rigid connection of the two shafts, i.e. Torque and rotation angle are transmitted in phase.
However, the design, assembly and operation of a drive system is usually simplified if the shaft coupling consists of two parts that are connected to each other in a rotating elastic manner. This can lead to a certain phase offset for the transmitted torque and rotation angle.
There are two ways of doing this: Either there are two externally toothed hubs connected by means of an inner serrated sleeve, so-called "toothed couplings", or there are two hubs whose are joined together in the finger-shaped claws in the axial direction, so-called "claw couplings". Both types are a flexible shaft coupling.
A toothed coupling consists of two metal hubs, e.g. steel, and a plastic sleeve, usually polyamide. Due to its elasticity, the sleeve makes the coupling a torsion-elastic joint.
Figure: Individual parts of a scale coupling: Hubs A and B, hub with angular design and plastic star.
The claw coupling is also torsion-elastic. For this purpose, a star made of elastic plastic is inserted between the finger-shaped claws of the two metal hubs of aluminum or cast steel, so that impact-like or oscillating changes in torque as well as mechanical vibrations and vibrations of the machine elements are damped. Because the plastic of the star is only loaded on pressure and not on pull, relatively high mechanical power can be transferred. The plastic is a special elastomer material that is resistant to oil, chemicals and heat. Particularly high demands are placed on aging resistance, abrasion resistance and fatigue-free.
How are shaft couplings specified?
The important characteristics of a shaft coupling include the mechanical dimensions of the holes for the shafts to be mounted, i.e. their diameter and bore length. The first and second digits of the type designation indicate the maximum drilling diameter of hub A and hub B. The outer diameter of the hub A shaft is smaller than that of the hub B. shaft There is also a long shaft version that covers an entire motor shaft. Other important characteristics of the shaft coupling are the maximum torque and the maximum speed that can be transmitted.
The plastic stars are made of elastomers with different degrees of hardness. The values of the ShoreValues are specified, e.g. 800 SH low load and low torsional stiffness, 920 SH for medium loads in the usual industrial applications or 980 SH for high torque, although due to the higher hardness, a higher torsional stiffness is present and lower angular deviations are possible. The plastic stars are color-coded to avoid confusion.
What was to be taken into account when selecting and operating shaft couplings?
A coupling must be designed in such a way and its mechanical data must be dimensioned in such a way that the permissible load in operation is not exceeded. The DIN 740 standard, Part 2, provides information on the design of a shaft coupling. The values for rated torque TKN, which can be transmitted in the entire permissible speed range, as well as the maximum torque TKmax, which can be transmitted briefly as a changing load, are decisive. For short-term load peaks, a coupling can typically withstand torques from up to three times the rated torque.
It is important that the permissible operating temperature of the couplings does not exceed the permissible range, because otherwise the plastic parts can no longer meet the properties specified in the specifications. Typical values are -30 0C to +90 0C.
As a rotating machine element, even with shaft couplings, care must be taken to minimize imbalance, which leads to disturbing vibrations. Designs with the smallest possible circumference and symmetrical design tend to be less unbalanced.
This text is machine translated. About shaft couplings What was shaft coupling? What types of shaft couplings are available? How are shaft couplings specified? What was to be taken into account when selecting and operating sha...