Smartwatches: Smart and stylish everyday gadgets
Smartwatches are smart watches that can do much more than a normal watch. The fashionable watches connect to your smartphone via Bluetooth or WLAN and allow you access to many different apps and functions of the phone. You can answer calls, read emails and access many apps. The devices are particularly practical for athletes who want to record and track their activities. We have a wide range of SmartWatch models that are compatible with Android and iOS smartphones.
What is Smart
What types of smartwatches are available?
What is to be observed when purchasing an intelligent wristwatch?
Frequently asked questions about smartwatches
Conclusion: This way you can find the right smartwatch for your needs
What is Smart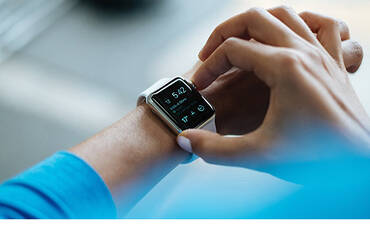 Smartwatches are intelligent watches that can display far more than the time. You connect to your smartphone and access various features of your devices, such as your calendar or email. Incoming calls are also displayed. Even the telephone is partly possible via smartwatches, but not in the same voice quality as on the Smartphone. These and other functions are only available if there is a stable connection to a smartphone. The data on the mobile phone is only transferred when it is in the vicinity. The connection usually stops when the smartphone is more than 10 meters away from the clock. WLAN-enabled smartwatches are especially convenient. The distance to the telephone is not relevant here as long as both devices are in the same WLAN.
The advantages of smartwatches at a glance
Fast information about incoming calls, SMS, e-mails, Facebook messages, etc.
Access to many handy apps, such as Google Maps or WhatsApp
Stylish gadget for everyone
Can be used for sports activities
The history of smartwatches
The comic character Dick Tracy already owned a mobile phone clock for espionage purposes in the 1930er. The intelligent wristwatches only found their way into the real world much later. Although there were first patent applications for so-called Wrist Phones in the 1990er, these devices could not really prevail. Only in the last few years have smartwatches been introduced into everyday life. Samsung, Motorola, Huawei, Sony, Garmin and many other manufacturers have been available on the market since 2012.
What types of smartwatches are there?
Depending on the purpose for which you want to use the smartwatch, different types of smartwatch are considered for you. There are classic smartwatches with many different functions and application areas as well as special models, which are specialized in certain areas of application. Outdoor smartwatches are particularly suitable for outdoor use and for recording sports activities. Garmin models can be used for running, cycling, swimming and skiing, and can track a wealth of information that is of interest to athletes. Among other things, these devices record the heart rate as well as the kilometers covered.
There are also mini smartwatches. These are not suitable for writing SMS or e-mail and do not require a number of apps. But they look very stylish without being clumpy.
What is to be observed when purchasing an intelligent wristwatch?
The most important thing to buy a smartwatch
Smartwatches are smart watches that give you access to many of your smartphone's features.
In addition to classic smartwatches, there are special variants for athletes, hikers and all those who like to record their activities. With these sports watches, you can count your steps or calories burned, measure your heart rate or track the altitude meters covered.
When purchasing your new smartwatch, be sure to consider compatibility with your smartphone. Also, be aware of battery life, size, design, features available, memory capacity and display resolution.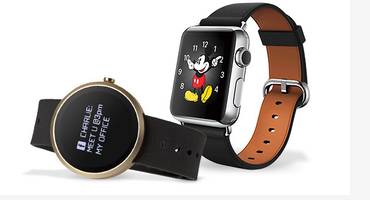 Memory size
Most SmartWatch models have a storage capacity of 4 or 8 gigabyte. So there's plenty of memory available to store your favorite music and play it on the next running session.
Battery life
The battery life is relatively low for most smartwatches and is only two to three days even in standby mode. However, there are also devices with a battery life of up to ten days.
Display resolutions
Also consider the display resolution of the device. The higher the resolution, the more detailed and colorful the information is displayed on the screen.
Functions
The range of functions varies greatly between the individual device types. There are smart watches that support many smartphone-independant features. For example, the devices can be used as GPS trackers without the connection to the phone. You can also play your favorite playlist while jogging, if you have saved it on the device before. In addition to smartphone-independant features, these features are of course also crucial for the purchase decision, which can only be used in combination with the smartphone. Such functions include, for example, telephone calls, sending voice messages or receiving e-mails. Some smartwatches even have a small camera that lets you take beautiful snapshots.
Compatibility
You can only use the full range of functions of the smartwatches if you have a compatible smartphone. Therefore, please note which operating systems (e.g. Android, Windows, iOS) the watch fits. See the product descriptions for more information.
Size and design
The selection of stylish smartwatches is large. With us you will find subtle models in black or white, which can be combined to almost any outfit. Even real eye catchers in bright colors like yellow or red are now available. Again, you don't recognize that other models are smartwatches at first. They look deceptively similar to a normal clock.
Frequently asked questions about smartwatches
What was a smartwatch?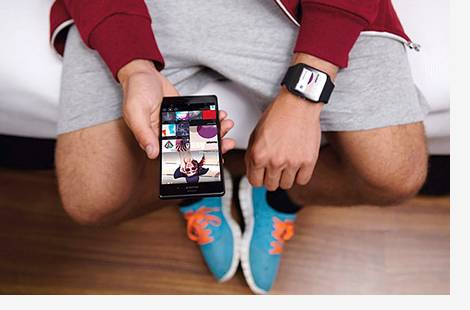 What was possible for a smartwatch depends on the device type. Smartwatch opponents often denounce the fact that smart watches do not provide real added value to smartphones. However, they have many useful functions that can make your everyday life easier. For example, you can check your emails quickly and inconspicuously at a business meeting. Or you can be reminded of an important event by a vibration alarm. With a smartwatch, you can:
Making phone calls
Receive and write messages and emails
View the diary
Send voice messages
Track sports activities
Access many different apps
Recording Photos
Set vibration alarms
and many more
Which smartwatch is suitable for which phone?
Not all smartwatches are designed for all operating systems. There are smartwatches that are only compatible with Android or iOS devices. Therefore, make sure that you pay attention to which smartphones the watches can be linked to when you buy them. Buy a device that fits your phone. Please refer to the product descriptions to find out which operating systems support the smartwatches.
Can ich go swimming with a Smartwatch?
Many smartwatches are only splash-proof or can be used up to a maximum of one meter of water depth. If you want to take a longer swim training with your smart watch, you should take advantage of a special outdoor or sports watch.
Conclusion: This way you can find the right smartwatch for your needs
Smartwatches are smart and practical companions for electronic freaks and all those who want to access messages, e-mails or the calendar quickly and easily from everywhere. If you want to purchase a new watch, you should consider a few criteria when purchasing it. First, make sure that the smart watch is suitable for its corresponding purpose. For example, if you want to record sports units, you should use a special sports watch. It is also very important that the watch is compatible with your smartphone. Also consider compatibility, battery life, features available, size, design, storage capacity, and display resolution when purchasing.
(This text is machine translated.)
Smartwatches: Smart and stylish everyday gadgets Smartwatches are smart watches that can do much more than a normal watch. The fashionable watches connect to your smartphone via Bluetooth or WLAN and allow you access to many different apps and funct...