This text is machine translated.
What was to be taken into account when selecting SMD LEDs?
SMD LEDs are surface-mounted device (SMD) LEDs. They are soldered directly onto printed circuit boards and are therefore flatter and smaller in design than conventional LED bulbs . The compact SMD-LEDs are used for various purposes in industry and everyday electronics.
SMD LEDs are light emitting diodes manufactured industrially using surface-mounted device (SMD) procedures. In German, surface-mounted components are used in this manufacturing process. Electronic components manufactured with SMD do not have wire connections, unlike wired components for push-fit mounting. The LEDs of the SMD-LEDs are soldered directly on the board, was this saves space and manufacturing costs.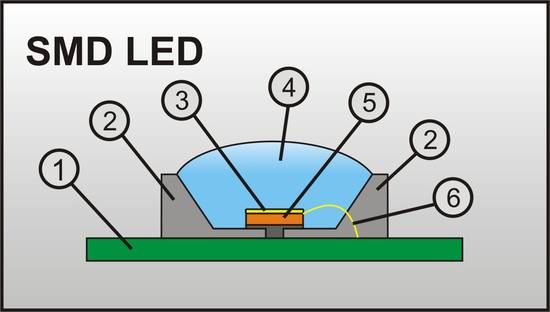 1 board
2 Heat sinks
3 Phosphor layer
4 optics
5 LED chip
6 Bond wire
The circuit board (1) is the base plate on which the components of the LED (4/5) are soldered directly . The LED chip (5) is used to control the light behavior. The optics (4), a crystal, form the outer cover of the lamp, in which sometimes refractive angles are integrated to increase the light cone and color tones.
To prevent the miniature LED from overheating and thus causing functional damage, a passive heat sink (2) dissipates the heat that is generated in the light mode. In addition, a bond wire (6) on the LED chip dissipates the heat, which causes the current flowing through and which would otherwise accumulate in the diode.
Practical tip : Overheating danger is the greatest enemy of all miniature electronic components, including the mini-diodes in SMD format. The lamps should therefore never be placed next to heat-conducting components.
The advantage of SMD light emitting diodes is clearly their space-saving and flat design . The disadvantage is that this miniaturized structure with low cross-sections heats up quickly at usual current strengths and the mini-LEDs have even less cooling surfaces than normal LEDs at the same time. Heat damage can lead to increased functional failures, which is why SMD LEDs with sufficient air circulation should be operated from the outside and in cool rooms in order to fully utilize their service life.
Since SMS LEDs are permanently soldered on their PCB, defective illuminants cannot be replaced separately . If a lamp is burned out or otherwise damaged, the entire SMD LED must be replaced.
The installation of SMD-light emitting diodes takes place via prefabricated plug connections at the sides, sometimes also by soldering at the supply lines.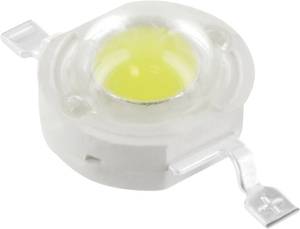 What was to be taken into account when selecting SMD LEDs?
Search tip for professionals (design) : Industrial buyers can find SMD LEDs with standardized designs . Make your selection in the filter design. In addition, you can select Tape cut, re-reeling option in the filter to obtain large quantities of SMD light emitting diodes rolled up as a tape on a coil.
Colour
SMS LEDs are available in many different light colors . Warm white light emitting diodes are used for normal room lighting or colorful light colors for indicator lamps and decorative effects.
In the filter category, you can select ' multi-colored LEDs ' to get only those listed as search hits. However, the optical crystal determines the color of an LED. A single LED can produce different brightness levels, but never several light colors. Multi-colored SMD LEDs always consist of different diodes, which can light up in their respective colors.
Light intensity
In our shop you can order LED-SMDs with 460 mcd to 36,3000 mcd. The indication "mcd" stands for Millicandela or 1/1000 Candela. A candela corresponds to the light of a candle.
Practical tip:
The luminous flux of light emitting diodes is almost proportional to the operating current . The more current flows, the Heller an LED lights up. However, only if the current and ambient temperatures are not too high, otherwise the lamp will fail due to overheating.
Angle of radiation
The angle of radiation of light emitting diodes is not as large as that of light bulbs due to their design. Especially with SMD LEDs, they have only a small opening angle for the light beam when the design is flat, as the illuminant protrudes less exposed over the circuit board. In our shop you will find SMD-LEDs with beam angles of 15° bin 160° . For larger angles, several light emitting diodes must be combined.
Electrical key figures
SMD diodes, like all diodes, can only be operated with direct current in the direction of flow. The opposite direction is blocked for diodes.
IF indicates the flow current in amps.
UF indicates the current in the direction of flow.
Select suitable products based on your values via the filter IF and UF.
SED LEDs are sensitive to overcurrent. They should therefore always be operated with series resistor or constant current source. Also observe correct polarity of the component when connecting it.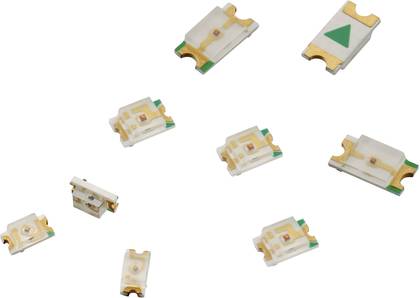 Why are SMD LEDs often supplied as coils with wound-up light bands?
This is due to the production. LEDs as surface mountain devices are manufactured mechanically as long bands. Industrial consumers of such LED bands are also keen to use machine equipment in their production machines for processing, for example, in mobile phones. The LEDs are not used individually, but as a band. Disassembly is usually performed by the automated manufacturing process, but can also be done manually. You can pre-define the packaging type Tape cut, re-reeling option using the filters for your selection.
What was ich done with broken LEDs (disposal)?
SMD LEDs have the disadvantage that they are firmly soldered onto their PCB. This means that the bulbs cannot be replaced separately. If the LED light is defective, the entire LED component must be replaced with a new one. LED lamps must not be disposed of with household waste. Instead, take them to the recycling yard or other waste collection points.
This text is machine translated. About SMD LEDs How do SMD LEDs work? What was to be taken into account when selecting SMD LEDs? Questions and answers SMD LEDs are surface-mounted device (SMD) LEDs. They are soldered directly ...