This text is machine translated.
About SMD resistors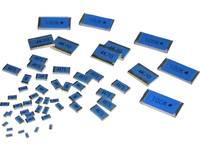 What types of SMD resistors are available from Conrad?

FAQ – FAQ on SMD Resistors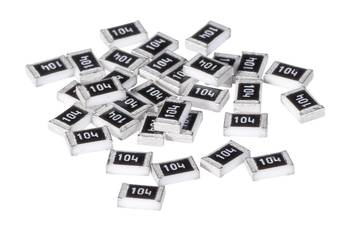 SMD resistors are a special type of electrical resistors, which are highly miniaturized compared to conventional resistors. This design arose from the need to accommodate a large number of components in extremely limited space, for example in smartphones, and thereby achieve highly automated industrial assembly of circuit boards.
The term SMD stands for surface-mount device, i.e. surface-mounted component. The associated technology is called SMT for Surface-mounting Technology. For example, the many holes in the printed circuit boards are not required to carry out solder wires. Industrial soldering methods have been developed for SMT, which can process large quantities of components in a short time. For this purpose, the components are packed in belt straps and then fed to the solder point via "pick and place" from automatic placement machines.
SMD resistors consist of a protective layer, a resistance layer, mounting base or housing and two electrical cables for soldering. SMD resistors are available in round and square shape. MELF (Metal Electrode Faces) is the name for the cylindrical design in horizontal mounting – typical for metal film and non-linear resistors. In industry today, almost only the square-shaped design is used.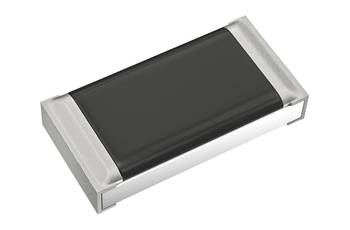 The offered resistance values range from 0 Ohm to 22 megohm. Zero ohm resistors are used, among other things, to create circuit bridges on circuit boards or temporary connections in laboratory structures. The resistance values are marked with printed groups of numbers and letters.
24 designs are available from Conrad in the design of these components. These designs are characterized by a standardized four-digit number group. The design TO-263 stands for power SMD resistors, which have an integrated mounting option on cooling surfaces.
The resistance values of the SMD resistors remain stable over a larger temperature range than those of resistors in traditional design. In addition, soldering temperatures and the permissible duration of the soldering process (in the second range) are specified.
The load capacity of the SMD resistors ranges from 0.03125 watts to 35 watts.
The RoHS(2) designation is used for SMD resistors from Conrad that comply with the limit values of substances that are hazardous to health and that are hazardous to the environment
What types of SMD resistors are available from Conrad?
Within the following categories, the resistors are additionally differentiated according to whether they are available as an assortment in the shop:
Thick film resistor with a stronger resistance layer on a metal substrate

Wire resistance, slightly higher load capacity and within tolerances of 1 and 5 percent

Thin film resistor in thin film technology with extremely low tolerances

High-load resistor in thick film technology with very low tolerances

Carbon film resistor with greater tolerance than metal film resistors

Metal film resistors with low tolerance and longer service life

Resistor network: Contains several resistors in a chip, whose design can be varied by the combined soldering of the connectors
FAQ – FAQ on SMD Resistors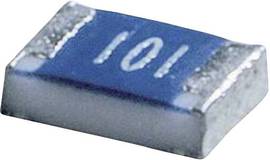 How can I read the coding of SMD resistors correctly?
Thanks to the very detailed breakdown of the resistance values in the shop, you can make an exact selection of the required components. Various standards have been developed for encoding, consisting of two to four digit combinations of digits and letters. For support, you can use Web pages with code tables.
What was to be taken into account when replacing a SMD resistor?
SMD repair soldering work is very demanding with regard to the tools and the qualification of the performer in order not to destroy the carrier board. A particular challenge is to trigger the affected component. For this purpose, the methods "hot air" and "pliers soldering iron" – a so-called "tweezer" – are recommended. Hot air soldering is a process with special nozzles that are tailored to the dimensions of the components. The Tweezer is the first choice when it comes to desoldering two-pole SMD components as quickly and efficiently as possible. The device combines soldering iron and tweezers and enables the simultaneous heating of both component connections. The zangenlike structure allows the simultaneous grip and lifting of the component. Short soldering times of up to two seconds are important so that the PCB and SMD resistor are not destroyed by overheating. After desoldering, the hot component must be placed on a heat-resistant surface. Both soldering systems are available from Conrad.
How long does a SMD resistor last?
The service life under load reaches 6-digit hours. For example, 200,000 operating hours correspond to a service life of 22 years and 10 months in continuous operation. The service life is strongly dependant on adherence to the intended operating temperature ranges. At lower temperatures, the service life increases. The manufacturer's specifications are approximate values.
How can ich detect a defective SMD resistor?
Defective resistors are caused by discoloration of the housing due to heating. Strong heating can lead to unsoldering of a resistor. Furthermore, a total failure of the module or the device is possible. Accurate information is provided by measuring the resistance with a suitable measuring device.
What was to be taken into account when measuring a SMD resistor?
A measurement should only be performed on non-mounted SMD resistors to avoid falsifying the measuring result by other electrical components.
This text is machine translated. About SMD resistors What was a SMD resistor? What types of SMD resistors are available from Conrad? FAQ – FAQ on SMD Resistors   What was a SMD resistor? SMD resistors are a spe...