This text is machine translated.
Knowledge about solar batteries
Calculate the solar system correctly

How do solar storage systems work and how are they structured?

Areas of application of solar batteries

Service life of solar batteries

What was to be observed when handling solar batteries?
Calculate the solar system correctly
Now you can test our solar system calculator for 12 V island photovoltaic systems and find the right solar battery.
For solar system calculator
What was solar battery?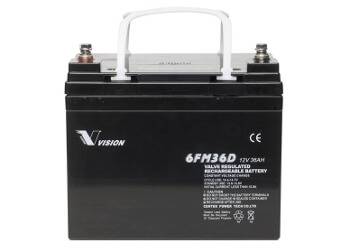 A solar battery is a component of a photovoltaic system. A solar battery has the task of temporarily storing the solar current, which is converted during the light irradiation, and also buffering short peak loads on the part of the consumers.
The use of solar radiation – similar to wind or water energy – brings with it a natural problem: Where with the excess energy in a summer of the century? And: Where do electricity come from if the sun does not shine for a long time? With small systems, the day-night rhythm is of relevance. Solar batteries are used here as photovoltaic storage units with different battery technologies. They store excess solar energy and provide it again in case of solar undersupply.
The capacity of such a solar battery is the physical measure of the amount of electricity that can be taken from a fully charged solar battery. The unit used for this is ampere hours (Ah). With a 12-volt battery with a capacity of 90 ampere hours, one can supply a 24 watt consumer for purely mathematical 45 hours (24 watt equal to 12 volt x 2 ampere).
Feed the solar energy into rechargeable solar battery
How do solar storage systems work and how are they structured?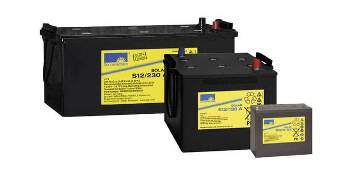 Solar battery with lead-gel technology and safety valve
Each solar battery operates according to the electrochemical principle of a battery: Electrons "move" between different metals through an electrolyte; when charging in one direction, when discharging in the opposite direction. This process involves wear on the elements involved, which also limits the service life of a solar battery.
As a compromise between price and performance, solar storage systems with lead-acid technology are the first choice for many users. A single cell of these batteries offers a voltage of approx. 2 Volt direct voltage, so that in common solar batteries 12V are reached by the series connection of six battery cells, which are located in a housing with two external connections.
The classic lead-acid battery for refilling with distiled water can no longer be found here. It has been developed into lead-fleece and lead-gel batteries. Solar storage systems with this battery technology survive even longer operating times without maintenance reliably. Solar batteries with lead-gel technology are sealed batteries whose electrolyte is incorporated as gel by chemical additives. Such solar batteries can reach up to 4,000 charge cycles if the specified discharge depth is not undercut. Their storage capacity without recharging can be up to two years. This type of construction emits almost no gas, so that a safety valve is sufficient. Solar batteries based on lead-gel are suitable for use under harsh environmental conditions.
Lead-fleece batteries are also maintenance-free – the most advanced lead-based battery technology currently available, also known as AGM. The abbreviation stands for "Absorbent Glass Mat", in German "absorbent glass mat", because the electrolyte is bound here in a glass fiber fleece. These batteries are also closed and only equipped with a one-way valve for degassing. This enables any operating position. The solar storage tanks also reach charging cycles in the middle four-digit range.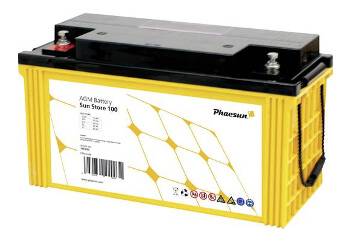 Lithium-ion batteries have a higher purchase price. However, their advantages make up for this over time, especially since the prices for lithium-ion batteries are now tending to fall. The main advantages of lithium-ion batteries are that they do not require room ventilation, maintenance charges or special winter modes. In addition, they provide more energy at the same battery volume as lead-acid technology. A lithium-ion battery cell achieves a voltage supply in the range of 3.3 to 3.8 volts, depending on the cathode material used, and up to 5,000 full charge cycles.
These accumulators are sensitive to overcharging, was this could lead to ignition. On the other hand, electronic protective circuits are used. They are also quick-charging, safe against deep discharge and have a low self-discharge.
Most advanced rechargeable battery technology based on lead-acid membrane battery
The electrical connection between the solar battery and the actual solar system is established depending on the capacity and the peak current to be drawn by screw terminals, conical poles or with conventional flat plugs.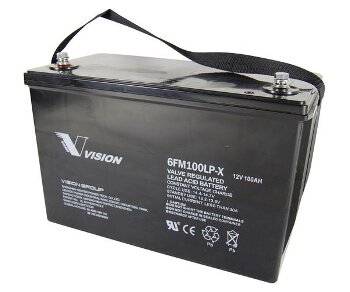 Solar battery with inverter for converting the voltage
Photovoltaic systems are increasingly being used commercially and privately to reduce electricity costs and dependence on fossil fuels, to use more renewable energy and to supply power to hard-to-reach places.
The solar rechargeable battery is integrated into the solar power system. It consists of solar modules, which "capture" the energy of the sunlight and convert it into electricity and a control electronics (charge regulator), which manages both the solar battery and its interaction with the solar cells and the consumers. Some systems – especially for end users – have an inverter that converts the direct voltage from the solar system into the usual mains voltage of 230 VAC. Wherever solar systems are used, solar batteries are required as photovoltaic storage in the appropriate size.
Thus, the areas of application are almost unlimited, especially where there is no connection to the low-voltage network, such as in remote areas, on islands, on temporary traffic control systems, parking ticket machines or radio emergency call centers. Emergency or escape route lighting can also be kept functional with photovoltaics if the low-voltage supply fails. For mobile homes and camping, small solar systems with the suitable solar battery are a good investment, especially since they are mainly used in (sunny) summer.
Service life of solar batteries
The durability of lead-based batteries depends on the compliance with the maximum permissible discharge depth and is calculated from the charging cycles.
At 20 degrees Celsius, AGM batteries can be expected to have a maximum of 10 and lead-gel batteries can be expected to have a maximum of 12 years. The values may vary considerably depending on the charge management and the ambient temperatures.
The service life of solar batteries on a lithium-ion basis reaches 15 to 20 years.
Our practical tip

before solar energy is used with a photovoltaic system, the energy requirements of the system to be supplied must be determined. The solar battery rating is based on this. For the maximum electricity that can be removed from a solar battery, there is a "rule of thumb" that you can obtain twice the capacity, i.e. a maximum of 180 ampere at 90 ampere hours. The consumption data of the electrical devices to be supplied in kilowatts (kW) gives the maximum current to be supplied.
What was to be observed when handling solar batteries?
Although solar storage systems are low maintenance and have a long service life, there are a few aspects to consider:

Never short-circuit solar rechargeable batteries. In addition to destroying the battery, there is also a risk of fire.
Use charging electronics with deep discharge and overload protection.
Connect the cables to the solar battery to the charge controller and then to the battery.
If moisture is expected, protect the contacts with contact grease.
This text is machine translated.     Knowledge about solar batteries Calculate the solar system correctly What was solar battery? How do solar storage systems work and how are they structured? Areas of application ...