This text is machine translated.
Soldering stations: You need to know this before you buy them
Soldering stations can be used in many areas to solder two electronic components together through an intermetallic connection. For example, components can be attached to PCBs or PCBs. In the field of research and development, soldering is a much-used technique for the development and improvement of prototypes in a timely manner. In this way, the pieces are quickly ready for the next process steps and for testing.
Because electronic components are smaller and circuit boards are more tightly fitted, this means that soldering work becomes more extensive and more complicated. Soldering stations must therefore function reliably and accurately, especially when developing new parts, so as not to falsify test results or negatively influence the development process. Especially important for professional use are a fast heating, a standby or switch-off function as well as an easy handling.
Which soldering stations are available?

Criteria for a good soldering station
Which soldering stations are available?
Digital, analogueue and hot air
Usually, conventional analogueue or digital soldering stations are suitable for chip cards, microcontrollers, PCBs and other electrical components. The only difference between analogueue and digital soldering stations is in temperature control. Analogueue devices have a rotary control to set the temperature without the user knowing the precise degree number. This means that it takes a lot of sensitivity and experience when you have to work to the degree.
The temperature of digital soldering stations can be precisely adjusted by means of a display and buttons. In this way, an exact temperature control is possible. In addition, the temperature remains largely constant throughout the entire working process and during breaks in soldering.
SMD components are fragile and can be damaged by soldering with a conventional soldering station. A hot-air soldering station is better suited, which heats the solder by means of a hot-air nozzle. In addition to pure hot-air soldering stations, which are more expensive, manufacturers now offer combined devices, which include a conventional soldering iron as well as a hot-air nozzle.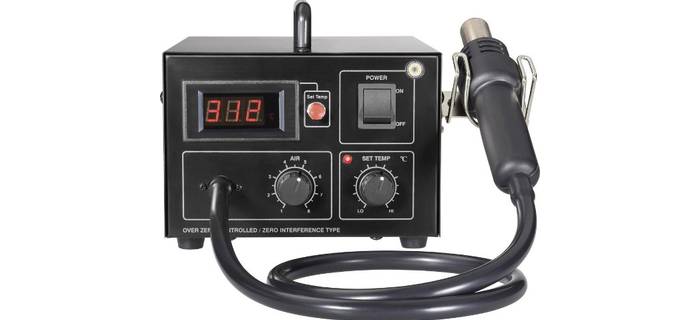 SMD components are soldered with hot air.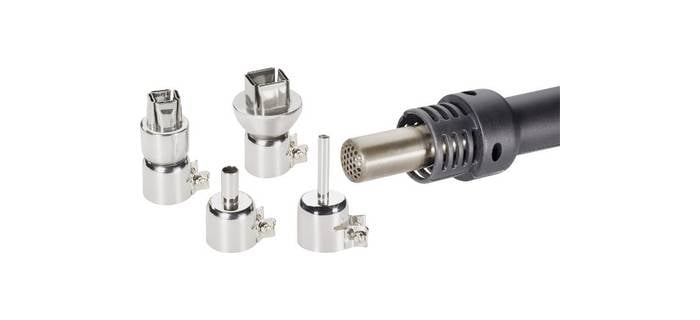 There are also different hot air nozzles here.
Soldering and desoldering station
With many soldering stations, two components can be soldered and unsoldered together. This process is tedious because desoldering takes considerably longer than soldering. This means that the components must withstand the heat of the soldering iron for a longer period of time and damage is possible .
Criteria for a good soldering station
Handling
First of all, the soldering station has a few basic features.
Battery or mains powered: Soldering stations that are battery operated have greater flexibility. They can be used at any location independant of the power supply. However, this is only possible up to a period of about one hour. Mains operated soldering stations, on the other hand, are less flexible in the choice of location, but run without time restrictions.
Comfortable grip: The distance between the handle and the tip on the soldering iron is not to be underestimated. If you want to solder on circuit boards with closely equipped resistors and transistors, for example, a short distance between the soldering tip and the handle ensures precise working. If larger components are to be soldered with a coarse tip, the distance should be further. This is due to the higher temperature that these soldering jobs require. Due to the larger surface to be soldered, this must be maintained for a longer period of time.
Flexible cable: Another element that simplifies the handling of a soldering station is the cable that connects the soldering iron and the station. The thinner and lighter it is, the more flexible the soldering tip can be moved without changing the position of the components.
Additional elements for easy handling of the soldering station:
Easy-to-read display for digital soldering stations, which shows, for example, set and actual temperature or the heating status
Storage of several temperature units which can be set by pressing a button
The correct soldering tip : soldering tips with a diameter of 2 millimeters are usually included with a soldering station. However, the range is 0.2 to 35 millimeters, so that a suitable soldering tip can be found for each soldering job. These should be easy to change.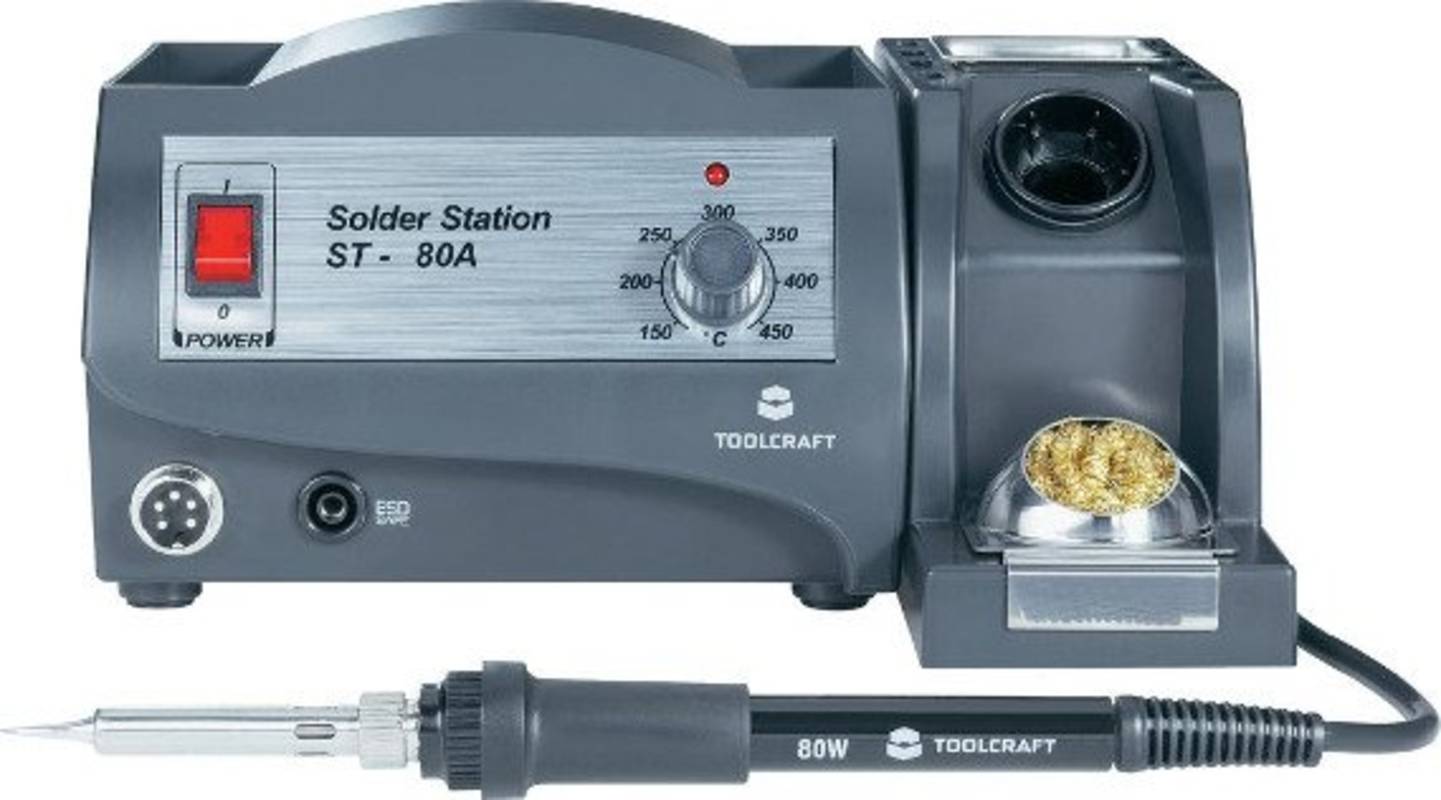 analogue soldering station;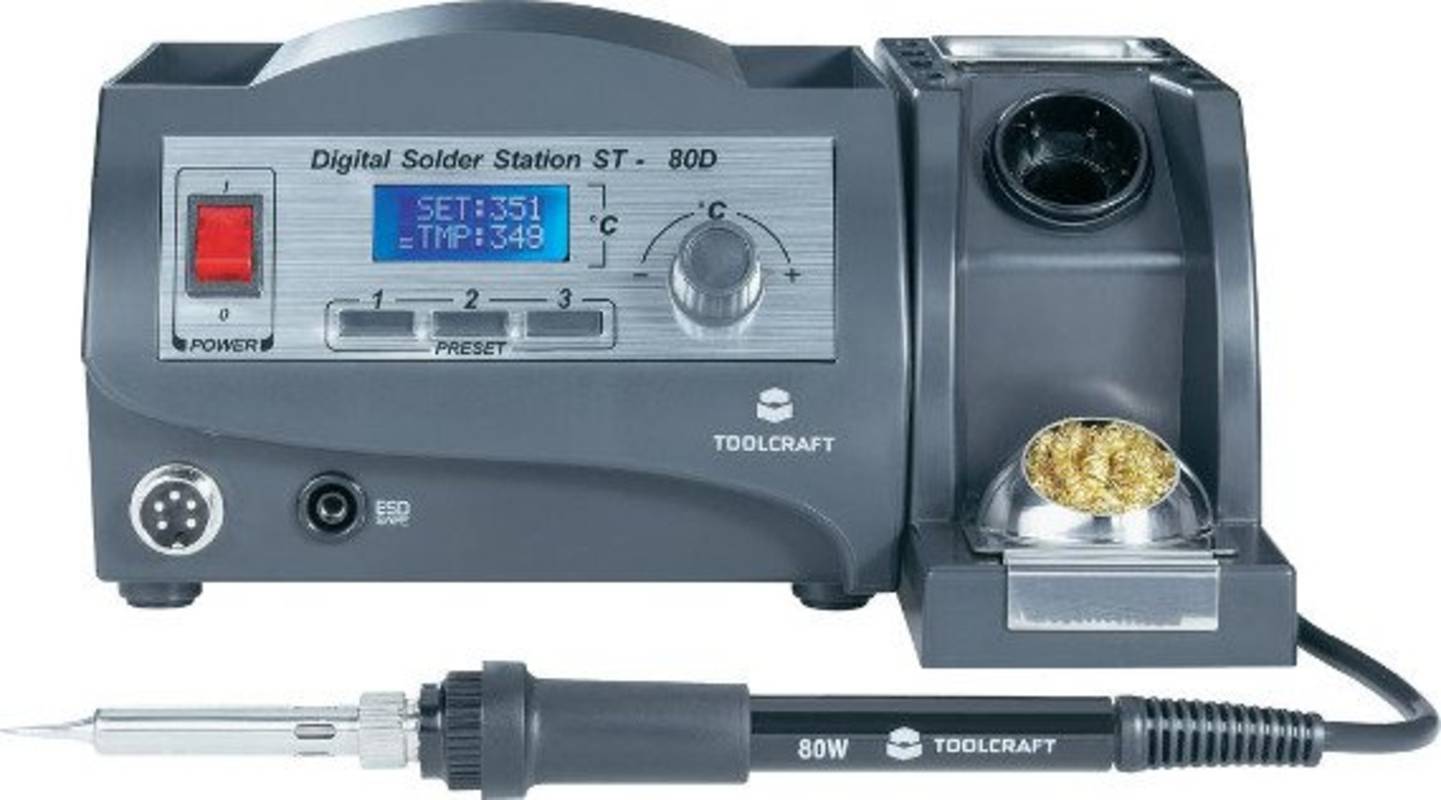 Digital soldering station with display.
Power
For example, the duration of the heating-up time depends on the power of the tool . The power of soldering stations ranges from 10 to 900 watts. Soldering stations with 10 watts are suitable for the smallest soldering jobs. The majority of the devices have 50 to 80 watts and reach temperatures between 150 to 450 degrees Celsius. Higher-quality devices have a maximum temperature of 600 degrees Celsius.
In the electronics sector, 50 to 60 watts are usually sufficient to handle everyday applications. Even devices with 10 watts are often sufficient for the smallest soldering jobs. When soldering materials with higher thermal conductivity such as copper or sheet metal, we recommend a soldering station with more than 60 watts.
Temperature
The temperature required for soldering depends on the melting range of the solder . As a rule, tools with a temperature range of 150 to 450 degrees Celsius are sufficient. The soldering tip should reach a slightly higher temperature to compensate for temperature losses. For example, the solder Sn99Cu1+ML melts at a temperature of 227 degrees Celsius. When selecting the correct tool, make sure that the soldering tip cools down as soon as it touches the soldering material. Therefore, soldering stations with a temperature of 350 degrees Celsius have proven themselves in practice. The temperature thus remains constant above the melting point, but is not too hot. This could result in damage to the parts to be soldered. In addition, the flux of the solder burns with longer exposure time. The components would no longer be functional.
In addition, the deviation in temperature accuracy should be as low as possible. Thus, fluctuations of up to ±10 degrees Celsius are quite common.
Heat-up time
The higher the power of the tool, the faster the heating takes place . Particularly powerful devices with 150 watts heat up from room temperature to 350 degrees Celsius in 9 seconds, for example. Conventional soldering stations with 60 Watt achieve this operating temperature in 40 to 70 seconds.
If you need the tool several times a day, we recommend using a soldering station with a correspondingly high output. In this way, only a little time is lost for the heating process. This is also an advantage if, despite frequent use, it is not worthwhile to use the device permanently or in standby mode. This means that the device is ready for use within a short time.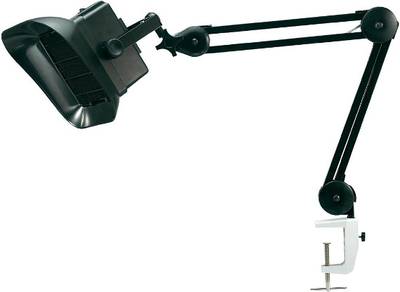 Stand-by function and automatic switch-off
We recommend soldering stations that automatically switch to standby or switch off. In standby mode, the soldering tip cools to 100 to 150 degrees Celsius. Radiator and soldering tip wear less quickly. In addition, this can save energy .
Devices with switch-off function are even more safe. If the soldering iron is not used for a longer period of time, the power supply is automatically interrupted. In addition to lower energy consumption and wear, the risk of injury or fire is reduced.
Suction
The health damage caused by solder fumes is regarded by the legislator as hazardous to health. They must therefore not be underestimated. Now that there are no more heavy metals such as lead in the soldering materials, it is the flux that decompose by the heat and release unpleasant vapors .
In addition, the solder vapor, which is applied to components and circuit boards, is a quality-reducing factor . Here, filter systems that extract particles and gas from the air help.
Caution: Unlike in the private sector, suction devices are mandatory in commercial and industrial plants (VBG 15). The filters of the systems must be replaced regularly.
For soldering fume extractor
Equipotential bonding
Important when working with electrical components is their sensitivity to static discharge . Many soldering stations therefore have a socket or a connection through which they are grounded, thus providing equipotential bonding.
Air volume in hot-air soldering stations
For hot-air soldering stations and supply units that enable hot-air soldering, the air volume is important. This indicates how much liters of air per minute is emitted at the maximum. The quantity ranges from 2.5 to 120 liters per minute. It is important not to select an excessive amount of air, otherwise parts of the components to be soldered could fly away and be damaged.
Our practical tip: Maintenance of soldering and desoldering tips
To prevent the soldering tip from being worn too quickly due to oxidation and deposits, it is worthwhile to use it properly . These tips prevent premature wear:
Before use, clean the soldering tip with a damp sponge or better with a fine, dry brass wool .
The soldering temperature should be adequate . Excessive temperature will result in increased stress on the soldering tip.
After soldering, clean the tip with solder tip cleaner .
Whether soft soldering or brazing depends on the melting temperature of the solder . If this is below 450 degrees Celsius, it is called soft soldering . This method is suitable for processing electronic parts that do not tolerate excessive heat in order to protect them from damage.
When brazing, the solder must be heated up more strongly. The soldering tip reaches temperatures of over 450 degrees Celsius. Brazing is particularly suitable for materials such as steel, copper, brass or silver as well as for connections that are subject to heavy stress due to heat and mechanics.
In addition, the high-temperature soldering process often reaches a temperature of up to 900 degrees Celsius and is used for industrial soldering.
There are various soldering agents for soft and hard soldering. It should be noted that since 2006 the electronics industry has only been allowed to use lead-free solder (EC Directive 2002/95/EC). Lead is only approved in a few exceptional cases in electronic devices. Tin alloys with copper and nickel or with copper and silver are used as replacements.
Our practical tip: Right soldering for beginners
If you do not have any experience with soldering and want to read in extensively, we recommend our "correct soldering" guide >. This is where you will find detailed information, such as on brazing and soldering, the most common errors and the materials.
This stable terminal connection with at least two alligator clips is individually adjustable. In this way, you have both hands free to hold soldering iron and solder. Often a magnifying glass is on the third hand to be able to see even smaller solder joints.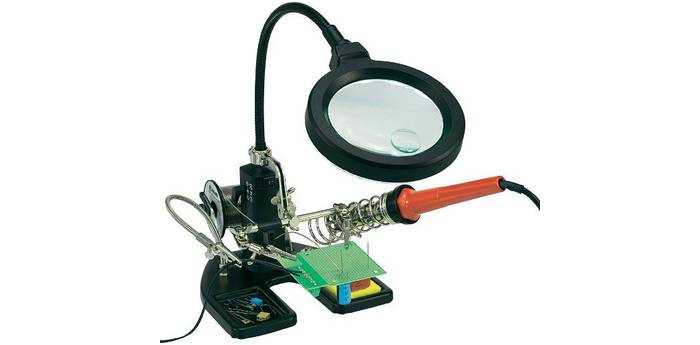 Desoldering suction pump and desoldering braid
If components are to be replaced, there are two possible aids: The desoldering suction pump and the desoldering braid. Once the solder is liquid again, it sucks in the desoldering suction pump like a vacuum cleaner. The pump can be operated manually by pressing a button and is suitable for large quantities of solder. The desoldering braid is a copper wire braid that absorbs small amounts of liquid solder when heated. The cleanest, but also most expensive, version is an electric pump that takes up the superfluous solder.
Soldering tip cleaner
A chemical process removes residues of flux and solder. . At the same time, it tin-plates the soldering tip. Another way to clean the soldering tip is to use the brass wool dry cleaner. If the soldering tip is cleaned regularly, it wears less quickly and is ready for longer.
Flux
The soldering material often contains a flux. In this way it flows into the smallest openings so that the components are soldered, not just glued together. Flux can also be purchased separately.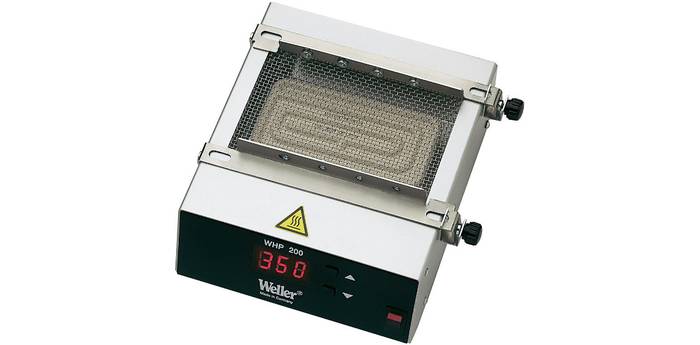 The reduction of the components, the closer mounting of circuit boards as well as the higher soldering temperatures, which are necessary due to the lead-free solder, often make the soldering complicated. Heating plates help to protect heat-sensitive components and prevent damage. The pre-heating plates heat up the PCBs from the bottom, which can significantly reduce the operating temperature of the soldering iron.
 This text is machine translated.     Soldering stations: You need to know this before you buy them Soldering stations can be used in many areas to solder two electronic components together through an intermetallic connecti...