This text is machine translated.
What are solenoid valves?

How do solenoid valves work?

Where are solenoid valves used?

Which solenoid valves are available from Conrad?

FAQ – what should be observed when working on and with solenoid valves?
What are solenoid valves?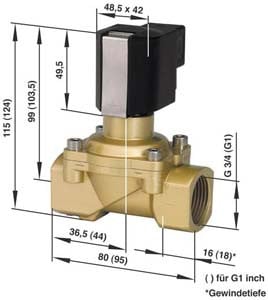 Solenoid valves use the power of electromagnets to open or close valves. This allows the flow of liquid and gaseous media to be controlled. The medium to be controlled is always spatially separated from the control system.

Contrary to the use of the magnetic force of a current-flowing coil, Conrad also offers valves in this category in which the control is driven by gases or liquids.
A further drive type is implemented with servo motors, so that not only the valve states "closed" and "open" can be controlled, but also a dosage of the controlled medium is possible.

Valves are labeled "ways" to describe the number of available control paths: "2/2" means "up" or "to", similar to a valve in the watercourse. "3/2" offers an alternative outlet when the first outlet is closed.
How do solenoid valves work?
The operating principle can be divided into four technical solutions: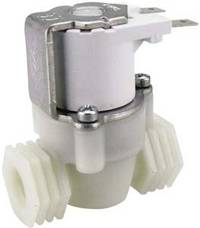 Directly controlled valves
The driving electromagnet is directly connected to the sealing element . When the electromagnet is switched off, a compression spring keeps the valve closed. To open the valve, the sealing element must be lifted off the valve seat by the electromagnetic drive alone.
Pre-controlled valves
Valves of this type require a pressure difference of the operating pressure to open and close . The minimum pressure is specified in the technical data sheet. Here, the drive only fulfills a pilot function, which relieves the main sealing element (diaphragm or piston). The pressure of the medium raises the main seal. This allows small magnets to control high pressures.
Forced-action valves
A combination of preaction and direct action valves so that the drive can open and close the valve without the need for differential pressure.
Pressure-controlled valves
Valves of this type are controlled by a separate pilot valve and can control high temperatures, high pressures, dirty or aggressive media with a clean control medium .
Where are solenoid valves used?
There is hardly any technical area where (magnet) valves are not used. These include power plants, oil, chemical and gas-producing and processing industries, heating systems, air conditioning and exhaust systems in vehicles, water and wastewater management in railway wagons, environmental technology and the beverage and food industry.
Which solenoid valves are available from Conrad?
The solenoid valves offered can be selected in Conrad's online shop according to different criteria. These include:
Housing material.
The material used for the housing through which the medium to be controlled flows has a significant influence on the possible temperatures, the maximum possible pressure and the type of medium. It can be selected from stainless steel, brass, PVC, PVDF, polyamide, polyphenylene sulfide and polypropylene.
Sealing material
The seal ensures reliable closure between the valve seat and the shut-off element. The material used depends mainly on the medium to be controlled.
The sealing materials at a glance:
EPDM: Ethylene propylene diene rubber
Well-suited for hot water and steam, washing powder, caustic soda and caustic soda, silicone oils and fats, many diluted acids and chemicals. Unacceptable for any petroleum products.
FKM: Fluorine rubber
Very high temperature and chemical resistance, good resistance to aging and ozone and self-extinguishing fire behavior. Not resistant in hot water, water vapor, glycol-based brake fluids and certain organic acids, among others.
FPM:
DIN/ISO designation for FKM. FKM is the name according to ASTM, an international standardization organization (originally American Society for Testing and Materials).
NBR: Rubber-fabric materials
Seals based on cotton or synthetic fiber fabric. The fabric is impregnated with NBR and then vulcanized to seal. High wear resistance, very good friction and sliding properties, good low temperature resistance as well as high pressure resistance and form stability.
Peek: Polyether ether ketone
Flexible thermoplastic material with very good chemical resistance in a temperature range from -100 to +300 degrees Celsius. Resistant to radiation (nuclear energy), mineral lubricants, petrol, hydrocarbons, weak mineral and organic acids, alkalis, acetone, alcohols as well as hot water and water vapor.
PTFE: Polytetrafluoroethylene
Almost universal chemical resistance from -100 to +250 degrees Celsius, very good sliding properties, almost unlimited resistance to ozone, weather and aging. Suitable for almost all hydraulic media and lubricants. Physiologically harmless and thus also suitable for food, pharmaceutical and medical applications. This plastic is not flammable.
Operating principle
Displays only the solenoid valves that are closed in the rest position.
Category
The menu item describes the technical design of the valve control: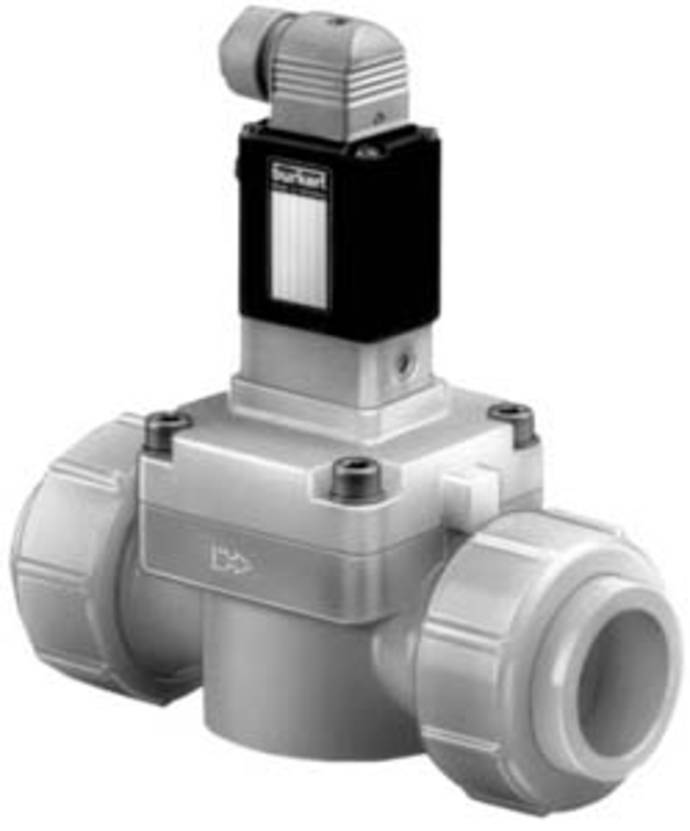 Directly controlled pneumatic valve
Direct-action valve
Air-operated valve
Mechanically operated pneumatic valve
Servo-controlled valve
Operating pressure (max./min.)
From a maximum of 0.2 to 100 bar and a minimum of -1 (vacuum) to 0.5 bar.
Max./Min. Media temperature
can be individually selected in a total range from -40 to +180 degrees Celsius.
Function
Distinguishes between 2/2- and 3/2-way valves.
Connection
Shows all muffin connections in standard dimensions.
Operating voltage
This ranges from 12 V DC to 24 V AC/DC to 110/230 V AC. The trend is toward supplying extra-low voltage.
Medium
Probably the most important selection option for aggressive, neutral or slightly contaminated media as well as (neutral) gases and neutral, clean and contaminated liquids.
Key features
Shows the connection options with flange or sleeve.
FAQ – what should be observed when working on and with solenoid valves?
These valves are often used in the context of hazardous media – compliance with health and safety regulations is a top priority.
Before working on systems controlled by valves, the system must be pressure-free before fitting/disassembling connections. Also observe the general safety regulations for handling electrical voltage.
Before starting maintenance and repair work, secure the system against unintentional reestablishment. A controlled restart must then be ensured.
In the event of faults, check that the valve and all connections are correctly installed and that there are no damage.
If a magnet is not working, check that there is no short circuit or coil break or that dirt is obstructing the magnet's working path.
Observe the manufacturer's instructions when using seals on the inlet and exhaust flows of the valves.
Only use suitable and intact tools.
Use the enclosed operating and installation instructions and keep them in case of repairs.
 This text is machine translated.     About solenoid valves What are solenoid valves? How do solenoid valves work? Where are solenoid valves used? Which solenoid valves are available from Conrad? FAQ –...