This text is machine translated.
Spiral cables are twisted cables, which can be expanded by their special winding. This increases their flexibility and enables a higher freedom of movement with the connected device, without the cable itself becoming too long. This avoids cable mess.
Where are spiral cables used? / When do ich want to use spiral cables?
What was to be observed when purchasing a spiral cable?
Spiral cables are manufactured like other cables and basically have the same design. In an additional step, however, the cables are curled and wound, giving them their characteristic appearance and special characteristics.
They consist of live copper wires with an insulation that encloses and protects them. The wires and the insulation differ depending on the manufacturer and the cable variant.
A distinguishing criterion is the number of wires . Conrad offers spiral cables consisting of only one wire and variants that carry up to 10 individual wires.
Each wire is always individually insulated, so all strands are completely separated from each other.

The cables also differ in the shielding. Unshielded spiral cables are more flexible because they lack an insulation layer, but do not protect against interference, which is particularly sensitive to data or signal transmission. A shielding, usually a thin film in the insulation, eliminates these for the most part. Shielded cables thus ensure error-free data transmission even in difficult environments.
The outer insulation consists of either polyvinyl chloride, known as PVC, or polyurethane, or PUR. PVC is cheaper to manufacture, but it loses its flexibility and restoring force under permanent load. PUR cables cost more, are much more robust and durable.
Where are spiral cables used?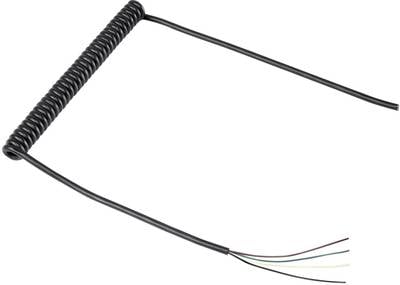 Spiral cables are characterized by higher flexibility in all directions compared to cables without winding, without damaging them. They do not cause cable mess and can be extended to three to four times the length. High-quality spiral cables then return to their original shape without being let out. Another advantage is that you feel the end of the cable approaching, so you won't suddenly get any further.
The main application area is the connection of small hand-held devices with the main unit or the power supply . Whether as headphone cable, at the soldering iron or as USB connection cable – they can be used in principle everywhere, where a cable is needed. One drawback is that they are a little thicker and take up more space, at least wrapped up in width. For that, they are shorter.
In measurement technology, mechanical engineering, control technology and other areas, there are also various possible applications due to their higher flexibility. For example, shielded spiral cables can be used to connect measuring probes to the measuring device. Soldering irons and other fine tools also benefit from increased freedom of movement and facilitate the work. The same is true in mechanical engineering, where robotic arms can work with a connection via spiral cable, for example, without being stuck. The spiral cable also does not damage it when it is routed around narrow corners and edges.
What was to be observed when purchasing a spiral cable?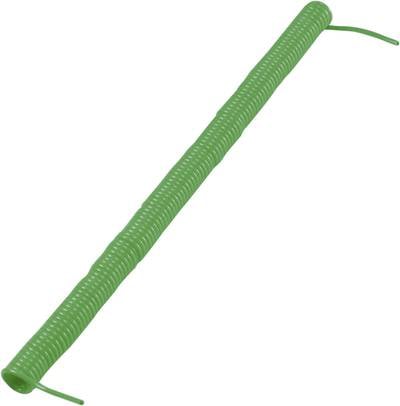 Spiral cables are very similar to normal power cables and can be used in many different places. Therefore, they are available in different specifications, which are particularly suitable for the respective application areas.
The number of wires required depends on your area of application. The same cable is usually available in different configurations with a different number of wires.
The cross-section of the wires is very important. The larger the current, the higher the maximum current that can flow through the wire. If the current is too high, there is a risk of fire. The operating peak voltage must also not be exceeded.
If data is to be transferred, as in particularly sensitive applications such as control and measurement technology, it is particularly worthwhile to ensure that the spiral cable is shielded. If the cable is only to carry current, it is rather unimportant whether the spiral cable is unshielded.
When selecting the length, you should observe the restoring force of the spiral cable. If the cable is stretched, you must apply force. The maximum elongation ratio provides additional information on how far the pipe can be stretched over its original length without taking any damage.
Finally, the correct insulation material must be selected. PVC spiral cables are more economical, but lose flexibility quickly under constant load. They are therefore more suitable for use where they are subjected to little strain, while the more robust PUR cables can be used anywhere and are hardly dismantled over time.
Spiral cables can help where normal cables reach their limits. They are worth it if a tool is to be connected that is constantly in motion and needs maximum flexibility and freedom of movement. Because with them, the risk of entanglement is lower.
This text is machine translated. About Spiral Cables Spiral cables are twisted cables, which can be expanded by their special winding. This increases their flexibility and enables a higher freedom of movement with the connected device, withou...