This text is machine translated.
About IC Sockets & IC Sockets
Integrated circuits, in short IC (Integrated Circuit), are ubiquitous in industry and trade. They ensure that complex machines such as CNC milling or welding robots function. This guide provides details on the operation and application areas of ICs and IC sockets.
Was ich heihe purchase of IC sockets

Our practical tip: Use high-quality IC sockets

IC and IC versions - frequently asked questions
What was an IC?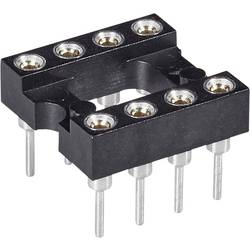 Unlike a discrete design, where all components may even be connected to cables, an IC is a complete electronic circuit that is housed on a single sheet of semiconductor material. The application possibilities of ICs are manifold. They are used, for example, for RAM or EEPROM as digital memory. As microcontrollers, they take over control functions in computer peripherals, smartphones and TV sets or convert analogueue signals into digital signals in audio technology and vice versa. Individual requirements of companies can be met with so-called ASICs (Application Specific Integrated Circuit), which are manufactured by various manufacturers according to customer requirements.
The great advantage of an IC component is that even highly complex circuits, which comprise several billion electronic components, do not have to be rebuilt over and over again. The complexity or component density of an integrated circuit is determined by the absolute number of transistors installed. This degree of integration is derived from the number of transistors per unit area and the surface area of the IC. The SSI (Small Scale Integration) integration level contains up to 100 functional elements, while the MSI (medium scale integration) level already contains up to 1,000 functional elements. Then there are LSI (Large Scale Integration) and VLSI (Very Large Scale Integration) with up to 100,000 or more than 100,000 functional elements. Other integration levels include ULSI (Ultralarge Scale Integration), SLSI (Super Laqrge Scale Integration), ELSI (Extra Large Scale Integration) with increasing number of functional elements. The highest degree of complexity is currently defined by GLSI (Giant Large Scale Integration): More than 100,000,000 functional elements are used in an integrated circuit.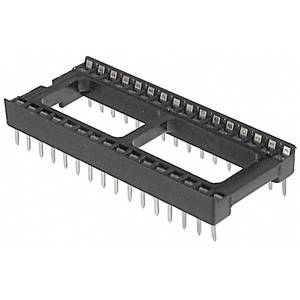 Integrated circuits are inexpensive and take up little space on the circuit board. However, the disadvantage is that defective ICs are difficult to detect and removal is only possible with a special tool. In order to deal with this problem, it may be useful not to solder the pins of an IC directly to the circuit board, but instead to use a socket. Of course, it is not necessary to fit each individual IC with a socket. On the other hand, the use of a socket makes absolutely sense for integrated circuits that are exposed to special loads or which may be replaced more frequently by an updated model. Especially in a professional environment, where the standstill of a machine can cost a lot of money, it is advantageous if an IC can be exchanged quickly and without complex soldering work.
The socket required for an IC depends on the pin grid. Bases are available with precision contacts and spring contacts. As the name suggests, the IC is simply clamped into the spring mechanism in a socket with spring contacts. In a socket with precision contacts, the socket connector consists of individual cup-shaped sleeves. These offer the pin header of an IC the best possible contact security and have a lower contact resistance. Particularly high-quality models have contact surfaces with gold for optimum signal transmission.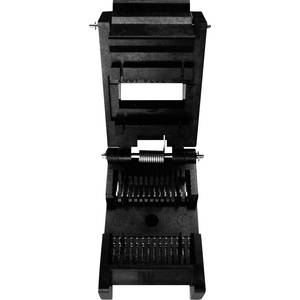 A special feature is the so-called zero-force base: This is a socket that does not require any pressure or force to insert or remove an IC. Such a socket can be found especially frequently in computer processors. With normal IC sockets, each pin is clamped by spring-loaded contacts. A certain amount of force must be applied both when inserting and removing an IC component. A computer CPU with its many contact pins is extremely sensitive and the risk of bending a pin accordingly is high if excessive forces are exerted during installation. For this reason, a zero-force base is used: Here, the contacts in the base are opened mechanically, often by a small lever on the side. The pins of the processor can now slide easily into the sockets without any effort. If the CPU is installed correctly, the contacts are closed by moving the lever. The electrical contact is made and the processor is also fixed.
What was the point of ich when buying IC sockets?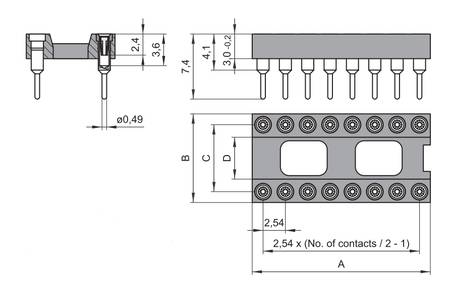 Of course, it is important to purchase that the grid of the IC matches the socket. If you already know in advance that an IC is to be replaced more frequently, access a socket with precision contacts. Corresponding sockets are more robust than those with spring contacts. When using high-quality ICs, such as a digital-to-analogue converter used in audio or studio applications, you should use sockets with gold-plated contacts. Since gold is a very good electrical conductor, the use of the precious metal at the contact sockets enables the best signal transmission. In addition, gold has the great advantage that it does not oxidize.
Our practical tip: Use high-quality IC sockets
For professional use, it is recommended to use high-quality brand holders. They usually offer the best contact and still function reliably even after multiple insertion and removal of an IC.
IC and IC versions - frequently asked questions
What was the "grid" of an IC?
The grid, or grid dimension, indicates the center-center distance of each pin for an IC.
This text is machine translated. About IC Sockets & IC Sockets Integrated circuits, in short IC (Integrated Circuit), are ubiquitous in industry and trade. They ensure that complex machines such as CNC milling or welding robots function. This...