This text is machine translated.
Steam cleaner for hygienic cleanliness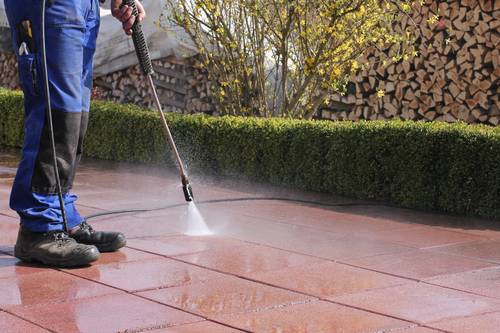 Many households have practical everyday gadgets such as mop and battery vacuum cleaners. The steam cleaner is less frequent in regular use. But this is exactly the ideal addition to the other devices. Cleaning is comfortable and above all intensive. This benefits not only private households, but also cleaning companies, whose equipment often includes industrial steam cleaners.
This guide highlights the various forms of steam cleaner for private and professional use and how the devices work in detail. Equipped with the background knowledge, you can buy the suitable steam cleaner for your application.
What was a steam cleaner and what forms were there?

How does a steam cleaner work?

What should be the power consumption, water tank and vapor pressure?

What additional features are useful?
What was a steam cleaner and what forms were there?
The devices are used for surface cleaning and use hot steam for this purpose. The steam is also able to remove comparatively solid dirt from a surface. Where a vacuum cleaner does not produce the desired result, the steam cleaner is in place – and without chemical cleaning agents.
Because surfaces have different requirements, there are different models of steam cleaners. For example, the easiest way to clean windows is to use a hand-held device, while the floors are to be cleaned with a steam brush to protect the back.

The four types of devices at a glance:
Hand-held steam cleaner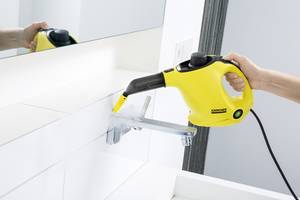 These models are designed to be raised and guided comfortably with one hand. In this way, joints can be cleaned on the wall in the bathroom or even complete windows. The devices are correspondingly small and have a low net weight.
Practical tip: It is also easier to clean places where larger devices can only be used in awkward or non-existent situations, such as in tight shower cabins. However, the small size also means that the water tank must be comparatively small. A volume of 200 to 500 milliliters is often planned.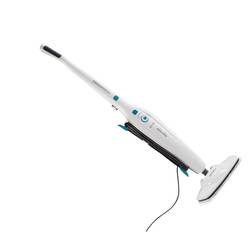 Steam broom
If you are looking for a device that allows you to clean floors with steam, choose these models. They remind you of a handy vacuum cleaner, which is also carried with your hands.
Thanks to the long middle body, the steam brooms allow working with straight back.
In order to enable cleaning with little arm force, these devices are also rather light and offer a relatively small water tank.
This is usually as large as hand-held steam cleaners.
Floor-Steam cleaner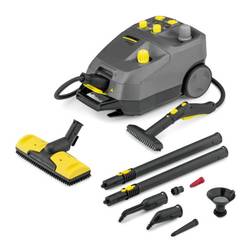 If not only smaller surfaces are to be cleaned, a floor steam cleaner is recommended. This, in turn, is reminiscent of classic vacuum cleaners, whose unit is quite large and therefore mounted on rollers. It is pulled over the floor while the suction tube is guided over a handle with your hands. The headboard is applied to floors as with steam brooms or can be used raised on walls, windows and mirrors.
Due to the larger dimensions, a floor steam cleaner with a larger water tank is fitted and can therefore be used for longer periods of time. Many models also have a 2-tank system.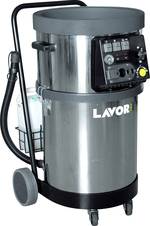 Industrial steam cleaner
These appliances stand out from ground steam cleaners, which are more intended for private use or for use in small businesses. Industrial steam cleaners have a rack that can hold several liters of water for cleaning and has a powerful steam boiler. This allows high temperatures to be generated and maintained to achieve the best cleaning results with hot steam.
The cleaners use a roll frame to be more flexible in use. Most manufacturers use the frame to provide room for additional cleaning equipment such as cleaning agents, cloths, nozzles etc. at the same time.
How does a steam cleaner work?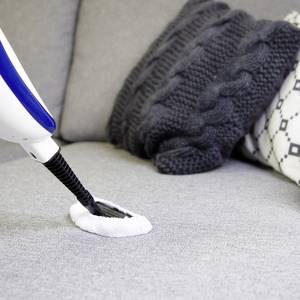 Steam cleaners have an internal steam boiler in which filled water is heated. The necessary energy is supplied via electricity. Therefore, steam cleaners have a cable that needs to be connected to a household socket. The range is correspondingly limited and the cable length is an important purchasing criterion.
The water in the steam boiler is heated to 100 degrees Celsius so that it changes the state of the aggregate and becomes steam. The time it takes to heat up is different. Small versions with a correspondingly low water volume usually require a short heating time of 30 to 60 seconds. Large industrial equipment, on the other hand, takes several minutes. The water vapor is then released via the head piece.
The form in which the delivery takes place in detail depends on the selected nozzle. For example, the water vapor can escape very concentrated via a point jet nozzle. Such a nozzle is particularly suitable for cleaning joints. Upholstery nozzles, on the other hand, are particularly well suited for the gentle cleaning of sofas and armchairs.
The selected nozzle or the mounted cleaning cloth will loosen the dirt. Either it is extracted via a steam suction hose or bound in a cloth. The latter must be replaced regularly.
What should be the power consumption, water tank and vapor pressure?
For the cleaning to work satisfactorily for many years, steam brooms and similar have to fit the application requirements. Before purchasing, observe the following orientation values:
Power consumption in watts

For private use, 1,000 watts are sufficient

Professional units move between 2,000 and 3,000 at a performance level Watts

Water tank in milliliters or liters

Determines how many minutes can be cleaned at a time

Small tanks with 200 to 300 milliliters are suitable for Private households and can be used for about 15 minutes

One liter of water for larger cleanings

Five liters as standard in the professional sector

Steam pressure in bar

Printing is between three and four bars on many devices, which was completely sufficient for private use

Industrial cleaners move between five and ten bars

High-end devices also available over 100 bar
What additional features are useful?
Most appliances have multi-stage steam volume control to respond to the level of pollution. ideal models are continuously variable steam control, so users can clean even more precisely.
The manufacturer Kärcher offers users the VapoHydro function. In addition to the actual steam, hot water is also supplied during cleaning. This loosens particularly solid dirt more easily. The saturation ratio can be adjusted.
For home steam cleaners, parental controls are useful to minimize the risk of personal injury. In addition to safety locks, elements such as splash-water protection or overheating protection are important in order to make handling generally safer.
This text is machine translated.   Steam cleaner for hygienic cleanliness Many households have practical everyday gadgets such as mop and battery vacuum cleaners. The steam cleaner is less frequent in regular use. But this is exactly t...