This text is machine translated.
How does a Supercap work?

What was the difference between a Supercap and a battery?

Where are supercaps used?

How are supercaps connected?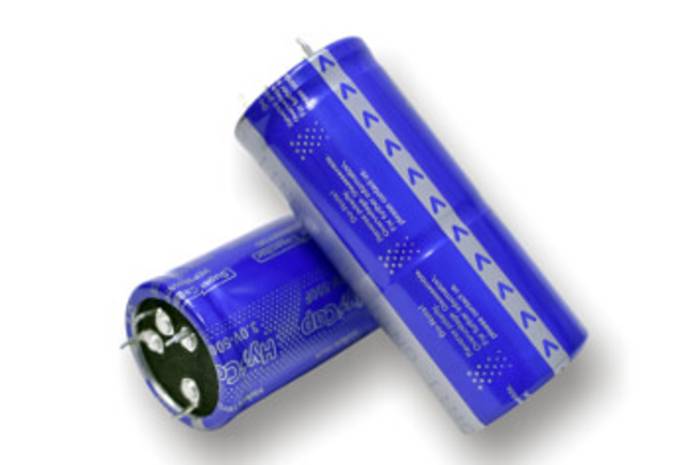 A supercapacitor, ultracap, gold cap or supercap , is in principle a capacitor that can store enormous amounts of electrical energy.
If a voltage of 1 V is applied to a capacitor and then a current of 1 ampere flows for 1 second, the capacitor has a capacity of one farad . Unit 1 Farad was named after British experimental physicist Michael Faraday.
The value 1 farad (1 F) is a very large capacitance value that is not necessarily required in commercially available circuits of electronic devices. Capacitors that have only a fraction of the value are required. Common values include:
Millifarad (MF) = 1/1000 Farad
Microfarad (µ F) = 1/1000 Millifarad
Nanofarad (nF) = 1/1000 Microfarad
Picofarad (pf) = 1/1000 Nanofarad
With a supercapacitor, the specific capacity moves to a completely different level. Capacity values of up to a few thousand farads are now reached here. As a result, supercapacitors really bear their name.
To achieve these high capacitance values, supercapacitors have developed various technologies by which the capacitors are divided.
Double layer capacitors
Activated carbon is used as electrode material for double layer capacitors. The electrical energy is stored statically in the Helmholtz double layers on the electrodes.
Pseudo-capacitors
Pseudo-capacitors have electrodes made of metal oxides or conductive polymers. The electrical energy is stored electrochemically by the faraday charge exchange.
Hybrid capacitors
Hybrid capacitors such as lithium-ion capacitors use both static and electrochemical storage. To do this, they have an electrode with a high double layer capacity and an electrode with a high pseudo capacity.
How does a Supercap work?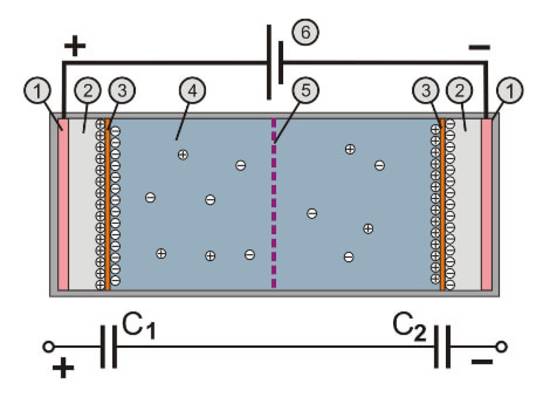 Figure 2: 1. Collector, 2. Polarized electrode, 3. Helmholtz double layer, 4. Electrolyte with positive and negative ions, 5. Separator, 6. voltage supply;

A supercapacitor consists of two electrodes separated mechanically and electrically by a separator.
Despite the separation, the separator is permeable to ions . The charge exchange is made possible by an electrolyte containing positively charged ions (cations) and negatively charged ions (anions).
When a voltage is applied to the capacitor, a double layer of negative and positively charged ions forms on both electrodes (see figure 2).
Due to the different charges of the electrodes, the layers are constructed in a mirror image.
The two layers act like two capacitors connected in series. The total capacity of the capacitor is calculated according to the formula:
C 1· C 2
C TOTAL = ---------
---- C 1 + C 2
Static double layer capacity: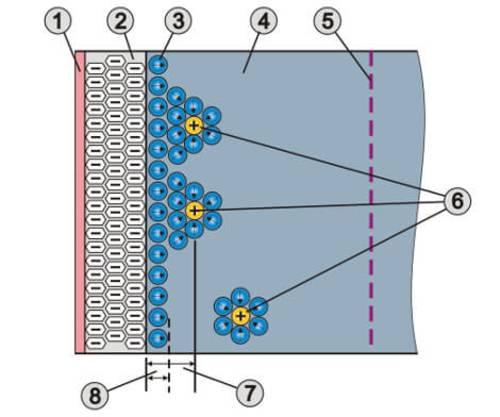 Figure 3: 1. Collector, 2. Polarized electrode, 3. Molecular layer of polarized solvent molecules, 4. Electrolyte, 5. Separator, 6. Sulvated cations, 7. Gouy-Chapmann double layer. 8. Helmholtz double layer.
The surfaces of the electrodes are extensively wetted by the electrolyte. Exactly in this contact area (phase limit) two ionized layers are created after applying a voltage (see figure 2).
In the case of an aqueous electrolyte, the two layers are separated by a molecular layer of polar water molecules.
The water molecules adhere to both the electrode (adsorption) and the ions (solvation).
The separation of the charge acts in a similar way to the dielectric in a conventional capacitor and causes the static storage of the electrical energy in an electrical field .
The extremely thin Helmholtz layer of a few nanometers and the extremely large surface area of the electrodes with up to 2500 m² per gram are the main reason for the extreme capacitance values of these capacitors.
Electrochemical pseudo-capacitance: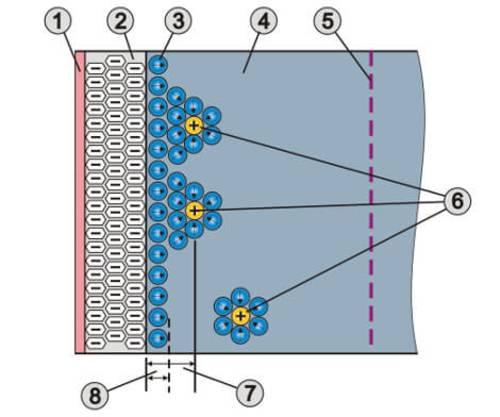 Figure 4: 1. Collector, 2. Polarized electrode, 3. Molecular layer of polarized solvent molecules, 4. Electrolyte, 5. Separator, 6. Sulvated cations that do not yet have direct contact with the electrode 7. Embedded redox ions that have delivered their charge to the electrode 8. Helmholtz double layer.
In a capacitor with an electrochemical pseudo-capacitance, the ions are able to overcome the separating layer of solvent molecules and to obtain direct contact with the electrode surface.
The ions lose the surrounding Solvate sheath .
In the subsequent attachment (adsorption), an electron transfer (redox reaction) or a faraday charge exchange takes place, which contributes to the pseudo-capacitance.
There is no chemical connection between the redox ion and the anode .
The process is reversible , which reverses the charge exchange when the capacitor is unloaded.
Since the desolvated ions no longer have a protective cover made of solvent molecules, they require less electrode surface .
As a result, the pseudo-capacitance on a suitable electrode is many times higher with the same surface than with a double layer capacitance.
What was the difference between a Supercap and a battery?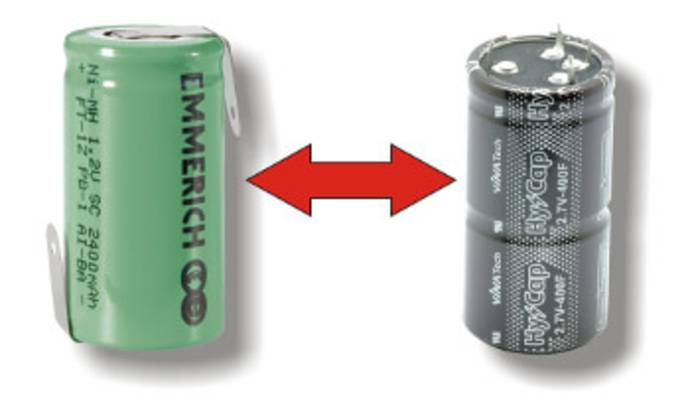 The differences between a supercapacitor and a battery lie in the energy density and the power density.
In practice, this means that a battery with its higher capacity or higher energy density can store significantly more energy than a supercapacitor with the same design.
However, due to its higher power density, a super cap can absorb the amount of energy much faster and can also release it more quickly. Short charging times and very high discharge currents are so easy to implement.
In addition, supercaps have a high cycle strength and can withstand many more charge/discharge cycles than rechargeable batteries. The service life is thus many times longer. Due to these characteristics, supercaps can supplement or even completely replace the batteries used up to now in many applications.
Battery and Supercap in a direct comparison
For comparison, two cells with almost the same design and size were selected.
NiMH rechargeable
SuperCap
NIMH BATTERY SUB C
2400 MAH FT-1Z
EMMERICH NIMH RECHARGEABLE BATTERY SUB C
2400 MAH FT-1Z
VINATech VEC3R0107QG
double layer capacitor
Capacitance
2400 mAh
100 F
Operating voltage
12 V
3 V;
Stored energy*
2.88 Wh
0.08 Wh
Max. Amperage
48 A.
75 A
Internal resistance
15 m
6 m
Cycle stability
Min 500
Over 500,000
Dimensions (Ø x h)
22.5 x 43 mm
22 x 45 mm
Weight
54 g
20 g
Temperature range:
0° C to +45° C.
-40° C to +65° C.
*The value is a purely calculated value based on the technical data and not a value that can be used in practice.


Conclusion: Except for the energy density, supercaps are superior to the batteries.
However, there is one important point that needs to be considered: Since in many cases the operating voltage of individual cells is too low, the batteries and supercaps are gladly switched in series in order to increase the overall voltage. While the capacity of two series-connected cells remains the same for batteries (Figure A), the capacity value of the capacitors (Figure B) is reduced.
Where are supercaps used?
Due to their enormous capacity, double layer capacitors can absorb a lot of energy, store and also release low-loss capacitors. For this reason, the first double layer capacitors were used for supplying power to volatile memories in a wide variety of devices. Even today, supercapacitors are still preferably used for power supply, as backup voltage sources or for load leveling.
However, due to the high internal resistance, the first supercapacitors still had a non-concealable deficiency. They could not be used for high current applications. In the 1980er, further improvements were made to the materials of the capacitors and more conductive electrolytes were developed. This enabled the capacity and above all the current carrying capacity to be significantly increased.
Thanks to these properties, low-resistance LOW ESR supercapacitors are required wherever a high switching load is required for a short time. Supercaps are also used in vehicles where energy is stored during braking and fed back to the drive when accelerating (KERS or recuperation).
How are supercaps connected?
Supercaps have a plus connection and a minus connection depending on the design. In practical use, you have to make sure that the capacitor is used with the correct polarity in the circuit.
Another important criterion is the operating voltage. The can be between 2.5 V and 5.5 V for individual cells depending on the type of condensate and design.
Some manufacturers integrate two capacitors in a housing to achieve operating voltages of 6.0 V or more. Since these voltages are often too low for many applications, supercaps are often connected serially. However, this reduces the usable capacity according to the following formula.
1/C TOTAL = (1/C 1 ) + (1/C 2 ) + (1/C 3 ) + (1/C 4 )
The lower capacity of a series connection is compensated by the fact that several serial capacitor chains are connected in parallel. This achieves the required electrical strength and capacity. However, passive or active balancing must ensure that the individual cells are not overloaded.
In passive balancing, only shunt resistors (R) are connected parallel to the capacitor (see figure A). This can be done on dynamic systems that are often loaded and unloaded. For static systems that are rarely loaded, active balancing should be performed. Each shunt resistor is electronically switched on and off via a switch (S) (see figure B).
This text is machine translated. About Supercaps What was a Supercap? How does a Supercap work? What was the difference between a Supercap and a battery? Where are supercaps used? How are supercaps connected?   Wh...