About temperature sensors
What functions can temperature sensors take over?

What temperature sensors are there?

Connection options for temperature sensors

FAQ - Frequently Asked Questions about Temperature Sensors
What functions can temperature sensors take over?
Temperature sensors are used as temperature sensors, temperature monitors, inrush current limiters, overload protection, overheating protection and for self-regulating heating elements.
A fundamental distinction
Temperature sensors that change their resistance in the event of temperature fluctuations and must be connected to a measuring device and an additional control unit for evaluation
Temperature sensors that directly supply an electrical signal for processing for the controller

Temperature-dependant resistors are also called thermistors. They are designed as thermistors or PTC thermistors.
Thermistor: The resistance of thermistors decreases as the temperature increases. They have a negative temperature coefficient ( n egative t emperature c efficent). NTC thermistors are therefore also referred to as NTC resistors.
PTC thermistors: The resistance of PTC thermistors increases significantly in a given temperature range as the temperature increases. They have a positive temperature coefficient ( p positive t emperature c efficent). PTC thermistors are therefore also referred to as PTC resistors.
PTC thermistor in detail
PTC thermistors include platinum measurement resistors and silicon measurement resistors: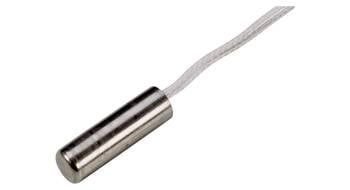 Platinum temperature sensors are very popular for installation in industrial resistance thermometers and integrated circuits, because the platinum material changes its electrical resistance almost linearly in the event of temperature deviations . This effect works in the measurement range from -200 °C to +850 °C, even if the data sheets of platinum measuring resistors require specific limitations of the respective application area due to other materials used.
A common design of a temperature-dependant platinum resistance is the Pt100, which has a standardized nominal resistance of 100 at a temperature of 0 °C. Resistance values for all temperatures can be read in table form. The English term for these temperature sensors is resistance temperature detector, or RTD for short. Different makes and types differ in their measuring accuracy . Similarly, Pt500, Pt1000 and Pt2000 resistors with platinum heat sensors are also available.
Silicon measuring resistors are used to measure, control and regulate the temperature of the air, other gases and liquids. Silicon temperature sensors are also suitable for temperature measurement in liquids under pressure . Their range of applications is in the measurement range from -50°C to +150 °C. N-conductive silicon is used for temperature sensors.
Further functions of temperature sensors in detail
In addition to the resistance-changing sensors, there are temperature sensors that directly supply an electrical signal for further processing . Most of the time, these are semiconductor temperature sensors with a limited temperature range. In such direct temperature sensors, a microcontroller often provides for an automatic correction of measuring errors of the actual sensor. Practical examples for the conversion of temperature changes into direct electrical signals are:
Digital signal dependant on temperature
Voltage proportional to temperature
Current proportional to temperature
What temperature sensors are there?
Temperature sensors are built as wound wires or with thin-film technology.
In the version as a wire, the temperature-sensitive material is wound on a glass or ceramic body (sheath sensor) either outside or under a protective cover.
In thin film technology, a thin film of the temperature-sensitive material is connected to other elements of the temperature sensor.
Application-specific versions are suitable as a sheath sensor, surface sensor or sensor element:
Sheath sensor: The temperature sensor is located in a protective tube that protects the sensor from environmental influences.
Surface sensors: Surface sensors are kept as thin as possible to maintain good contact with a flat or formed surface from which the temperature is to be measured. The temperature-sensitive platelets of surface sensors are manufactured using thin-film technology.
Sensor element: The sensor element is the temperature sensor wrapped with wire. This design is rather simple, so that it can be used even in small spaces for temperature measurement.
By the way: Measurement resistors are usually housed in a protective tube to prevent material wear due to environmental influences.
Thermistors are often disk-shaped, as a chip or semiconductor bead. PTC thermistors are available, for example, in bar, disc or bead form . Thermocouples consist of two interconnected conductors, which cause a voltage change due to different electron concentration when heated.
Connection options for temperature sensors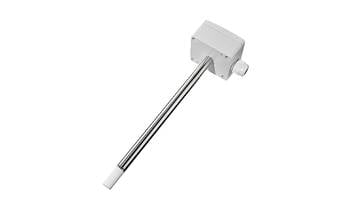 A distinction is made between two-wire technology, three-wire technology and four-wire technology when it comes to connection options for temperature sensors:
Two-wire technology: Sensor and evaluation circuit are connected together with a two-wire cable. Since the sensor and the line resistance are in a row, there is a falsification of the measured values, which requires compensation.
Three-wire technology: Here, line resistance and temperature dependence can be compensated by passing an additional conductor to the sensor, which creates two measuring circuits.
Four-wire technology: Power resistors and their temperature dependence are largely without influence. A constant current flows through the sensor. The voltage drop over the sensor is picked up and routed to the input of a high-resistance evaluation circuit.
FAQ - Frequently Asked Questions about Temperature Sensors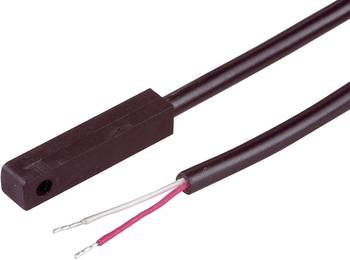 What is the meaning of the temperature measuring range (min.) and (max.)?
Many temperature sensors can only measure the temperature and require additional connected measuring devices and separate control units for evaluating the measurement in practical application. In addition, the measuring range of many temperature sensors is limited due to their structure, as used components will otherwise be impaired in their function or would even be damaged. In the shop you will find temperature sensors for measuring ranges from -270 °C to +1360 °C. Please refer to the respective product data sheets for the specific application conditions.
What type of contact do I need for an automatic shut-off thermal fuse?
If the temperature sensor is to protect against overheating by disconnecting the circuit when a certain maximum temperature is reached, you need an NC contact. In the filter "switch-off point" you can make a default setting for the switch-off temperature, which further limits your search results. In our online shop you can find possible switch-off temperatures from +30 °C to +170 °C.
How do I control the automatic start-up of air conditioning systems, motors and similar devices using temperature sensors?
To do this, you need a temperature sensor with a specific switch-on point that you can select in the filter. Only when this temperature is reached will the circuit be connected, for example, to operate a cooling system or a motor, and at lower temperatures they remain deactivated. The range of selectable switch-on temperatures in our shop is +20 °C to +155 °C.
About temperature sensors What functions can temperature sensors take over? What temperature sensors are there? Connection options for temperature sensors FAQ - Frequently Asked Questions about Temperature Sensors   ...