This text is machine translated.
How do thermal fuses work and how are they structured?

What are thermal fuses used for and what was to be observed during installation?
How are thermal fuses specified?

What was to be taken into account when selecting and operating thermal fuses?
Energy is converted in every electrical or electronic device. In the process
Creates heat that can be dissipated to a certain extent, so that the technical components and the environment do not suffer any damage. In the event of a fault, i.e. in abnormal operation, e.g. short-circuit or overload, but also in the event of external influences that hinder heat dissipation, the temperature inside the device may rise to impermissible high values. This may not only damage or even destroy the device. An overheated device also represents a fire hazard to the environment. In order to prevent these hazards, in equipment and equipment commonly used indoors, fuses that protect against overcurrent should be installed, as well as fuses that protect against overtemperature, i.e. thermal fuses or thermal fuses.
How do thermal fuses work and how are they structured?

A thermal fuse consists of two contacts, which are permanently connected with a metallic fusible link insert, e.g. made of Woodmetal. This metal used for the connection has a defined melting point . When this is reached, the metal melts and the contact and the closed circuit are interrupted. The opening of the contact is supported by a spring, which also ensures that the switch-off takes place in a short time and the contact cannot fall back. This means that this type of thermal fuse is a non-resettable device that cannot be reused after initial tripping and must be replaced with a new one. The contacts are located in a small housing, usually tubes made of fire-proof insulating material with axial, in some versions also radial connections. This design ensures that the moment the thermal fuse is triggered, neither a flame nor an arc can penetrate outside, which could potentially trigger a fire. The molten contact metal, which would damage the device or the surrounding area, must not get out.
In addition, there are resettable thermal fuses that can be switched on manually after the overheating has cooled down. This contains a bimetal that bends to the point where the contact temperature is reached so that a spring mechanism opens the contact. The spring can be returned to the operating state with a push button after cooling down.
What are thermal fuses used for and what was to be observed during installation?
Typical applications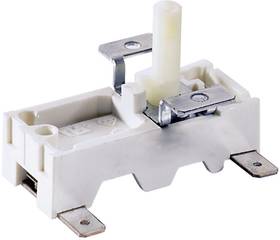 Thermal fuses are overheating protection for transformer and motor windings, power supplies, ballasts, solenoid valves, electric heaters, flow heaters, electronic circuits, in particular power levels and much more. The range of applications includes consumer devices such as coffee machines, grilles, irons and fryers, as well as professional technical systems such as actuators, actuators, switchgear.
Effective protection against overheating depends not only on the technical properties of the thermal fuses, but also on their installation and correct placement. ab. Because the temperature can reach an impermissible high value at specific points and quickly, thermal fuses are mounted as close as possible to the components to be protected. In motors or transformers, the thermal fuses are even integrated directly into the windings in order to achieve the most effective protection against critical overheating.
How are thermal fuses specified?
The most important technical parameters of thermal fuses are:
TF – Rated or Rated Temperature: Temperature at which the fuse has definitely switched off or is interrupted.

Th - Hold temperature: Maximum temperature which does not trigger the fuse yet, but which can reduce the switching temperature if it is stopped for a long time.

IR operating current: Continuous current that the thermal fuse can safely conduct and switch.

IP - Maximum pulse current that the thermal fuse can conduct for a short time.

Ur - maximum rated voltage, which is the voltage for which the thermal fuse is designed.
The technical properties of thermal fuses are defined in the DIN EN 60691 standard.
The mechanical design can be different: There are versions with axial lead-out, but also those with lateral, radial and parallel connections. In addition, versions are also manufactured that have lateral contacts for spade connectors. The latter version has the advantage that the thermal fuse can be replaced without soldering.
Most thermal fuses have an NC contact , but there are also versions with NO contact for special applications.
What was to be taken into account when selecting and operating thermal fuses?
In addition to the rated voltage and rated current, the most important criterion is the rated temperature . This is the temperature that must never be exceeded within the device. The value results from the temperature limit values of the components to be protected, e.g. motor windings or electronic components. When selecting a thermal fuse, a distance between the maximum permissible temperature in the device and the rated temperature should always be taken into account in order to prevent momentary spot overheating due to thermal inertia of the overall design. Another option is to select the holding temperature, which corresponds to the maximum permissible operating temperature that can occur in the device. A safety distance to the specified value must also be provided here.
If non-resettable thermal fuses have been triggered, they must be replaced with new ones. However, before replacing the device, the reason for overheating of the device should be found and eliminated. Only thermal fuses with the same technical data may be used as a replacement, otherwise the protective function is not guaranteed.
This text is machine translated. About thermal fuses How do thermal fuses work and how are they structured? What are thermal fuses used for and what was to be observed during installation? How are thermal fuses specifie...