This text is machine translated.
How do bimetal switches work?

Self-opening and self-closing bimetal temperature switch

Automatic and manual resetting of bimetal switches

Application areas of bimetal switches

Installation of bimetal switches

FAQ - Frequently asked questions about bimetal switches
How do bimetal switches work?
A bimetal switch (see picture) consists of two metals with different thermal expansion coefficients . These are firmly connected.
When heated or cooled, both layers of the bimetal vary in length by the respective specific thermal expansion coefficient. As one metal expands more strongly than the other, the entire bimetal structure bends. If the temperature decreases, the bimetal will return to its initial position.
Bimetal plates have a jumping behavior. They change their shape abruptly from concave curvature to convex curvature. For this reason, many bimetal temperature switches are designed as platelets.

Tip: Bimetals react both to electrical heat and to changes in ambient temperature .
Self-opening and closing bimetal temperature switches
Self-opening bimetal switch
.. Conduct the current in the unformed state .

Self-opening temperature controllers are often used as temperature protection or as overvoltage protection. If the maximum temperature is reached either in the environment or through the current supply, the bimetal temperature switch interrupts the electrical connection and thus switches the circuit off. This prevents damage from overheating.
Self-closing bimetal switch
.. Keep the circuit open in the normal state .

Only when the closing temperature is reached does the switching contact in the bimetal temperature switch establish her electrical connection to start other electrical consumers. Self-closing temperature switches are used, for example, to switch on electrical heaters, cooling systems, fans and radiator fans.
Bimetal thermostats are both self-opening and self-closing.
Automatic and manual resetting of bimetal switches
Many bimetal switches are used for automatic temperature control . They deform when the specific temperature of the switching point is reached and when cooled down, they return to their original switching position. This process is referred to as automatic resetting of bimetal switches.
Bimetal thermostats operate automatically resetting, both self-opening and self-closing. They are suitable for cyclic switching of temperature-critical processes . For example, they can always switch on the heating at a certain temperature for automatic temperature control and disconnect the heating from the mains when a second tolerance limit is reached.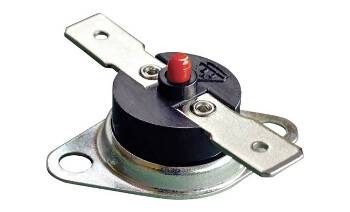 The manual reset function is additionally integrated with some temperature controllers and has many practical benefits:

Self-opening bimetal switches with manual reset do not automatically restart the process when it cools down, but require manual actuation . For example, they can be found in toasters, because here it should not be grilleed again and again without new bread being inserted in between.
Self-closing bi-metal switches with manual reset close the circuit at a certain temperature and do not interrupt it without external intervention . . An application example for this would be the use of such thermal switches in the emergency power supply unit for cooling fans, which is only taken out of service once the restored main supply has been completely set up by a technician.
Application areas of bimetal switches
Bimetal switches used as overheating protection interrupt the circuit in the event of overtemperature . Bimetal switches also function as temperature sensors for overcurrent protection. As an electronic temperature switch, the bimetal heats up due to the current source and separates the circuit when a certain temperature is reached by its erratic deformation.

Bimetal thermostats are temperature sensitive switches for cyclic operation. If the temperature rises too high or falls too low, the bimetal thermostat interrupts or connects the electrical circuit.
Bimetal switches with manual reset are used in processes that require human intervention after each disconnection or connection of the circuit.
Installation of bimetal switches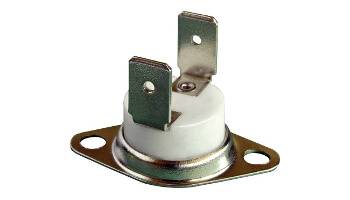 Bimetal switches are mounted as temperature sensors in control cabinets or directly on transformers, motors, semiconductor heat sinks and similar components.
The bimetal switch must be installed as close as possible to the control point if the ambient temperature is to be used as an indicator of the switching process, so that it is subject to the same temperature conditions as the system to be regulated.
Conventional bi-metal switches with platelets have two contact eyes on the sides for attaching incoming and outgoing power cables by means of plug, rivet, solder or welding connection.
The temperature sensors for the thermal sensor functions are usually located at the bottom of the housing.
FAQ - Frequently Asked Questions about bimetal switches
What was the temperature specification in brackets?
The temperature specification in the brackets indicates the thermal tolerance span of the switch. When selecting bimetal temperature switches, pay attention to this tolerance range and select it in such a way that your processes function smoothly, taking into account the full tolerance deviation.
What was to be observed with regard to rated voltage and switching current?
Use the bimetal switches only under the conditions specified in the relevant handsheet to prevent damage to the component and to ensure reliable temperature control.
What opening or closing temperature does my bimetal switch require?
This depends on the purpose of your temperature control. When selecting the correct temperature values for your circuit, also observe the tolerance margins indicated in brackets.
This text is machine translated. About bimetal switches How do bimetal switches work? Self-opening and self-closing bimetal temperature switch Automatic and manual resetting of bimetal switches Application areas of bimetal switc...