Time switches: Automated control made easy
Timers switch electronic devices on or off at specified times. They are mainly used for energy-saving purposes and enable the automation of recurring processes. In our guide you will find out how time switches work, what versions are available and what needs to be considered when purchasing.
Mechanical vs. digital time switches

Our practical tip: Use timers as burglary protection

Buying Criteria for Timers – What's it all about?

FAQ – frequently asked questions about timers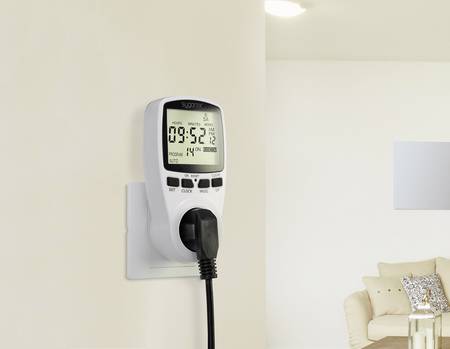 What are timers?
Timers are used to turn electronic contacts on or off at a specific time to control the operating state of devices . For this purpose, they are switched between the consumer and the power source, i.e. placed between the device to be controlled and the socket or mounted on a DIN rail in the power box. Most timers are equipped with a plug for connecting to the mains and a separate socket. The device plug is plugged into the timer socket. The switching times of a time switch can be configured individually.

The application areas of time switches are varied. It can be used to control household appliances, lighting, irrigation, ventilation and heating systems, shutters and much more. They are primarily used for energy-saving purposes. Devices in standby mode, for example, consume unnecessary energy, so it is advisable to switch them off completely when not in use. Timers can take over this task. By specifying the times at which the device is in operation, you save power and, as a result, energy costs. Although it is possible to switch off electrical appliances manually, timers simply offer more convenience in this respect. Regular recurring processes can be automated using time switches , which is very practical in everyday life.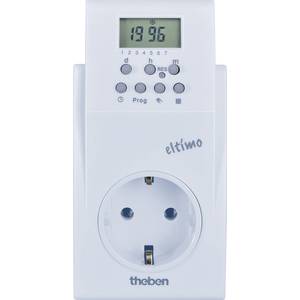 Mechanical vs. digital time switches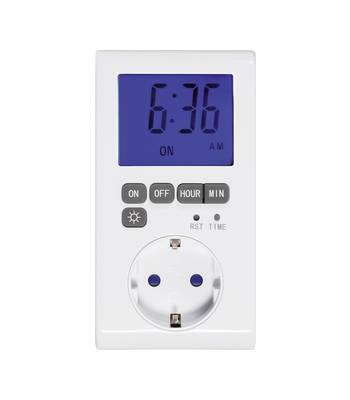 Timers are available in mechanical and digital versions. They are adjusted in different ways and are characterized by individual advantages and disadvantages. Mechanical time switches (also called analogue time switches) are usually time switches. Such copies are equipped with a rotary control, which shows 24 sections for the 24 hours of a day. Each hour is divided into four sections, i.e. 15-minute intervals. As a result, mechanical daily timers can be set in a quarterly rhythm. There is a movable slider for each 15-minute unit. To configure the time switch, you first set it to the current time (by turning the wheel). The switching times are then set by pressing down the individual sliders. For each time a current is to be flowing, the corresponding valve must be pushed down. Mechanical timers require power to operate, but the energy requirement is very low and can be covered by the connection to the socket. A separate battery is not required. Timers equipped with a spring mechanism that function purely mechanically do not consume any power at all.
The situation is different with digital time switches . They are equipped with a microchip and usually require a battery for operation or are supplied with power via an integrated power supply. The energy requirement is generally higher than for mechanical versions. Digital time switches are operated via buttons, are equipped with a display and can be set precisely to the minute. It is also possible to program different times for different days. This means that digital time switches can act not only as time of day, but also as weekly time switches. In principle, digital time switches offer several setting options and can therefore be used more flexibly than mechanical versions, for which the latter are more intuitive to use and thus easier to handle. The disadvantage of mechanical timers is that they generate operating noise that can be perceived as disturbing. This should be taken into account if they are to be installed in quiet areas.
Our practical tip: Use timers as burglary protection
Timers can be used to deter potential burglars when you are away for a long time. A so-called holiday program puts the clock in a kind of random mode: It switches the television, lamps or other electrical devices on or off at irregular intervals, which gives the impression that someone is at home. In theory, such programming can also be carried out by yourself.
Buying Criteria for Timers – What's it all about?
When buying a timer, the required switching cycle plays an important role. If you want to use the clock to pull up the shutters at fixed times every day, for example, daily timer switches are completely sufficient. If there is a need to set different times on different days, weekly timer switches are the better choice.
In principle, mechanical timers are well suited for simple applications, whereas digital versions are recommended if several setting options are to be available. Digital time switches usually have much more switching programs and can be adjusted very finely. The more circuits required and the more precise the timing, the higher the number of switching programs should be.
The location of the site is also a relevant criterion in the selection process. If the time switch is to be used in a control cabinet, for example, select a model suitable for DIN rail mounting. Otherwise, access the timers for the socket. However, these are often only used indoors. If you want to use the time switch outdoors (for example to control the garden lighting), make sure that it is at least marked with protection class IP44. IP44 identifies devices that are protected against dust and water spray. Timers whose degree of protection is lower than IP44 are not suitable for outdoor applications.
Find out more about the guards
Additional features such as display lighting or Astro function can also be useful. Time switches with Astro function automatically calculate the time of sunrise and sunset, which changes with the seasons, and adjust the switching cycles accordingly.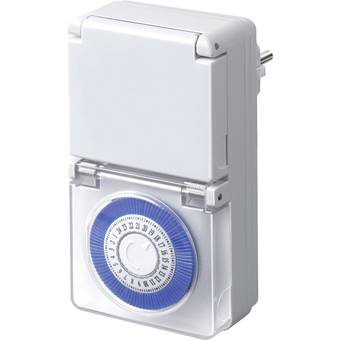 FAQ – frequently asked questions about timers
Can you save significant energy costs at all if time switches themselves use energy?
Usually, yes. Mechanical timers consume about 1 W/h, digital versions about 2 W/h. This results in 24 to 48 W per day. If you multiply the value by 365, you get an annual consumption of 8.76 or 17.52 kW. If 29 CT per kilowatt hour is used, this corresponds to approximately 2.50 euros or 5 euros per year. These costs pay for themselves quickly, because the savings are usually much higher.
Which devices are worth the use of time switches?
If you want to save energy, you should always connect timers to devices that consume a lot of energy or are only actively used for a limited time a day. These include modems, switches, routers, game consoles, TVs, VCRs, and hot water boilers.
Are there time switches for which the time is set via radio?
Yes, there are DCF controlled time switches. You receive the current time via radio from a time signal transmitter and set the time to the exact second. The changeover from summer to winter time and vice versa is also automatic.
 Time switches: Automated control made easy Timers switch electronic devices on or off at specified times. They are mainly used for energy-saving purposes and enable the automation of recurring processes. In our guide you will find out ho...