What are toggle switches?

What are the properties of toggle switches?

Which connections can toggle switches be connected to?

FAQ – Frequently Asked Questions about toggle switches
What are toggle switches?
Toggle switches are used in electrical installations to make connections or to disconnect existing connections . This switches the load behind the switch on or off. In this switch version, the actuator is a lever that is pushed out of the switch housing. This is installed in such a way that it is disconnected from the voltage-carrying switching contacts in the switch housing for the user in a safe way. The lever is used to connect and disconnect the electrical contacts in the switch. The shift lever is spring-loaded either in a reached shift position or returned to the home position. Toggle switches are therefore differentiated according to latching and momentary types.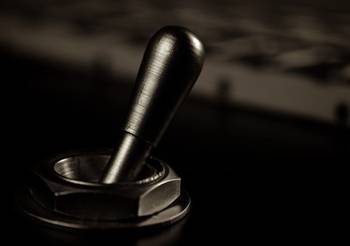 What are the properties of toggle switches?
Electrical variables: The toggle switches available from Conrad are reliable for switching currents from 0.02 to 30 ampere with a switching voltage range of 12 to 400 volts.

Protection class : most switch models do not have protection class due to their design. Toggle switches with a degree of protection are available from IP20 (protected against access with a finger) up to a maximum of IP68, which guarantees complete dust tightness and complete protection against contact and protection against permanent immersion.

Learn more about IP protection >>

Functionality : The functionality is differentiated according to the available tilt positions of the shift lever. There are simple on/off switches and toggle switches with fixed center positions and combinations with multiple on/off/on positions. With these combination toggle switches, many different switching processes can be implemented. The available momentary switching positions are shown in brackets under the menu item "Functions" and can thus be used as selection criteria.

Multipole : Some models of toggle switches are available in multi-pole versions.

Material : the shift levers are made of plastic or metal, round, square or flat. Some metal levers are additionally insulated or carry a protective cap as insulation. Some toggle switches are secured against unintentional operation and must be raised for example to trigger or are hidden under protective covers. Some of the offered toggle switches are designed as sub-miniature toggle switches. These are used to accommodate many components in a limited space, such as remote controls or smartphones.
Some toggle switches are also approved for use with the MIL label. This is an American standard that sets environmental test conditions for military equipment in the form of test standards. The manufacturers offer information on the associated properties on request.
Which connections can toggle switches be connected to?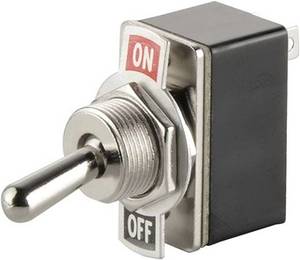 Standard flat plug for cable lugs in the standard widths 2.8 mm, 4.8 mm and 6.3 mm

Open cable ends, which are led out of the rocker switch housing and can be soldered or screwed together

Solder lugs, also as solder connections, for permanent connection to cable ends

Solder pins, partly angled, for soldering to conductor or mounting plates. These toggle switches are partly fitted with a latching device and partly also carry the conductor or mounting plate.

Quick connections for snap-in mounting of the switches in suitable counterparts for tool-free use or change, for example to protect electrical systems from being operated by unauthorized persons.

Screw terminals for connecting with stripped or tin-plated cable ends as well as for force-locking single-wire cables in screw loops.
The mountings of toggle switches in electrical equipment housings have standardized dimensions that fit the openings of devices or take into account the standard grids of electrical installations. The thickness of the material in which the toggle switch is inserted plays a role in this process, so that the latches and springs function reliably. The maximum possible installation depth is specified in the product description in the shop and in the data sheet of the respective product. Round toggle-switch threads usually have mechanical elements such as flat or groove in the thread or metal noses for securing against twisting during assembly and disassembly. This protects the connected cables from damage .
FAQ – Frequently Asked Questions about toggle switches
What safety instructions must be observed when handling toggle switches?
Do not operate the rocker arms with tools such as pliers, hammers or screwdrivers. Installation and replacement of toggle switches require specialist knowledge. Such work is reserved for qualified specialists.
Always disconnect the power supply before starting work . In the operating state, there must be effective protection against accidental contact.
In the event of malfunction or damage, toggle switches must be immediately de-energized and reliably protected against further use.
How can I detect defects in toggle switches?
Wear or overload can cause an arc when the switch contacts are opened . The resulting contact burn may be noticeable by smell and leads to increasing contact resistance up to complete failure.
The wear of the tilting or locking mechanism is noticeable by impermissible holding of the switching positions until the positions can no longer be held.
In highly vibrating technical environments, the cable and connector fastenings may become loose, causing the electrical system behind the switching unit to fail.
Plastic levers on rocker switches are exposed to the risk of breaking off in the event of excessive mechanical stress.
How long does a toggle switch last?
The service life is described with the number of maximum possible switching cycles. It starts at values around 2,000 and reaches up to the middle six-digit range. For full details, refer to the manufacturers' data sheet.
About toggle switches What are toggle switches? What are the properties of toggle switches? Which connections can toggle switches be connected to? FAQ – Frequently Asked Questions about toggle switches What are toggle ...