This text is machine translated.
Tool case: Equipped and unfitted variants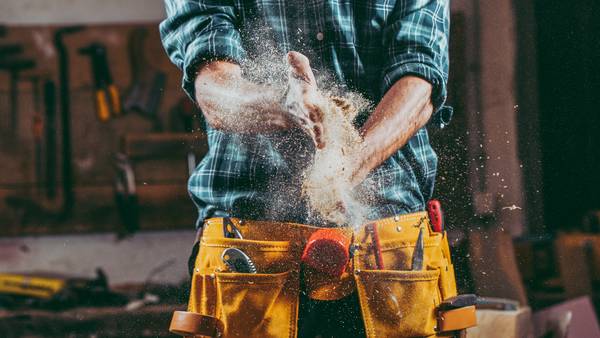 Almost every household has a small selection of tools. The number of practical tools – from hammer to drill to screwdriver – increases with the motivation to become a DIY enthusiast. The use of a tool case is worthwhile so that the tool is not distributed everywhere. Those who do not only make small repairs, but want to do a lot of work on their own, will equip themselves with high-quality tools, such as precision screwdrivers. A stable toolbox is suitable for this purpose.
For professionals and DIY enthusiasts, there are many types of mobile tool cases, each with different equipment features. You can find out which of these are and what else to pay attention to when using the cases here.
What types of suitcases are distinguished?

What material is useful for tool cases?

What was included in the basic equipment in the tool box?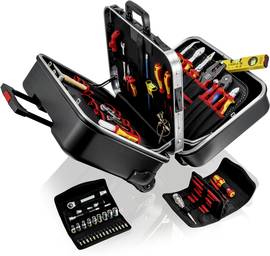 A simple tool box, which is permanently placed in the workshop or storage room, is not very useful when it comes to providing a transport option in addition to the storage facility. Household tool cases clearly have a leading edge here.
A tool case has at least one handle and has practical dimensions to make it easier to transport. Accordingly, it is manufactured in relatively compact sizes.
In order to make the best use of the space available in comparison to the tool boxes that are loaded and still retain their structure, the cases are divided into different areas and use elements such as separating strips, foam inserts or small pockets and loops for screwdriver bits or the socket wrench set to assign a fixed place in the case.
Practice Tip: Equipped and unfitted tool cases
Manufacturers sell both empty cases, in which you can sort your existing tool in as well as cases, which come to you together with the tools. The set is worth it for beginners, who have no or little tools.
What types of suitcases are distinguished?
Finding the right tool case is not just a question of whether it should be a stocked tool case, or not. It is also important for which case form a user chooses.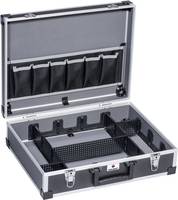 They are available in many different sizes. By separating, tools can be sorted in the lower area. There are often mounting options on the upper inside for flat tools.
Practical tip: If the tool box becomes too confusing, you don't have to buy a new tool box immediately. Many manufacturers offer the possibility to buy deposits. Bosch, for example «» , offers various inserts for retrofitting the L-Boxx case system.
Tool case with tool boards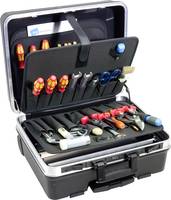 These models have at least one and often several tool panels inside.
These enable the tool to be placed next to and above each other, without causing any confusion during transport.
The panels on both sides are often equipped with brackets.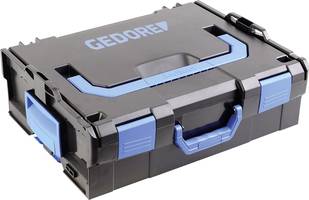 The outdoor models form an underform of the tool case.
They are designed to be used outdoors without any hesitation and can be loaded accordingly.
This means that they are both relatively shock-proof and splash-proof.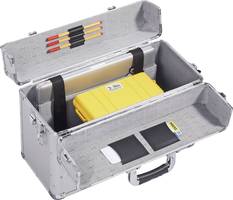 Tool cases that can be opened from above are very popular and therefore fall into the category of pilot cases. As the contents are immediately visible and easily accessible, the tool can be easily reached. In most cases, a main compartment for large equipment is provided in the interior. There is space on the sides and, if necessary, in the lid for documents, pens and small tools.
What material is useful for a tool case?
The more mobile a tool box should be in use, the more robust it must be. The problem is that a material with hohem weight limits mobility. In practice, three materials have proven their worth: ABS plastic, aluminum and chromium-vanadium steel.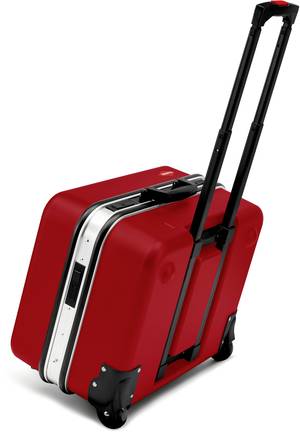 ABS plastic.
A tool box made of this plastic consists of acrylonitrile butadiene stirene. Molded parts made from this are lightweight yet robust. If the tool set is transported in such a case, it is well packed for everyday use and the back is still protected.
Aluminium
A stable aluminum case looks more noble than a model made of simple plastic for many. Aluminum is also light, but somewhat more robust than ABS plastic. A tool box made of aluminum is therefore usually more expensive.
Chromium-vanadium steel.
A tool case made of this material is definitely the best choice in terms of robustness. The steel will show less quickly defects, even during outdoor use. However, the net weight is correspondingly higher.
Practical tip: In a stocked toolbox, the total weight quickly increases to ten and more kilograms. In order to be able to move the suitcase without much arm force, it is worth buying a trolley for comfortable rolling.
What was included in the basic equipment in the tool box?
A tool set for occasional home use does not have to be large. The most important elements are:
Yardstick and/or tape measure to not only estimate lengths

Spirit level, for example, to align small shelves

Hammer, for example, to hang a picture frame

Pincers and flat pliers for smaller repairs

Screwdriver (cross and slot) in different sizes (Often to be purchased as a bit set)

Open-end wrench in several sizes (also useful as a set)

Allen key for tightening screws

Torque wrench for loosening nuts
Not necessarily necessary in a small set, but often found in sets for the professional:
Core-drilling machine

Saws

Concrete Drill Bits

Vice

Wire stripping pliers and side cutting pliers

Voltage tester

and many other sites
This text is machine translated. Tool case: Equipped and unfitted variants   Almost every household has a small selection of tools. The number of practical tools – from hammer to drill to screwdriver – increases with the motivatio...