This text is machine translated.
Useful information about toroidal transformers
What was a toroidal transformer?

What types and types are there?

Purchasing criteria for toroidal transformers – what is it all about?

Our practical tip for toroidal transformers

FAQ – Frequently asked questions about toroidal transformers

Conclusion: How to buy the matching toroidal transformer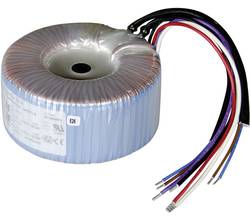 What was a toroidal transformer?
Transformers, short transformers, are also referred to as a transformer. As electrotechnical components, transformers are used to transform AC voltages to a lower or higher voltage level, or to provide galvanic isolation between the input and output side.
Transformers consist of two or more coils of copper wire wound on an iron or ferrite core. The number of windings of primary and secondary windings determines the ratio of input and output voltage. For example, if a transformer has a turn ratio of 20:1, it spans an input voltage of 230 volts to 11.5 volts on the output side.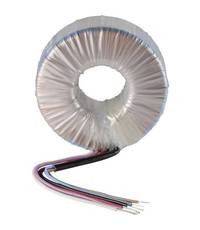 Unlike transformers of conventional design, where the iron core consists of a U or E-shaped package of sheet metal lamellae, a ring-shaped Kern Transformer is used. This Kern consists of either soft-magnetic, ferritic materials, which are brought into the desired shape by a sintering or pressing process, or ring-shaped sheet strips, which are insulated from each other. Due to the closed toroidal core, toroidal transformers can only be wound with special machines.
Compared to transformers of conventional design, toroidal transformers offer a whole range of advantages: Their power density is larger, so that a more compact and lighter ring transformer is sufficient for the same performance. Toroidal transformers cause considerably lower magnetic stray fields, tend to have less disturbing humming noises and absorb considerably lower currents in idle operation. However, they cause relatively high current peaks during the switch-on process (switch-on currents), since there is no air gap as with transformers with U or E cores.
What types and types are there?
Toroidal transformers are available in various versions, adapted to different applications. In addition to various winding ratios for all common voltages, there are models with a ratio of 1:1; they serve as isolating transformers. Transformers with factors of 2:1 or 1:2 adapt devices for operation at 115 Volt alternating voltage to a 230 Volt mains or vice versa. Often, several windings are available, so that different voltages can be removed from a transformer on the secondary side and the transformer can be operated on networks with 115 and 230 volts on the primary side.
For low-voltage lighting purposes, transformers with a winding ratio of 20:1 (with 230 V mains voltage) are used. They provide 11.5 V for halogen lamps on the secondary side. These toroidal transformers are also molded in white plastic cups for simple and inconspicuous ceiling mounting. Temperature and overload fuses can be integrated.
The connections of toroidal transformers are usually designed as free cable ends, special types can also be provided with fixed connection plugs, screw clamps or solder pins. Like conventional transformers, toroidal transformers are available in a fully cast version.
Purchasing criteria for toroidal transformers – what is it all about?
A high electrical efficiency and low no-load losses have a favorable effect on the running operating costs. The more powerful a toroidal transformer is, the more clearly these aspects become apparent in practice. Very high-quality and efficient toroidal transformers can achieve efficiencies up to 98%. The best possible efficiency not only saves energy, but also results in less heat loss and less cooling.
Partially and especially fully encapsulated toroidal transformers are particularly quiet, was the disturbing humming noises during operation on 50 or 60 Hertz networks. A casting compound additionally absorbs the minimum vibrations of the coil windings, so that the disturbing network humming is practically no longer noticeable.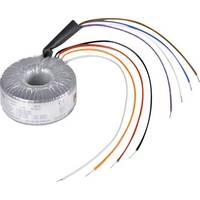 Our practical tip for the use of toroidal transformers
If possible, operate toroidal transformers in the range of 50 to 100% of their rated power. Their efficiency is then best. Larger toroidal transformers can lead to undesired triggering of circuit breakers due to their relatively high inrush currents. These problems can be solved by preswitching a transformer switching relay or alternatively by using inrush current limiters (NTC).
FAQ – Frequently asked questions about toroidal transformers
Why should a toroidal transformer for 12 volt halogen lamps be loaded with its rated power as far as possible?
The open circuit voltage of transformers is significantly higher than the output voltage under load. Low-load transformers have correspondingly higher output voltages, which in practice lead to a strongly shortened life span of the illuminant due to overvoltage. For the same reason, defective illuminants should always be replaced quickly.
Why is the output voltage of a toroidal transformer more stable under load?
The practically non-existent air gap not only leads to a clear lower magnetic stray field, but also provides for a lower impedance. Therefore, the transformer does not get as much "to the knees" when under load as a comparable transformer of conventional design.
Conclusion: How to buy the matching toroidal transformer
Make sure that the transformer is dimensioned as correctly as possible. Operation close to the rated power range is optimal. Mounting kits in the form of suitable mounting plates and insulation plates are available as accessories for fastening the transformer with only one screw. Partially and fully encapsulated transformers often already have a cast-in metric metal thread; they can be easily screwed on without a mounting kit.
In sensitive environments, fully encapsulated designs offer advantages by avoiding annoying mains hum. If a defective toroidal transformer is to be replaced, the new transformer must have identical electrical values. In this case, you should also pay attention to the mechanical dimensions and sufficient length of the connection cables.
This text is machine translated. Useful information about toroidal transformers What was a toroidal transformer? What types and types are there? Purchasing criteria for toroidal transformers – what is it all about? Our practi...