This text is machine translated.
Travel adapter: Bridge different plug systems
Whether USA, Australia, England, China or New Zealand: Travel plug, travel adapter or plug adapter bridge different plug systems. They enable you to use your own electrical devices such as smartphones, hair dryers or razors when traveling to other countries.
Use travel adapters to make electrical connections worldwide

What different travel plugs are available?

How does a travel adapter work?

Find the right plug type for your destination

Important selection criteria for travel adapters and travel plugs

Do you need a travel plug with a voltage converter?
Use travel adapters to make electrical connections worldwide
Other countries, other types of connectors – this sometimes complicates the connection of electrical devices abroad. The sockets are designed differently in many countries than at home, so that you cannot use your brought electrical appliances. The euro plug of the smartphone power supply does not fit into the socket on site and there is no suitable socket for the connection cable of your notebook. You will then need an adapter for the devices you carry.
Travel plug – also called travel adapter, adapter plug, travel plug, socket adapter or travel adapter, connect a power plug with an incompatible country socket. The adapters establish the electrical connection of devices with a country-typical plug system at socket types with her other plug system. This way you can also use your electrical appliances internationally.
A travel plug is an important companion when traveling abroad, without which you should not go on business or on vacation. With a handy travel adapter you can operate the different sockets in international travel regions. They connect power-dependant electrical devices such as hair dryers, computers, lights and fans as well as mobile devices to a wide variety of socket types.
Travel plugs are indispensable not only on long-distance journeys. Even within Europe, on business trips to England, Malta, Cyprus, Italy and Switzerland, you will find power connections that do not fit common Euro plugs and safety plugs.
Equipment purchased abroad, such as lights, IT components or consumer electronics, can often be easily used in Germany with the help of a travel plug. This saves you the considerable costs of converting the devices to the Euro or Schuko plug or purchasing the corresponding original connection cable.
At trade fairs, conferences and events, it is a courteous service to provide travel adapters for international guests, who can use the local power supply to operate their equipment. Hotel operators, tour operators and seminar centers also support their visitors by providing travel adapters.
The most famous manufacturers of travel testers include ANSMANN, Bachmann, Brennenstuhl, Goobay, Hama, Kaiser, Q2 Power and SKROSS.
What different travel plugs are available?
Travel plugs are basically available in two versions: Travel adapters in simple design make a certain type of plug usable with a different type of socket, so are limited to certain countries. Such simple and very cheap travel plugs are a good choice if you prefer to travel to a certain country and know exactly which connection you need there.
You are more flexible with a multi-travel adapter. These better equipped travel plugs connect one or more plugs with several socket types and can therefore be used in many countries.
A universal power supply on international journeys promises world travel adapters or world adapters with plugs, which fit in more than 150 countries. This is sure to be the case, because these comfort models can be used in the USA, England, Italy, Switzerland, China and Australia. For business trips to different countries and tours, world adapters are the best choice.
World adapters often offer a practical additional benefit: USB connections. Models with USB ports permanently installed in the travel plug or USB charging sockets that can be used flexibly as an additional module enable the convenient charging of your USB devices such as smartphones and cameras directly at the travel adapter. No additional USB charger is required. All you need is the USB connection cable belonging to the respective device.
How does a travel adapter work?
The handling of a mobile socket adapter is extremely simple and intuitive.
If necessary, prepare the travel adapter by folding out or plugging together the parts provided in such a way that it fits on the respective socket.
Connect the adapter to the corresponding socket. To do this, simply insert the adapter into the socket by hand without touching the contacts.
Finally, plug the connector of the desired electrical device into the adapter.
Remove the power adapter from the wall socket after use. After use, return the travel plug to its original position.
Find the right plug type for your destination
Choose your travel connector based on the equipment you want to take with you and the region you are traveling. Pay attention to both the input socket and the output plug.
There are 15 different connector types worldwide, which are classified from A to N. In Germany, the round type F Schuko plug is common for three-pin devices and the flat type C Euro plug for two-pin electrical devices, which works in almost all European countries and also in the Middle East. From the table below, select the type of plug and the different mains voltages required to find out which travel plug is suitable for your purposes.

Destination
Connector type
Mains voltage
Germany
C and F.
230 V
Australia

I

230 V
Brasil
J
110 V to 240 V.
China
A, C, I AND G.
220 V.
England, Wales,
Scotland, Northern Ireland

G

230 V
France
E and C.
230 V
Italy
L, C, F AND E.
230 V
Mexico

A and B.

110 V to 135 V.
Russia

C and F.

230 V
Spain
C, F AND L.
230 V
South Africa
DM, C AND J.
220 V to 250 V.
Turkey

F and C.

230 V
USA
A and B.
120 V for small devices
Is your destination not there? This map shows all countries with the respective plug types: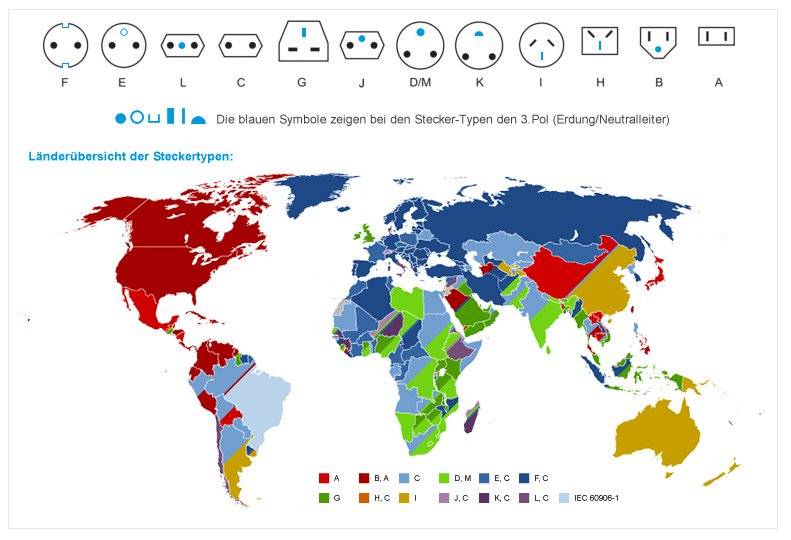 Important selection criteria for travel adapters and travel plugs
When purchasing a power adapter, pay attention to the following features:
Design
Due to the many connection plugs, some models are stony and not so easy to store in the luggage. A little care is advisable when packing, because the protruding parts could damage other sensitive luggage, clothing or devices such as a tablet in the case or bag.
Space-saving, foldable models allow the connectors to be folded, lowered or rotated during transport. Folding and folding can be a bit fumbling, but with a little practice it is easy.
Multi-part models for pushing together are particularly robust. They consist of a main part, in which you push the connector plug required for the wound strip.
Adapter plug sets consist of several independant travel connectors. You select the adapter from the set that is required for the destination of the upcoming business trip. If you are not sure which adapter you need on site, all travel plugs will be included in your luggage.
Maximum load
Travel adapters and socket adapters are suitable for most electronic devices up to 1,840 W at 230 V and 880 W at 110 V. The product description indicates the maximum load capacity of the respective model. Do not use devices with the adapter that require more power.
Childproof
In the case of travel plugs with integrated child safety lock, plastic plates close the contacts of the socket.
Accessory - Flooring
A carrying case or cloth bag protects the adapter from dust and dirt. A bag included in the delivery is particularly advantageous for multi-part models, which are always kept together properly.
Test symbols:
Reliable travel plugs carry a CE-mark, are TUV-tested and equipped with a protective conductor function. These features ensure that there are no problems with the connector itself or with your devices.
Built-in fuse
Models with integrated micro fuse for overload protection provide for comprehensive safety of the devices connected to the power adapter.
Do you need a travel plug with a voltage converter?
The mains voltage is very different internationally, sometimes it is 110 V as in the USA, elsewhere 230 V as is usual in Germany. A travel plug usually does not convert any voltage. Therefore, before you start your journey, check whether your device supports the mains voltage in the country of travel and is suitable for the respective mains supply. Refer to the full specification of the device you want to connect. This must correspond to the local power supply. The voltage required by a device is printed on the housing or can be found in the operating instructions.
Smartphones, tablets, notebooks, cameras, navigation devices, electric toothbrushes and many other modern devices have universal electronic power supplies that automatically compensate for voltage differences.
For devices without automatic switching of the mains voltage ranges, you need a travel plug with integrated transformer if the mains voltage at the destination differs from the device standard.
This text is machine translated.   Travel adapter: Bridge different plug systems Whether USA, Australia, England, China or New Zealand: Travel plug, travel adapter or plug adapter bridge different plug systems. They enable you to use you...